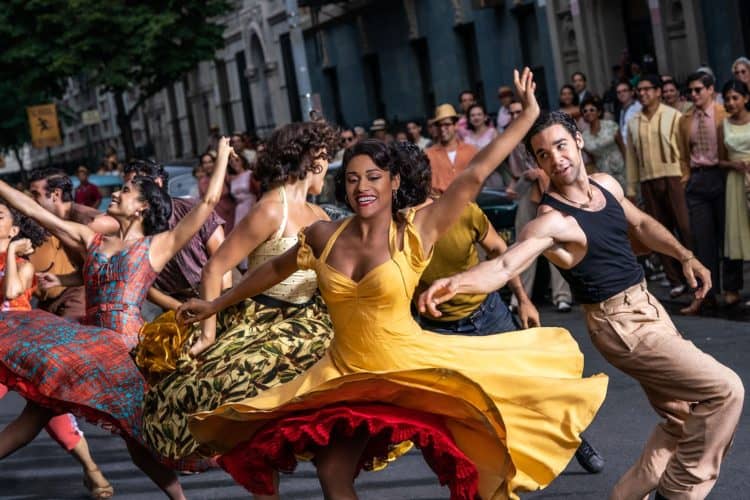 Westside Story has finally hit theaters and the popular musical features a mix of new and veteran talents such as Ansel Elgort, Rita Moreno, Rachel Zegler, and Corey Stoll. This list will feature the five best films that involve the cast of Westside Story, whether they're worthless background actors to the lead protagonist. Let's get started with the first movie:
Baby Driver
A talented getaway driver finally has a chance to escape his criminal lifestyle after meeting the woman of his dreams. However, after being forced to do another job, the failed heist threatens to ruin his life, love, and freedom. This fast-paced action thriller features a fun set of characters with a good story that never insults the audience's intelligence. Edgar Wright's confident direction brings the best out of performers here, and the car chase sequences are top-notch. Baby Driver isn't much of a thought-provoking title on the list, but it's not trying to be, as it's easily one of the most original and exciting action films to come out in a long time.
The Fault in Our Stars
Before Ansel Elgort was the sympathetic stuntman in the Edgar Wright feature, he was the sympathetic heartthrob in The Fault in our Stars. The 2014 feature centers around Hazel Grace Lancaster, who's a 16-year-old cancer patient that falls in love with fellow patient Gus Waters. Her boyfriend manages to get an invitation to meet his favorite author and the two go on an incredible journey together. If you hate incredibly sappy, melodramatic, tear-jerking features then this film is definitely not for you. The Fault in our Stars goes for the heartstrings and based on its subject, it's hard not to feel back for the lead characters in the film. Still, The Fault in our Stars never feels manipulative and it helps that Elgort and Shailene Woodley display some great chemistry together. If you hate Young Adult novels, The Fault in our Stars won't be the film that changes your tune, but it is a good film and one of the best romantic stories to hit the big screen in some time.
Singin' in the Rain
Considered one of the greatest musicals of all time, Singin' in the Rain stars Gene Kelly and Debbie Reynolds as Don Lockwood and Kathy Selden, two silent film stars who have issues with making the transition over to sound. Jammed with catchy tunes that are elevated thanks to a sharp script and a game cast, the movie manages to explore the movie industry's big change to sound in a delightful and entertaining manner. Even though this spectacle came out in 1952, it's hard to not have a smile on your face when songs like Good Morning are playing.
The Normal Heart
In another tear-jerker, this HBO specials follows Ned Weeks and his friends who try to get to the bottom of the emerging AIDs crisis to the government and the gay community. In a landscape where important topics such as AIDs are rarely discussed, The Normal Heart tackles a sensitive subject in a profound and engaging manner. However, The Normal Heart isn't just about AIDs, it's about love and trying to navigate in a loveless world. Matt Bomer's performance is gut-wrenching. It isn't just the physical transformation that the actor goes through that makes him stand out in a talented and stacked cast, but it's the genuine and raw performance that Bomer gives in his sad role. However, the core cast of this group is tremendous, with Mark Ruffalo pouring his heart and soul into his role to Tyler Kitch showcasing that he's more than just a heartthrob. The Normal Heart isn't a movie that's cloaked in sadness and it has its moments of joy that help balance out the story and more importantly, the characters.
The Many Saints of Newark
This Sopranos prequel follows a Young Anthony Soprano in one of Newark's violent time periods; With rival gangsters looking to smoke out the powerful DiMeo crime family and an eternal struggle that could end up having severe consequences, the world of the Sopranos showcases a darker side that holds an impressionable influence over future mob boss Tony Soprano. First things first, THIS IS NOT A TONY SOPRANO FILM! If you go into The Many Saints of Newark thinking you'll get some riveting backstory on how the mob boss grew up to be the feared leader that he is in the HBO classic then you'll be highly disappointed. Still, The Many Saints of Newark is a compelling drama that doesn't necessarily reinvent the wheel in terms of gangster dramas, but it does its job in part due to the incredible cast. It's disappointing that Tony Soprano doesn't get much love here because he does have an interesting backstory, especially his home life with his mother, but the lack of story for the iconic character never detracts from the 2021 feature.