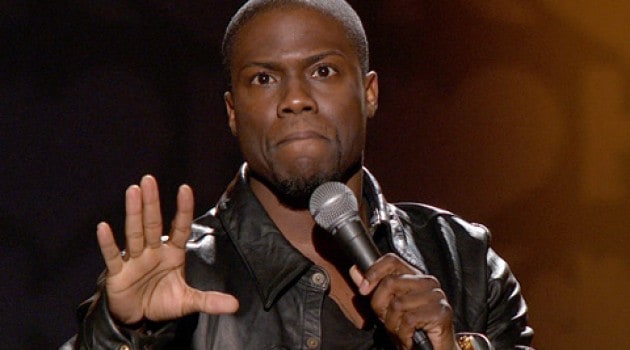 It used to be you never saw comedians do anything serious unless it was leading up to a joke or a gag of some sort. That wasn't their job after all. They were there to make you laugh. A comedian busting out a serious role just wasn't in the cards back in the day. If they did then it meant they were breaking character and this made everything just fall apart. The funny wasn't there any longer, and as a result they were kind of pointless to watch any more. But then a strange thing happened, comedians started doing serious parts. They didn't cater to the crowd any longer and eventually started getting serious.
Here are some comedians that could not only nail a serious role but who have already.
5. Kevin Hart
So Hart hasn't done it yet but hear me out. He's known for being loud, obnoxious, and even annoying to the point of wanting to punt him off the set, but in reality Kevin Hart is a hard-working individual that takes his job very seriously. He enjoys making people laugh and that's commendable, but if he was tapped to play a dramatic role then there's no doubt that he could pull it off with just as much skill as he does in one of his many comedies. The guy is a workhorse, so it's easy to reason that he would be just as good at a serious part.
4. Steve Carell
Carell has already been in dramatic roles such as in The Way, Way Back when he plays a cheating boyfriend that's overly aggressive towards his girlfriend's daughter. And let's not forgot his super eerie performance in Foxcatcher. He plays such a jerk that you can't imagine this being the same guy that was the fumbling, insecure character of Andy in the 40-Year Old Virgin. The comedy is nowhere to be seen when he doesn't want it to be, but when he hits that switch it comes out full force and weapons grade. But seriously, Steve Carell is a very talented actor on many levels.
3. Steve Martin
Steve Martin is a classic that's shown he can do comedy and drama in the same film. In Parenthood, Planes, Trains and Automobiles, and even in Cheaper By The Dozen he shows a range of skill that's simply amazing. His comedy isn't always on point the way people might like but it's easier to understand when you realize that he's an old school comic. His references and punch lines aren't the witty, simple one-liners that so many people like to laugh at these days. The comedy he performs can be campy or downright deep, it's just a matter of what he's going to be doing today. Plus, you know, there's Shopgirl where he killed it.
2. Whoopi Goldberg
Watch the film The Color Purple. Then tell me that Whoopi can't do drama. Watch Corrina, Corrina, and Girl, Interrupted. She can be downright funny and even hilarious at times, but her skill at drama is undeniable simply because she is that good. You can not like her all you want for this or that reason, but her acting is on point and her comedy comes out at just the right moment, when it needs to.
1. Jim Carrey
He made a career of talking out of his butt, literally, delivering one catchphrase after another, and portraying the goofy, over the top characters that we all still remember so much. In fact most people were expecting The Truman Show to be a nonstop laugh riot. Imagine their surprise when it was actually a touching film about a man discovering his place in the world. Jim Carrey can be serious when he needs to be, 'nuff said. Plus he played Andy Kaufman to a tee.
Comedians can be called upon to do a number of things if a person just asks. Keep in mind, they're actors too, and can actually dial back on the comedy when needed.
Save