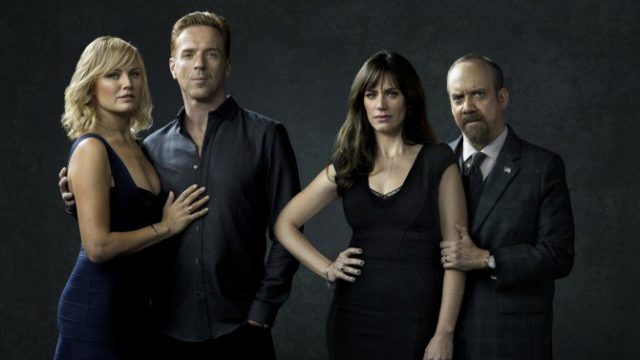 Billions is back tonight. Season 2 begins with Chuck facing scrutiny within his office and from the Attorney General. Meanwhile, Axe refortifies Axe Capital and weighs his options for retaliation; the fund wrestles with a precarious economic landscape that threatens the very existence of Axe Cap; Wendy entertains an offer from a rival hedge fund manager; and Lara intervenes in an emergency at her children's school. There's no doubt we're going to see a solid season especially after how season 1 ended. However, there are definitely some concerns I have about the show. Therefore I'm going to ask for a few things even though every episode is written and there's nothing I can do about it.
1. I need Paul Giamatti to be less Paul Giamatti
I think those that have followed Paul Giamatti throughout his career can understand what I'm saying here. Don't get me wrong. I kind of like Chuck Roades and the way he plays the character but I have to say that there were too many times I just felt Giamatti being too much Giamatti. I think that overacting is the wrong word to use but I almost felt like I was getting Paul Giamatti in every movie he's been in over the last 10 years. Giamatti's a great actor and I want more range. I will say this though. I kind of like how "hatable" he is. I and I think many would agree that Axe is the much more likable character. It's designed that way. But let's just get more from Chuck, shall we?
2. Less Maggie Siff
I come from a family of therapists so her role definitely annoys me a little. While I think there's zero question that an onsite therapist is needed at a Hedge Fund, give me a break. Granted she quit her job at Axe Capital, but come on. Also, I just don't buy that Siff's nearly as cool as she tries to come off as on Billions. I don't know. I'm just not a fan of Wendy Roades and don't think she's that important a character. When the show concentrates on scandal and morality it's 100 times better.
3. Bryan Connerty and Chuck Roades have to clash
Toby Leonard Moore is one of my favorite actors on the show. If anything it's his awesome low voice that draws me in. But seriously, I think the show would be better off with these two seriously fighting. Connerty still has some "good" in him whereas Roades has made it abundantly clear he's willing to be as big a criminal as his portrayal of Axe to be. Roades jumped off the deep end a long time ago whereas Connerty still has some cleanliness left. At some point this season I'd like to see Connerty become his own man, if not become an ally to Axe entirely.
4. Bobby Axelrod
Don't change a thing Damian Lewis. Ever since you came onto the scene in Homeland there hasn't been one frame in a show or movie you've been in that I didn't like.
5. Lara Axelrod
I'm not sure what I really want from Malin Akerman this season. One thing I do like is her ongoing hatred for Maggie Siff. If we could somehow have these two get into their own little war outside of the main plots that's something I can get behind. And we obviously know that both are certainly capable of creating fireworks.