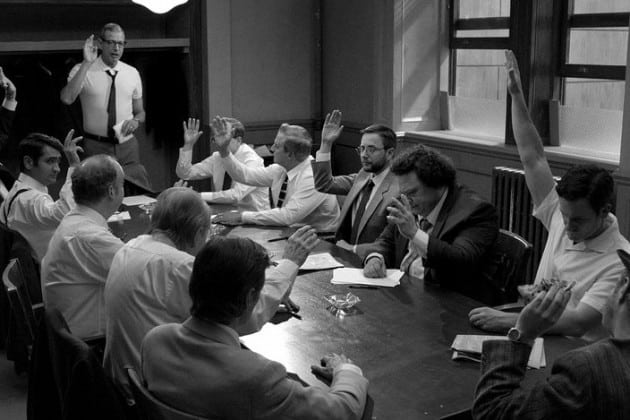 Since last year's "The Foodroom" sketch, Amy Schumer's been unstoppable. From Judd Apatow movie deals to sold out comedy tours, she's been on fire for the last twelve months – a streak that's continued into the first batch of episodes Inside Amy Schumer's third season, with Amy's wonderfully absurdist sense of humor reaching new levels of societal poignancy as she explores America's standards for female comedians, the simplicity of men, and female identity in general. Season 3 has already seen a legendary Friday Night Lights sketch, "Last F***able Day," and a brilliant takedown of boy band "empowerment" songs.
This week, she took it to another level with "12 Angry Men Inside Amy Schumer," a 22-minute long adaptation of 12 Angry Men, something most everyone is familiar with, either in name, or reading in English class during high school (or being a cinephile nerd, like myself). Adapting Sidney Lumet's film into a court trial where twelve men determine whether Amy Schumer is hot enough to be on TV, this week's episode of Inside Amy Schumer delivered a masterful takedown of male insecurities and Hollywood's illogical standards of beauty through the carefully-curated lens of a 1950s courtroom drama. It was genius, from the Dennis Quaid cameo to the simple mention of the phrase "reasonable chub." Here are the five best parts of last night's episode:
1. John Hawkes as Henry Fonda's Juror 8
This was just awesome. From the moment Hawkes walks in the deliberation room, walking to the window to light a cigarette, I was sold on the conceit of the entire episode. It's a genius bit of casting; as the voice of reason on Deadwood and Eastbound and Down, Hawkes is well-known for taking even-keeled characters through ridiculous, larger-than-life scenarios without losing the humanity. It's his presence that grounds the entire parody, giving voice to Amy (in his own weird way; he's still voting on whether she's hot enough for TV or not) and establishing his presence second (right after Jeff Goldblum's lead juror) sets the table wonderfully for what is to follow.
2. Nick DiPaolo as Juror 3
Most of the 12 jurors in the episode get a chance to establish their personalities with a line or two; there's a lot of attention paid to Nick DiPaolo as the last holdout, drawing parallels from the original film's Juror 3, the boisterous, racist final holdout for a not guilty verdict. Here, he plays every single overcompensating white upper-class male, adapting the role perfectly to the subject matter of the episode. By the end, he's in a mess crying over the girl who rejected him for his senior prom. Through Nick, Inside Amy Schumer explores something oft-ignored in the male-dominated media: that is, the idea of over-sexualization of women comes from the immature insecurities of males, who use their positions of power as compensatory devices for their bruised, dominating egos.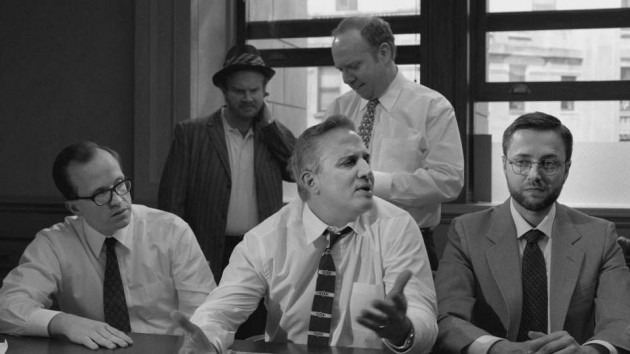 3. The cinematography
Shot entirely in washed-out sepia tones, "12 Angry Men Inside Amy Schumer" was beautifully co-directed by Amy Schumer, with the help of Jonathon Formanski's cinematography. Everything is blocked beautifully, using the claustrophobic space of the room for revealing wide shots and intense close-ups alike, giving a wonderful ebb and flow to the proceedings. And the saturated colors pay off, whether it's heightening the absurdity of Paul Giamatti's emotions, or simply lending itself to beautiful imagery, like a shot taken from inside the coat closet when Hawkes walks over and consoles a worn out DiPaolo at the end of the deliberation.
4. Blake Shelton/Adam Levine insults
There are no two more mainstream pillars for "modern masculinity" than Blake Shelton and Adam Levine, with their pretty boy haircuts and need to feel important by having young, impressionable kids sing desperately in front of millions of people for their affection. One juror is constantly trying to leave to see the two of them on tour, which paves the way for Amy Schumer to rip the two most constructed personas in modern music, stating they would be on the Garbage Dick tour and the complete absurdity that someone would pay to have a meet-and-greet with noted womanizer, racist, and misogynist Blake Shelton. Quietly, Schumer eviscerates the music and image of these two Ken dolls – which, no matter how you feel about the masturbatory celebrity exercise known as The Voice, makes for a pretty hilarious recurring gag.
5. Jeff Goldblum slamming a sex toy on the table
… because c'mon, that's just hilarious. Especially when John Hawkes follows with an identical one, declaring "My wife and I use it!"
[Photos via Comedy Central]