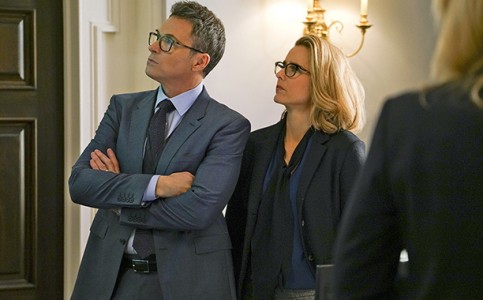 The hunt for Hizb al-Shahid's mysterious leader Jibral Disah is back on once again in this week's episode of Madam Secretary as Henry begins his new job at the State Department on the top secret intelligence team. I am loving the fact that Henry and Elizabeth are working together in the same place. Takes the pressure off of having to keep secrets from your significant other. Hope it works out for the better!
We also get to meet Stevie's new boyfriend, and after seeing her date her much older boss and President Dalton's drug-addicted son, it's nice to see her with someone that won't end up being a bad boyfriend. I was as bummed out as Stevie was when both Elizabeth and Henry won't be able to make it home to meet Jareth, but they both work for the government so things would get chaotic every once in awhile.
Though from what I have seen, Stevie might have found herself a keeper. I mean, Jareth brought beautiful flowers for Elizabeth, didn't make fun of Stevie's overcooked risotto and brought delicious scones the next morning for the whole family to share. Did I mention that he's British? I snickered when Henry made a reference to David Bowie (may he rest in peace)'s character in Labyrinth and Elizabeth using her best British accent when Stevie informed her parents that Jareth will be coming for dinner. Stevie McCord, you have the best parents ever!
When Shamekh got blown up, via remote detonation, at the Libyan military base along with everyone in it, including Mimi Jacobs, an interrogation expert, it hit Henry hard since he was the one who was convinced that Shamekh will lead them to Disah once Mimi gets him to talk, for a hefty price, of course. Elizabeth told her husband that it's not his fault, but knowing Henry, he will stop at nothing to figure out where Disah is and bring him to justice. I'm sure that Elizabeth will help him however she can aside from having to deal with her many other responsibilities as the Secretary of State.
On a side note, the scene where Elizabeth was making scrambled eggs for breakfast in a haphazardly way made me want to back away slowly out of the room if I was actually there to witness it. It's not everyday that we see the Secretary of State cook, so it's a bit surprising to say the least. I laughed a little when Elizabeth told Alison to make sure that Henry eats his eggs and drinks his juice after he pushed the plate away. Moms do have eyes on the back of their head (well, figuratively speaking). That and the way that the McCord children teased their father about his first day working at the State Department. It's also a relief to see Stevie finally come to terms with what happened at the bombing when she confided in Jareth as she was throwing out the risotto. Again, she has found herself a keeper.
After seeing Mimi die right in front of him, albeit it was on a live feed, Henry played and replayed the video footage of Shamekh being blown up into a million pieces, as he tries to figure out if there's anything missing. The next morning in Elizabeth's office, Henry and Elizabeth figured out that right before the explosion Shamekh yelled out the name "Hijriyyah" which turns out to be the name of the woman that Moussa saw Disah with when he was fixing up the car. Hijriyyah also happens to be the daughter of Idris Al Bouri, a warlord who pledged his allegiance to Disah and is Disah's new bride, making her his third wife. The wedding was kept secret, meaning that Disah cares deeply for the girl and in turn the U.S can use her as leverage to locate Disah. This is going to be good, I can tell. I also loved the "in your face" moment between Elizabeth and Arizona Senator Morejon towards the end of the episode. Nobody messes with the Secretary of State, nobody!
Madam Secretary will return with all new episodes on March 20 after a short, one week hiatus on CBS.
Photo via CBS
Tell us what's wrong with this post? How could we improve it? :)
Let us improve this post!