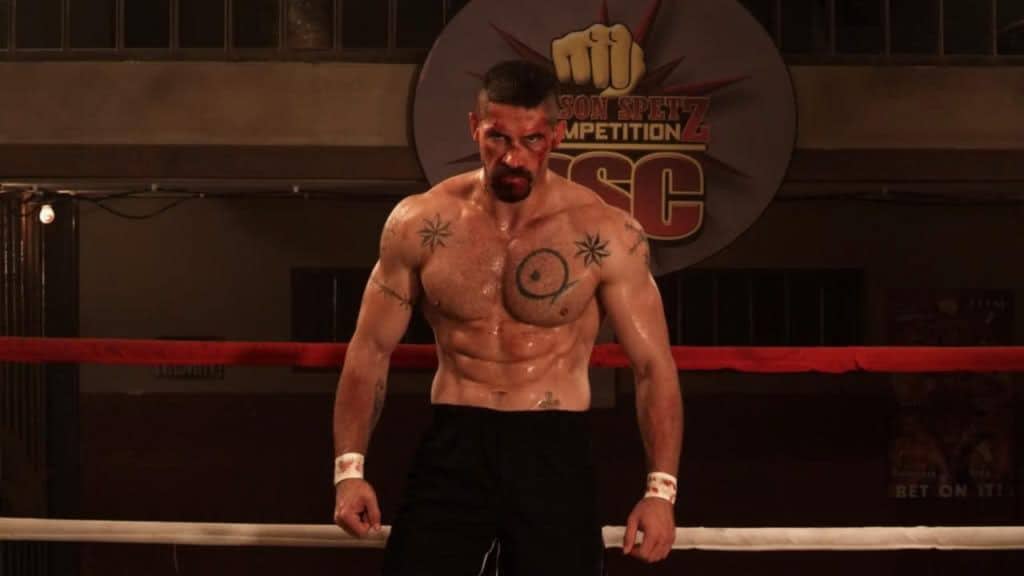 It's kind of funny that a lot of people have seen this guy since Scott Adkins has been around for a while, and yet we really haven't seen him get a push for a lot of big-name movies, especially when it comes to being the lead character. Thus far he's stuck mostly to mid-level action movies that are the type that features impressive fight scenes and believable stories, but also blow things out of proportion at times or simply don't get enough attention for some reason. Adkins is a decent to good actor and the guy can choreograph a fight in a very convincing way, so it's fair to say that it's exciting to think of what's going to happen when he shows up in the next John Wick movie. But until then it's still anyone's guess when it comes to why in the world he's not a bigger name than he already is. Maybe he's where he wants to be, or maybe he has other projects coming that will be able to showcase what he can do. It's hard to say, but what's easy to say is that he's an impressive individual. Here are some of Scott Adkins' best fighting scenes.
5. The Expendables 2
Playing the villain is where Scott appears to be seen a lot of the time, even if he's managed to take on a few heroic roles here and there over the years. But anyone might think that a fight with Jason Statham is going to take a bigger name than Adkins to really pull off this fight and create an upset. But in an Expendables movie, it's fair to think that the only good guys that are going to die are those that haven't really earned their tough guy pedigree yet. Sorry Liam Hemsworth, it just wasn't meant to be, but if it's any consolation, Scott's character did go out in a pretty quick, horrific manner.
4. Universal Soldier: Day of Reckoning
It feels as though the Universal Soldier idea was trying to right itself after reaching a little too far with the second movie, but while the plot in this movie didn't make a lot of sense overall, the fight scenes felt pretty solid. The fact that the Unisols could still take a tremendous amount of damage before they finally went down has been something that's kept with the overall story since this fight is absolutely brutal. But with Scott as the hero in this movie, one can't help but think that he put on a good show since he wasn't invincible and he did take a fair amount of damage throughout the movie while fighting the Unisols.
3. Savage Dog
Adkins definitely appears to like playing the prisoner roles since he's a prisoner here as well, and one that has earned a reputation for winning tournaments in a corrupt system that he's about be released from, or so he thinks. One can't help but watch that huge folding knife during this fight since being laid open by that thing would be fatal for a lot of people. But the manner in which Scott can make a fight scene work, along with those that he depends on for a lot of the movements and spacing, is amazing. In a real fight, things wouldn't be nearly this smooth, but in a movie like this it's fun to watch.
2. Undisputed III: Redemption
A lot of fighters don't regard Capoeira as a legitimate fighting style and there's a reason, as it does leave the capoeirista open to a lot of different attacks and takes time to set up certain moves. But watching the fighting style in action is pretty awesome, and Lateef Crowder is one of the best when it comes to putting the style on screen. Seeing Boyka, who's an expert fighter as well, take on someone with this style is insanely entertaining, but it's not hard to think that it wouldn't prove to be anything but another victory for the Undisputed star since the only losses he's really taken since he stepped into this series was when he fought Michael Jai White's character in the second movie where they both first appeared.
1. Ninja 2: Shadow of a Tear
This is one of the more impressive bar fights that are out there to watch since despite being against drunken bar patrons instead of skilled opponents, an equally drunk Casey, played by Scott Adkins, is showing the patrons that he's not nearly as incapacitated as they might think. It's a good thing the bar is outside since all that ends up getting trashed are the tables and chairs. One might want to criticize this scene for a few less than stellar moments, but if that happened to be the case then a person would need to be critical of just about every martial arts movie ever made.
Scott Adkins is one of the best in the business at this time, without a doubt.
Tell us what's wrong with this post? How could we improve it? :)
Let us improve this post!