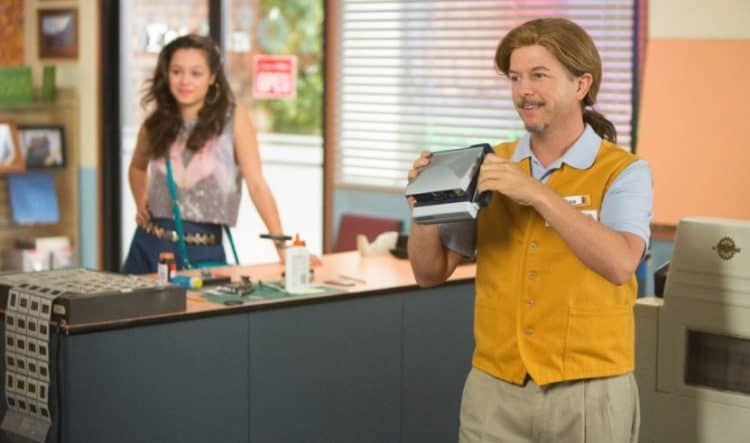 Over the past 6 seasons, The Goldbergs have entertained us with their dysfunctional (but loving) ways. But, that's not the only great thing about the show. It's cameo appearances are second to none, filled with celebrity icons in interesting roles. There are so many, it can be hard to choose which ones are the best. But, we've narrowed down the list for you. Today, we present 5 of the best cameo experiences to ever occur on the Goldbergs.
1. Tom Cavanaugh – Character: Charles Kremp
Tom Cavanagh is a Canadian director and actor. He's known for a variety of roles including starring roles on Ed, Trust Me, and Love Monkey. He also had several recurring roles on Scrubs and Beyond Providence. For the past five years, he's starred on the CW's hit series The Flash. The accomplished actor plays Chad's (one of Adam's friends) father in the 8th episode of the first season. In this episode, the Goldbergs are introduced to the Kremps, a too-perfect All American family. The Goldbergs invite them over for a barbecue but the afternoon soon turns into a chaotic frenzy that no one saw coming. Except maybe us.
2. Thomas Lennon – Character: Tauntaun Todd
Thomas Lennon is a comedian, actor, producer, screenwriter, and director. As an actor, he's best known for his role as Lieutenant Jim Dangle on Reno 911, the famous comedy central series. He's also known for his role as Felix Unger in The Odd Couple sitcom. In the 22nd episode of season 1, Star Wars fever is in full swing. The famous actor plays a Star Wars fan that Adam and Erica meet when waiting in line to see The Return of the Jedi.
3. David Spade – Character: Gus, a sketchy manufacturer of fake IDs
David Spade is a comedian, actor, writer, and television personality. He first rose to fame in the 1990s as a cast member on Saturday Night Live. Afterward, he began a successful acting career in both television and film. In the first episode of the second season, Barry is in need of a fake ID. It is the only way he can buy the liquor needed to get him and his friends into a senior party. Unfortunately for him, he has a huge ego and starts to brag to the whole school. This catches the attention of Coach Mellor who promptly confiscates the fake.
4. Charlie Sheen – Character: Man in the police station, reprising the iconic role that he played in Ferris Bueller's Day Off
Charlie Sheen is an actor that has appeared in the number of successful films. Some of them include Wall Street, Major League, Hot Shots, and the Three Musketeers. He was also a star on Two and a Half Men, a very popular TV sitcom. The 14th episode of the 2nd season was inspired by the popular coming of age movie, Ferris Bueller's Day Off. Barry fakes an illness so he can skip school with Pops and Adam. Unfortunately, Barry isn't a good Ferris. He tries to get Laney out of class but ends up annoying her. He gets confronted by the security at the Art Museum and gets pelted with food at a baseball game. To make things worse, Pops' car gets stolen and Beverly tracks them down. Charlie's cameo occurs at the police station, while Erica is waiting for her family. He speaks to her, telling her not to worry about her siblings. He also makes a direct reference to the Ferris Bueller movie when he complains about how long he's been there.
5. Weird Al Yankovic – Character: Himself
Weird Al Yankovic is a singer-songwriter, record producer, satirist, and author. He's known for creating funny songs that often parody popular songs by contemporary musical acts. Weird Al makes his appearance in the 15th episode of the 3rd season. Adam is desperately trying to create the perfect romantic weekend for him and Dana. He starts with his greatest childhood hits (their favorite foods and toys from back then) but, this doesn't work. He tries to make it up by taking them to their first concert. However, these tickets turn out to be for the Weird Al Yankovic concert. Every teenage girl's dream. Not. Although going doesn't scream good idea, Weird Al plays a pivotal role in this episode. He is the one that helps the young lovebirds see that perhaps they've outgrown each other.
The bottom line
Through the Goldbergs six-season run, a variety of celebrities have made their presences felt. Five of the most incredible are listed above. These celebrities are all iconic in their own right and are members of Hollywood royalty. It was definitely a pleasure seeing them on one of our favorite sitcoms.
Tell us what's wrong with this post? How could we improve it? :)
Let us improve this post!