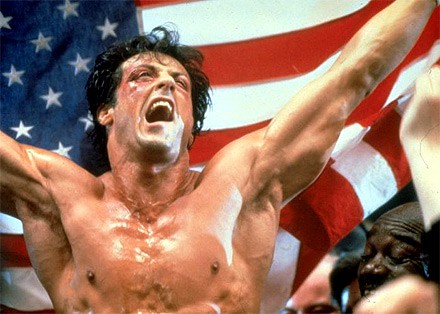 Old glory has had its heyday for a long time now, and has been around since longer than anyone save a person with a passion for history could tell. It has been a symbol for our country, the pride we hold in it, and the pure strength of will that it's taken to hold the country together through faith alone. If you ever wonder why the flag is so revered you might try asking why people feel the need to congregate for a single belief. They want to belong to something, and they want to know that they are a part of a larger, working unit that strives for the betterment of others. The American flag might mean something different to each person, but the unity it promotes is supposed to a very universal belief.
When noting the presence of the flag in films, also take note of how it is used, the the reactions it gets. That's strength.
5. Superman
The man of steel has for a long time been considered an ally to the USA, and has always shown a certain deference despite the fact that he has no real reason to want to be a part of this country. People have been divided upon his acceptance by the USA for years, and yet his character has always been seen by many Americans as a vital component to our culture. Despite his new and ominous story lines, Superman is still a character that is easily associated with the USA.
4. Rocky IV
This was the grudge match of all grudge matches, largely because in reality there's little if any chance that Rocky would have actually won. But let's back up and look at it this way. Everyone has a chance to do something exceptional if given the right circumstances, and the right motivation. Rocky wasn't just fighting to honor Apollo, he was fighting a type of match that pit the USA against Russia in a very bitter rivalry that used him and Ivan as their showpieces. In the end, American grit and the refusal to stay down was what won the day, and Old Glory was there to help celebrate.
3. The Last Castle
There is no such thing as an ex-marine, no matter what. The Last Castle proved this in a way that might seem regrettable given that active marines and their incarcerated brethren had to throw down against one another, but the purpose of the story was to show that given motivation and something to fight for, anyone can be redeemed. Instead raising the flag upside down to signal distress, Redford keeps the flag upright, seeking to lead by example even to the end.
2. The Patriot
A symbol is a very powerful thing to many people. It can help a person to feel empowered and inspire even the weakest of heart to try harder. The Revolutionary War was in some ways just this horrible, but Mel Gibson likely took a few liberties. For the sake of the film it's good that he did, as it made a very powerful and compelling tale that gripped the viewer and did not let go until the English were finally driven back across the pond with their tails between their legs. If you've read a history book recently you might note several inaccuracies, but this film still stands as one of the most powerful and emotional movies that used the flag as a rallying cry.
1. Captain America: The First Avenger
How much better could it get? The Star-Spangled Hero that was once a 98-pound weakling is the epitome of the American flag, and even better is the fact that he is decked out like a walking, talking, butt-kicking representation of America. Captain America has for many years been the shining example of what a hero should be, and has done the country proud until recently.
The American flag means many things, but to the citizens of this country it is a symbol of hope and of pride that won't ever fade. In films, it takes on an even more heroic status and becomes a beacon that viewers can rally to without fail.
Save