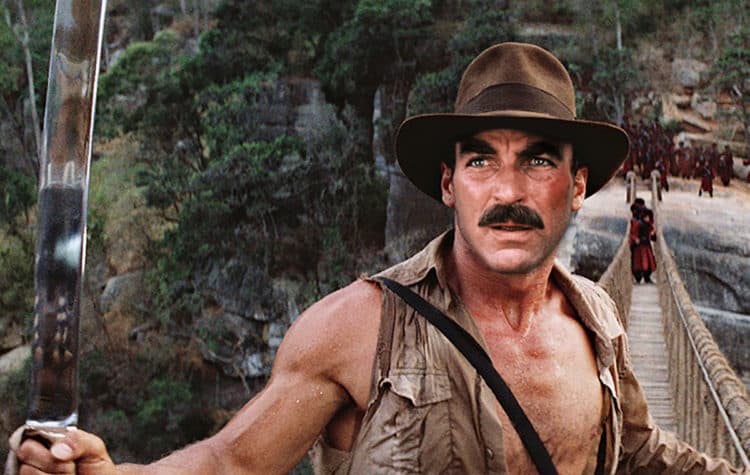 It's easy to think that if Tom Selleck had said 'yes' to the part of Indiana Jones that we might be saying "Harrison who?". Okay maybe that's not entirely accurate since he still had Han Solo and several other roles that helped to make him famous, but overall it does seem as though having Selleck in this role would have caused a humongous shift that would have seen his career skyrocket even more than it did and could have actually kept him in the running as one of the best leading men in Hollywood for a long while to come. Of course given the difference in their acting styles it might have also impacted the Indiana Jones movies in a big way as well. Who knows, maybe they would have been just as popular, or maybe they would have sunk after the first two movies, but we won't know now since Ford got the nod a while back and since then we've been able to enjoy pretty much everything he's done up to a point. Of course as Rob Bricken from Gizmodo reports Selleck states that CBS kept him from starring in Raiders of the Lost Ark and he became a handyman in Hawaii. Either way we got Indiana Jones and Magnum P.I., so it's kind of a win all the same.
There are also those iconic moments that might not have been the same given that Selleck and Ford are two very different actors that have vastly different expressions. Like it or not Selleck's face isn't quite as expressive as Ford's is when it comes to acting, though his delivery is every bit as good. Selleck has been in plenty of movies that made use of his less than emotive features but had he been in this movie it would almost seem as though Indy might have been on the verge of being perplexed, angry, and contemplative most of the time, meaning the range wouldn't have been quite as extensive as it was with Ford. Plus, who knows if we would have gotten the same kind of moments that Ford gave us? Apart from showing very different emotional states, Selleck and Ford both have their own acting styles just like anyone, and it's easy to think that had Selleck actually gotten the part that he wouldn't have been quite the same scholar or adventurer that Ford was. It's hard to say really because we'll never know, but it almost feels as though it was best that Tom went to Magnum and Ford went to the various roles that he went for back in the day. When you think about it Selleck might actually be just a little more versatile when it comes to transitioning between movies and TV as he's actually done it, whereas Ford isn't really known as being much of a TV personality. Frank Pallotta of Business Insider has a little more to say on the subject.
Plus let's be honest, Tom just doesn't rock the hat in the same manner. The clothing that the actors wear might not always matter to a lot of people but there are times when it makes a huge difference since for the Indiana Jones movies the character really needed that hat and was usually better off in the garb he wore in the classroom and in the field. Tom is known more for Hawaiian shirts and suits at other points in his career, while Ford has been a little more scruffy in these movies since that's kind of unavoidable it would seem when one is running around jungles, deep within caverns filled with killer cultists, and all to hell and gone trying to recover precious artifacts at the possible cost of his life. But that's why we came to love the character in part, because he was willing to do the dangerous things, the death-defying things, and it worked so well for the character that he came back three times after the first. There have been a lot of other adventures that we don't get to hear about when it comes to Indiana Jones since he seems to collect friends and companions like other people collect stamps, with a new enemy or friend at just about every port it would seem, to a point. In the Last Crusade he didn't seem to have many friends other than Sallah, who seemed to show up at the right time when he was needed.
One thing you can say about both men is that they've been good with the women throughout their careers and that might not have changed had Selleck been the guy with the whip, since he became quite well known for having a way with the women when it came to being Magnum. Indiana wasn't quite that much of a ladies man but he still seemed to have a certain pull that women still found charming at some point. For better or worse though, Ford has been the man when it comes to Indiana Jones, and Selleck attained the role he was meant for. Jay Serafino of Mental Floss has a few facts about Magnum that you might find interesting, just in case you wanted to know more.