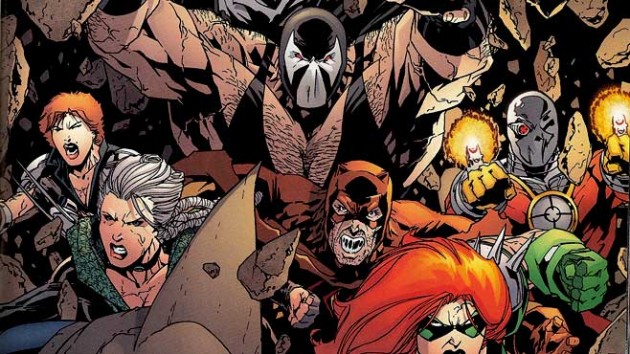 Last week, some of us here at TVOvermind did a five-part feature "Five Arrow and Flash Spin-Off Mini-Series That We Want To See" with pitches for team-up shows like Atom/Firestorm, Booster Gold/Blue Beetle, Birds of Prey and The Rogues. Today we are presenting our final proposal for a spin-off miniseries that is slightly based on a spin-off that a lot of fans have been wanting to see since last season of Arrow, although we are twisting it a bit. This is our idea for a Secret Six miniseries.
Pitch: Secret Six, members of the Suicide Squad, are shaped into a new team, which is led by a mysterious figure who goes by the codename "Mockingbird." These villains have to work as anti-heroes differently from A.R.G.U.S.'s Task Force X, and each season would send these characters out on a single mission that would be spread over eight episodes as opposed to a procedural show.
Andy: Due to the fact that Warner Bros. Pictures is doing a Suicide Squad movie, that has pretty much shelved any potential plans of a Suicide Squad spin-off show, but the dream doesn't necessarily have to be dead because of the upcoming film. Secret Six, which is sort of like the Squad in the comic books, could be a concept that they could adapt instead where you have Deadshot (Michael Rowe) leading the show along with other Squad/Six members. Now if I were the people behind these shows, I would do a combination of the concept of both Suicide Squad and Secret Six.
That way, the DC TV Universe can still enjoy having a substitute for the Suicide Squad, while still having some of those characters around, without conflicting with the movie division that clearly thinks it's a problem if there was a Squad TV show at the same time. The digital comic "Arrow Season 2.5." recently finished a side-story featuring the Squad, and if a spin-off is done like that, I believe that a Secret Six miniseries would work quite well.
Blaise: The Suicide Squad is a really fun team to watch every once in a while, but having a movie in the near future definitely complicates things. The Secret Six is another fun A.R.G.U.S.-based group that could totally carry their own spin-off for a yearly mini-series that showcases villains or anti-heroes teaming up. Characters that are already established in the DC TV Universe should definitely be used to create a link to the already airing shows and give viewers familiarity, but the writers could have a lot fun with this and use some obscure villains that will never see the light of day.
In the past, the Secret Six has included members as big as Bane and as obscure as Tiger Force, but no matter who you place on the team, it's a rich story with plenty of angles to offer to the viewers. The Secret Six could differ from the Rogues idea with villains playing good because they are still under the control of A.R.G.U.S., and here it would be by force rather than choice. This would offer a great dramatic dynamic to show how these people react to doing what they love but still being some type of prisoner, at least at first. As we've seen in Arrow, Oliver's flashbacks have him struggle with learning to torture people, and I think it would be interesting to see A.R.G.U.S. put together a group of ruthless villains to carry out these type of tasks with no problem and act as the "bad cop."
Let us know which of our spin-off ideas (Atom/Firestorm, Booster Gold/Blue Beetle, Birds of Prey, The Rogues and Secret Six) you would like to see get made and/or share some of your own ideas!
The Flash airs on Tuesday nights, 8/7c, and Arrow airs on Wednesday nights, 8/7c, on The CW.
[Photo via DC Comics]