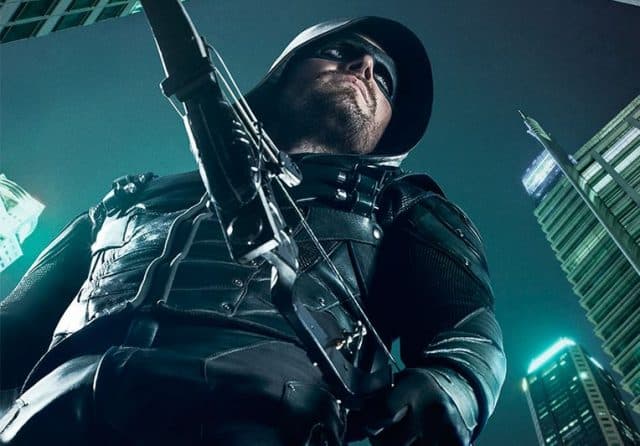 We've known for a little while now that the major theme for Arrow Season 5 will be legacy (it's even the title of the season premiere), and now that theme is extending to the promotional material for the CW superhero show. A brand new poster for Arrow's fifth season makes Oliver's legacy its focal point, as it features the Green Arrow (and now mayor of Star City) standing in the streets with the tagline, "His Fight. His City. His Legacy."
So what exactly will be the legacy that Oliver Queen leaves behind? Will it come from his superheroic actions as the Green Arrow, or will he discover that he's able to do more for the city that he loves from a more public and political position? Or with this new team that Oliver is recruiting, will he look to them to carry on his fight and be his true legacy when the time comes for him to put down the bow and arrow? We'll have to wait and see as Arrow's fifth season unfolds, but leave your theories and suggestions in the comments section below.
Arrow Season 5 premieres on Wednesday, Oct. 5, on The CW. Check out the new poster below, along with The CW's official description of the fifth season premiere, "Legacy":
NEW BEGINNINGS – After Laurel's (Katie Cassidy) death and the departures of both Diggle (David Ramsey) and Thea (Willa Holland) from Team Arrow, Oliver (Stephen Amell) takes to the streets solo to protect Star City's citizens as the Green Arrow. With Felicity (Emily Bett Rickards) guiding him from the bunker, Oliver is forced to deal with a city that has become overrun with both criminals and a slew of new (and painfully inexperienced) vigilantes. Watching Oliver try to balance his jobs as both the mayor and also the protector of Star City, Felicity suggests he form a new team, but Oliver resists. However, when a deadly new criminal, Tobias Church (guest star Chad L. Coleman), enters the picture, Oliver realizes the best thing for the city might be a new team of superheroes. Meanwhile, the flashbacks take us to Russia where Oliver faces off against the Bratva. James Bamford directed the episode with story by Greg Berlanti and teleplay by Marc Guggenheim & Wendy Mericle (#501). Original airdate 10/5/2016.
[Photo via The CW]