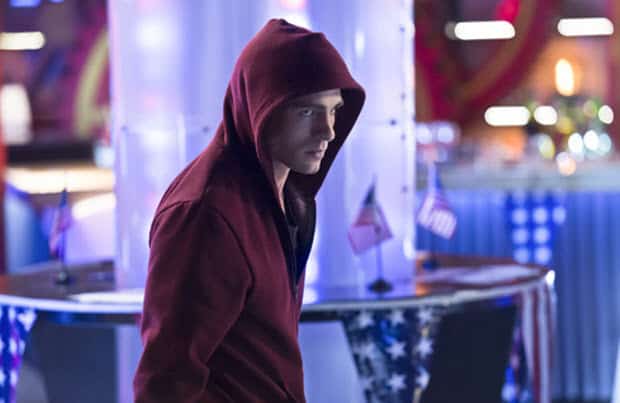 When you get a title like "Seeing Red" for a show like Arrow, it only means one thing which is that you better have hundreds of tissues ready at your disposal because it's going to hurt.
"Seeing Red" referred a lot to Roy's rage mode and as a fan of the Roy Harper character from the comics as well as what Colton Haynes has done with this role, this was a great episode for him. Now regarding him going in completely uncontrollable rage mode because of the Mirakuru; they better find a solution to this problem before season 3 starts.
It's cool to see a super-powered Roy and while it has been a logical choice to see him struggle with the Mirakuru, they need to fix this. Either you have a Roy with powers that he can actually control or they find a way to get rid of it. To be fair, this is Slade's fault after what he did to him last week, but still, we need a wrap up to this arc.
I have speculated ever since season 1 on a way how they could bring in Green Arrow's son, Connor Hawke to the show, but within my circle of friends, it was seen as a very far fatched idea. The idea was basically that Oliver would have like a one-night stand with a certain woman, Sandra Hawke to be exact, before he was stuck at the island. Then a few years later, she would return or he would discover somehow that he had a son this whole time.
Even though we didn't get the name of this woman in last night's episode, it's not unlikely that she was Sandra Hawke because why would the writers not give her a name? Let's also at the interesting fact that she went back to Central City, the home of Barry Allen (soon to be known as The Flash), but it remains to be seen whether or not she is still there. Who knows, maybe it's not Connor, but knowing how geeky these amazing show-runners are, it's safe that this was their way of getting Connor into the Arrow-verse. It doesn't mean though that we will see him any time soon, but it's good to know that Oliver has a son out there.
The thing that made "Seeing Red" for what it really was, was absolutely the tragic death of Moira Queen. It's a sad fact that we all knew that one day, Oliver and Thea would lose their mother in one way or another, even if we didn't want it to happen. It was devestating that this happened right as they were going to try and become a better family.
Susanna Thompson has been one of the strongest additions to this show since day 1 as she portrayed one of the best written female characters on Arrow. There are only a number of strong TV mothers for me, and Thompson's character is without doubt, one of them. It was physically damaging to see Slade pull that sword into her as she was making the ultimate sacrifice for her children.
The scene where Slade was forcing Oliver to pick between Thea and Moira was so emotionally charged because it mirrored what Ivo did when he had to choose between Sara and Shado. The Arrow writers really knows their stuff when it comes to giving us heartbreaking scenes like that one and remember, we still have three more episodes left to go and the hurting is not over yet.
Slade mentioned that there was one more who had to die and my speculation is that it's going to be Sara. Why her? Think about it this way; the reason why Sara lives is because Shado doesn't and that is something that Slade clearly hates, but at this point, anyone of the characters could end up being the one that Slade referred to.
With all that to say, I'm going to miss Moira as well as the phenomenal Susanna Thompson and even though we will most likely see her in flashbacks again later in the series, it still doesn't help the void that she has left the Arrow fans. Thompson was one of the best castings for the show and portrayed one of the most compelling mothers that I have ever seen on TV. Lastly, even though it's sad that she is dead, it was very respectful by the writers to reveal that Moira have known that Oliver has been the Arrow since last year and the fact that she was proud of him.
Overall, "Seeing Red" was another game changing episode with flawless writing and great direction by first time Arrow director, Doug Aarnikoski. This will forever be one of the show's most memorable episodes and if you think things are going to slow down now, think again. Only three episodes remaining, how will it all end? Make sure to tune in for the next three Wednesdays nights!
Arrow airs on Wednesday nights, 8/7c on The CW.
[Photo via The CW]