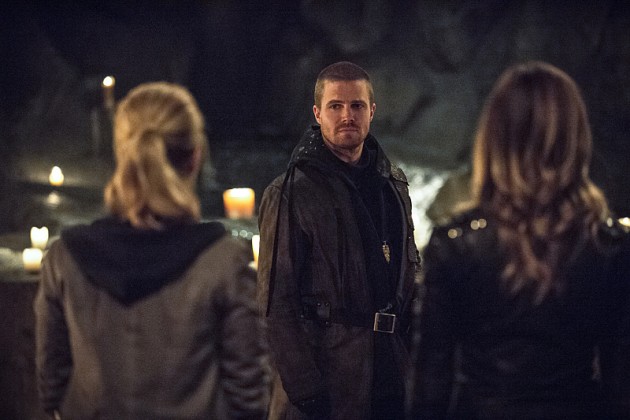 As the season is starting to come full circle, last night's Arrow began to setup its highly anticipated season finale, with Ra's al Ghul continuing to unleash his devilish plans on Team Arrow and Starling City.
I don't know why it was so shocking to discover that Oliver had been faking his brainwashing by Ra's, but regardless, it was somewhat of a jaw dropper moment and was for the first time in a long that something hopeful occurred on Arrow. However, that victory was taken away quicker than a speeding bullet as Oliver literally couldn't make any difference, other than letting things get worse for his team.
One of the great things in "This Is Your Sword" was the return of Roy Harper, as Thea paid him a visit. It was being teased that this would be Thea's opportunity to get her closure with Roy, and as sweet as their interaction were here, it still didn't feel like "complete" closure, as Roy took off before Thea woke up. Is it too much to ask for a happy ending every once in a while? Apparently it is, but that letter Roy left her was pretty sweet and from the looks of it, Thea may be sporting Roy's Arsenal jacket sometime very soon.
To be completely fair, there are two ways to look at this season of Arrow. One way is that it's been a powerful season, as perhaps one of the greatest challenges that a hero has to go is literally losing everything while still attempting to save everyone. But then there is the other perspective: is it enjoyable to watch? That is where my interest fades away, because yes, it's a compelling hero vs. villain story, but the problem with it is that it's not fun to watch. There needs to be something that makes you engage with it, but everything we are seeing is one defeat after another.
Like we have mentioned before, the third of year of any TV show is usually when things are at their darkest so you are expected to see a lot of difficult things that will most likely have you cry with thousands of tissues in front of the television screen. But even dark seasons needs to have hopeful moments where you do feel that there is still a little bit of hope. However, lately there has been so few of them that it's becoming difficult to enjoy this show, which is why I'm just waiting for this season to be over.
I will say the big battle scene with Malcolm, Black Canary, The Atom, Diggle, and Tatsu (debuting her Katana costume) against several League of Assassins members was one of the best fight scenes of the season. Heck, Felicity even had a witty moment for the first time in forever, where she almost took out a League member with her tablet! It was especially a thrill to see how much Laurel has improved in her fighting, as her continuing development as the Black Canary has been one of the best stories told this year.
We sadly do see the end of Maseo as Tatsu has to take his life, but the thing that made it powerful was that he expressed his gratitude to Tatsu, telling her that he is now set free. This death also played in with the death of Akiou in the flashbacks and made the whole episode so heartbreaking for Tatsu.
As "This Is Your Sword" neared its end, Oliver has to allow his friends to get exposed to the virus (although I think it's a fake out, just something to make them all past out slowly) as the wedding between Nyssa and him takes place. If you could tell from my review last week, this was not something I was looking forward to seeing, but the episode did succeed in setting it up for the big season finale, leaving things off on a major cliffhanger.
Despite some overwhelming elements, "This Is Your Sword" was a solid episode got me pumped for the season finale. I don't know how they are going to do it, but I'm just looking forward to seeing Oliver and Team Arrow win; hopefully, this year's finale will be as great as the ones from the show's first two seasons have been.
Don't miss the season finale of Arrow, titled "My Name is Oliver Queen," next Wednesday, May 13, at 8/7c on The CW.
[Photo via The CW]