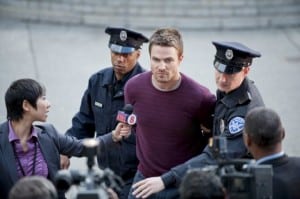 After last week's Arrow cliffhanger, we were treated to a pretty solid episode that quickly resolved the murder charge storyline and left the characters and the fans with a lot of questions.
Quentin's Quest. Detective Quentin Lance (finally, a first name!) wasn't the most popular person in this episode as Moira and Walter swooped into the police station and put a halt to Quentin's questioning of Oliver (who continuously denied being the Arrow). The detective left the family alone to deal with the crisis, but Oliver had a strange request: he demanded that Laurel act as his attorney or he would represent himself. It was up to Moira to approach Laurel, asking for the favor. Despite her initial reluctance, she agreed to defend Oliver and even got him released on bail (albeit with an ankle monitor) and fought her father tooth and nail about Oliver's innocence. Quentin refused to be deterred in his quest to get Oliver convicted, even when the District Attorney proposed a plea bargain, citing the fact that Quentin had not consulted with the DA's office before arresting Oliver (which, of course, Oliver turned down).
One Step Forward, Two Steps Back. Laurel continued to grow closer to Oliver as she represented him, but it was his insistence on taking a polygraph test that really convinced her of his innocent. At least, at the time. He was forced to tell her and Quentin about the torture he had endured while on the island and, later, showed Laurel the scars. He even admitted to the Lance family that he was responsible for Sarah's death. His confessions led the two of them to kiss, but Laurel ran out of the room. Later, she returned to the Queen mansion to confront him about the polygraph results, insisting that he had lied during one of the answers, which means he could have lied about everything. Oliver said that he's been hesitant to tell anyone about what happened on the island because he didn't want them to know how damaged he is. He's insistent that he can barely function, let alone fire a bow and arrow. Laurel seemed to buy it – for now – but she told him that they can no longer give in to their attraction for one another.
John Barrowman's Mystery Man. The name of John's character is still unknown (let's call him JB until we get answers) and he's just as mysterious as ever. We know from last week and this week that he clearly has a connection to Moira and he's worried that the Arrow is targeting people on "the list". When Oliver got arrested, JB sent an assassin to attack him at the Queen mansion. Fortunately for Oliver, he was able to use his martial arts skills and some last-minute help from Quentin to escape the assassin, who was shot by the detective. Moira returned to JB's office to warn her away from her family. It's clear that JB has a lot of power and Moira is afraid of him, but she's also determined to stand up to him in order to protect her family.
Arrow Decoy. After being released under house arrest, Oliver decided to come up with a plan to prove he wasn't the Arrow – at least for the police. He decided to throw a party at the mansion and then recruited Diggle to act as Arrow and go after an arms dealer named Mueller. Diggle was initially reluctant, unhappy that Oliver hadn't clued him in on his plan earlier, but he did agree to help. And the decoy was successful, resulting in the charges being dropped against Oliver.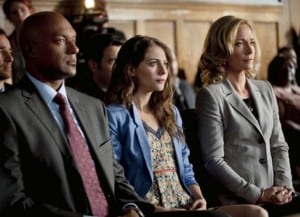 Walter's Reaction. After discovering that Moira had recovered the Queen's Gambit after the yacht sunk, Walter wanted to have it moved and secured before confronting his wife about it. Unfortunately, his head of security at Queen Consolidated (who was helping him) was killed in a mysterious "car accident", leading Walter to confront Moira about her secretive actions. She didn't deny her actions, but insisted that he drop his search for answers because he was going up against some very powerful – and dangerous – people. Her secrecy led him to head to Australia to examine their holdings there, but it's clear that he's trying to put some distance between him and his wife.
Oliver's Torture. Meanwhile, we got more scenes from the early days of Oliver's time on the island. Yao Fei has taken Oliver under his wing, continuing to teach him how to survive. But these lessons were cut short when Oliver was taken hostage and brought before Edward Fyers, who seems to be a pretty powerful force on the island. Unfortunately, Yao continues to elude him and he questioned Oliver about knowing the man. Oliver denied any knowledge of Yao, which led to a nice torture session by Deathstroke (one of Fyers' men) in an attempt to pry the truth from Oliver. But Oliver remained steadfast and was eventually rescued by Yao, who admired Oliver's loyalty to him. But this eventually led to another harsh lesson in survival for Oliver.
Final Thoughts. How long before someone else realizes that Oliver is clearly lying about being Arrow? Thea actually seems the most likely candidate to discover her brother's secret, even more than Laurel, because she's obviously playing closer attention to what he's doing.
Don't miss an all new episode of Arrow on November 14th on The CW. Watch a preview for the next episode below.
http://youtu.be/v8l0_DRbljM
Tell us what's wrong with this post? How could we improve it? :)
Let us improve this post!