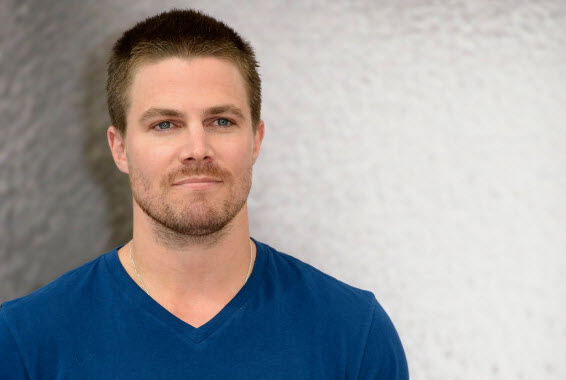 Last week's episode of Arrow featured the first part of Barry Allen's introduction to the Arrow universe and it was one of the season's strongest episodes. So how did the second part do? Was it able to keep up with the level of quality that "The Scientist" had? No, it went beyond that as last night's episode was not just one of season two's best episodes, but also one of the show's strongest period.
The CW should really just order The Flash to a series right away, whether it's 13 or 22 episodes, because Gustin gave a 110% convincing performance that proved he can definitely lead his own show. While he gave an amazing performance last week, Barry was even better this week and obviously it's great for his future prospects. This week there were more scenes between Oliver and Barry (which is greatly appreciated) where once again, Amell and Gustin had a strong dynamic.
One of the golden moments of "Three Ghosts" was absolutely Barry geeking out about the vigilante by for example, referencing several of Arrow's rogues that have been seen throughout the series. Barry pointing out that Oliver definitely needs a mask was just outstanding and right. The mask has been something that a lot of Arrow fans have wanted to see for a while. Speaking of that, the new mask is perfect, that's all that can be said and it was nice that it came from Barry because of hew nerdy he was. It was nice to get a few Easter Eggs to what they are setting up on The Flash show, for example, Iris West and more.
The biggest moment in the episode is obviously the final moment when the fans get to see the iconic scene where he gets his powers. It was well done both visually and practical. The question now though is what will happen to Barry until The Flash pilot? Hopefully he will return for a few more episodes later this season. It would be great to see him again at least a couple more times before the pilot. It would be good for fans to get a little taste of what Barry will be like with super-powers.
One of the revelations in the mid-season finale was the scene where it's revealed that Slade Wilson is in fact in Starling City and this takes the show to a whole new level. It will give the amazing Manu Bennett a lot more to do now on the show both in the present and in the past, just like they have been doing with Oliver throughout the whole series. The fact that Brother Blood is working for him and trying to create an army of super-soldiers makes 100% sense. It was definitely a geek moment seeing Slade wearing the eye patch and hopefully he will eventually wear the famous Deathstroke mask.
Speaking of super-soldiers and serums, it was a shock that Roy went through Brother Blood's project and actually survived. The twist with this now is that Roy will also be a bit super now and because he is a favorite character, this will be a very intriguing arc to follow throughout the season. The question is how Thea will react to this later this season whenever she does find out.
The title "Three Ghosts" featured three very important people in Oliver's life with them being Shado, Slade and Tommy. The best ghost appearance was without doubt Colin Donnell's Tommy Merlyn who has been missed since he died in "Sacrifice". It was a beautiful thing by the writers to have him back and be the one to tell Oliver to get up and fight. But not only that, he also let Oliver know that he didn't let Tommy die, that he did try to save him. The second that made it even more emotional when he said "you are a hero", it was a tearful moment.
The saddest thing and perhaps the only complaint about this episode was the tragic death of Shado. It was quite disappointing that the show decided to kill off one of the most important Green Arrow characters from the comics, especially since Celina Jade did such a great job of bringing the character to life in live-action. She will definitely be missed and it was nice that she got to be one of the ghosts.
Overall, "Three Ghosts" was a mid-season finale that met expectations and even went beyond it a bit as it was a nice way to end their first run of the season for 2013. They gave the fans so many answers while giving them a few new questions to deal with. The writers wrote a phenomenal script that revealed so many things in what has been a fantastic season while also giving a few more mysteries. Gustin has with these two episodes convinced that he is Barry Allen and that he will be able to carry his own show without problem. The whole cast gave amazing performances and this episode was pretty much flawless.
Arrow returns with new episodes on Wednesday, January 15, 2014, 8/7c on The CW.
[Photo via Pascal Le Segretain/Getty]