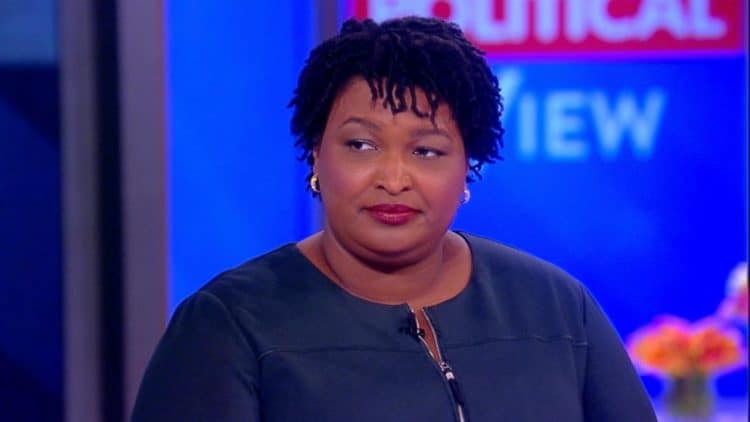 The 2020 presidential election has been full of surprises, and one of the biggest of them all has been historically republican Georgia switching to a blue state. The drastic change is almost entirely thanks to politician and voting rights activist, Stacey Abrams. Stacey, who previously ran for governor of Georgia in 2018, worked tirelessly to register hundreds of thousands of unregistered voters throughout the state. What's even more impressive is that she managed to do all of this while staying humble and never shifting her focus from the goal at hand. Since the election, she has been getting a lot of attention. There are lots of people who believe that her story deserves to be told on the big screen. While there's no official talk of a movie yet, we've put together a list of people will think will be great choices for the role when the time comes. Keep reading for five actors who should play Stacey Abrams in a movie.
1. Viola Davis
Viola Davis is arguably one of the best actresses of her generation. She's the first person who comes to mind when thinking of someone who could tell Abrams' story. When you see Viola Davis' name on the cast list for any project, you already know it's going to be amazing. Davis has won two Tony Awards, an Academy Award, and an Emmy . Over the course of her career she has proven time and time again that she has the ability to play any kind of character, and she has the ability to light up any screen. Davis' experience in the drama genre and her history of playing complex and meaningful roles makes her the perfect person to bring Abrams' story to life. The fact that Davis' mother was a civil rights activist also gives her a personal connection to everything Stacey Abrams stands for.
2. Regina King
Regina King is a very talented actress who doesn't always get the respect and attention she deserves. She has been in the industry for well-over 30 years. Regina has done a wide variety of projects during that time. Many people are familiar with King for some of her more comedic/light hearted roles, but she is very capable of more serious projects. Her work in TV projects like Seven Seconds and American Crime have shown her range of skill and we think she could do a great job portraying Stacey Abrams. King also has a good amount of experiencing directing, and this could also come in handy for playing this role.
3. Loretta Devine
Loretta Devine is another actress who is traditional known for more lighthearted projects. However, she has an incredibly strong on screen presence that is perfect for dramatic roles as well. Like the other women on the list, Loretta also has lots of experience doing film and TV projects which could help add a unique perspective. The only downside to Loretta being a possible choice for the role is that she is considerably older than Stacey Abrams. With in mind, however, actors play younger characters all the time.
4. Taraji P. Henson
For a while it seemed like Taraji had gotten typecast into playing certain types of roles. But if there's one thing you're not going to do, it's put Taraji into a box. She has a long history of playing strong women. From Cookie Lyon all the way to Katherine Johnson, Taraji has worked hard to show the world that she isn't a one dimensional actress. Needless to say, her hard work has paid off. Taraji's work on Hidden Figures is proof that she has what it takes to do a major biopic. The level of care and attention she would bring to the role of Abrams would be able to solidify her greatness to anyone out there who may still be doubting her.
5. Kimberly Elise
Some people may think Kimberly Elise is an unlikely choice for this list, but there are a lot of reasons why she's a great fit. Plus, sometimes the most memorable performances come from the people you hadn't thought of. Since making her film debut in the 1006 movie, Set It Off, Kimberly Elise has gone on to appear in more than two dozen additional films. She has also earned her fair share of TV credits as well. Kimberly brings a certain softness to the roles she plays which could allow her to add something very unique to Stacey Abrams' story. Kimberly hasn't won any major awards yet, and this could be an opportunity for her to put herself in the running.