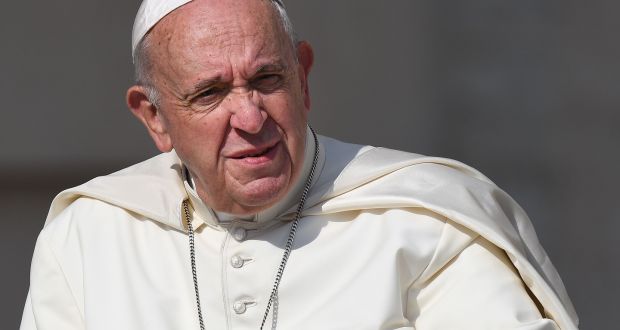 Pope Francis will likely go down in history as one of the most influential popes of the modern era. Since beginning his papacy in 2013, Pope Francis has shown a more progressive side of the Catholic church. He has maintained an international presence and has spoken out on wide range of issues. With a legacy as impactful as his, there's no doubt that there will eventually be a movie about the great Pope Francis. With that being said, who would be the perfect person to take on the role of such an iconic figure? Keep reading to see 5 actors we think could be perfect to play Pope Francis.
1. Antonio Banderas
Like Pope Francis, Antonio Banderas also has Latin roots. Banderas has been acting for nearly 40 years and he has built up a very impressive resume. He has been nominated for an Oscar, an Emmy, a Golden Globe, and a Tony Award. From the screen to the stage, there's almost nothing Banderas can't do. He also has some directing experience which could come in handy while playing a role like Pope Francis. All in all, Banderas definitely has the experience and the talent that it takes to step into the pope's shoes and bring his story to life on screen.
2. Jonathan Pryce
There's no way this list would be complete without Jonathan Pryce. The actor, who is best-known for his role as the High Sparrow in the hit series, Game of Thrones, already has experience playing Pope Francis. In 2019, Pryce starred in the Netflix movie, The Two Popes. Fans quickly noticed that Jonathan and Pope Francis bear an uncanny resemblance to each other. His work on The Two Popes proved that he definitely has the talent to take on such a complex role, and it'll be interesting to see what he would bring to a big screen production – especially if the movie were to focus solely on Pope Francis and his story.
3. Hector Elizondo
Since making his acting debut almost 60 years ago, Hector Elizondo has made dozens of film and TV appearances. In fact, you've probably seen him in some of your favorite shows and movies. Hector is best-known for his role in shows like Chicago Hope and movies like American Gigolo. Many of Hector's most recent projects have either been comedic or geared toward a younger audience, so it would be cool to see him take on a role like the pope and take viewers back to his his more serious side. Despite all of the success he's had throughout his career, Hector has never been nominated for an Academy Award. Playing Pope Francis could be the perfect opportunity to get him there.
4. Gary Cole
Gary is definitely the sleeper pick on this list. He may not be one of the first people that comes to people's minds when they think of someone playing the pope, but Gary definitely has what it takes. At 63-years-old, he is about 20 years younger than Pope Francis, but you know what they say: age ain't nothin' but a number. What Gary lacks in age, he makes up for in talent and experience. Cole has been acting for nearly 40 years. In that time, he has racked up dozens of credits for both TV and film. Throughout his career, Gary has played a wide variety of characters and has shown that he has the range to take on the challenge of any role. Some of his roles have even included biographical projects, so he knows exactly what's neccesary to tell a real person's story.
5. Frank Langella
Some people may be surprised to see Frank Langella's name on this list, but I think he could be the perfect person to take on the role of Pope Francis. The 82-year-old actor has been in the business for almost 60 years, and he has made quite a name for himself. Frank is a four time Tony Award winner who has also been nominated for an Academy Award. On top of that, Frank already has experience playing biographical roles. From 2006 to 2007, he portrayed former president Richard Nixon in the play Frost/Nixon. He also played the role of judge Julius Hoffman in the upcoming film, The Trial of the Chicago 7. His combination of experience and natural talent are the perfect match for the role of Pope Francis. The two also do have a slight resemblance which is always nice for biographical roles.