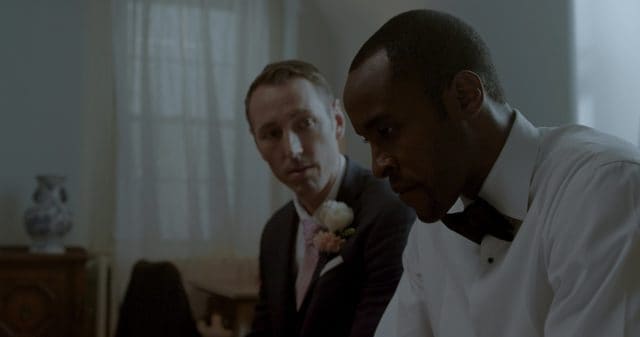 "Jitters" might be the name of Otoja Abit's film directorial debut, but it's a notion he shouldn't be feeling with big names behind his short film. "Jitters" will be shown as part of the Maryland International Film Festival-Hagerstown at 6:30 p.m. Saturday, April 28, at the Historic Maryland Theatre in Hagerstown, Md. The film festival runs Friday, April 27, through Sunday, April 29.
The 13-minute film tells the story of a man (played by Abit) who minutes before his wedding, locks himself away in the back of a church with his best man (Walker Hare). Recalling the women of his past, he questions if he made the right choice. Abit was a basketball star and played division I basketball at St. John's University. There he pursued acting. After an internship with The Labyrinth Theatre Company, he was assistant director in the 2011 Broadway revival of "That Champion Season." He acted in "The Humbling" directed by Barry Levinson and acted opposite Al Pacino. Abit also appeared in HBO's "The Night Of," directed by Steve Zaillan.
With his own project and wearing different hats, Abit has embraced the experience.
"From every part of this process – from writing to producing to even post-production – has been a learning experience. It's also been amazing the support I've had from people, who totally invested in me, a first-time filmmaker," he said.
Full circle
Because Abit had been an actor as well directed theater, he was able to form friendships that came in handy for "Jitters." Chris Noth and Joe Scarborough("Morning Joe") are producers. Jason Patric stars in the film. "This project was a very important part of my life where I got to grow as an artist as well as a person. And I got to basically learn to direct the right way with these mega stars," he said.
What has excited Abit the most looking toward the film festival is that one his favorite films, "Narc" was directed by Joe Carnahan, who directed Patric in the 2002 film, is also creative director for MIFF-H, and will be in attendance at the festival. "It will be an amazing opportunity to have a full circle moment to have one of Joe Carnahan's talent in my short film that will play at the Maryland International Film Festival-Hagerstown," he said.
As for his film, Abit said he hopes people will realize what the idea of fidelity really means.
"I want them to see a human story rather than labels of what a story could possibly be," he said. "And I want them to see the different relationships you can have with a person."
For tickets and a complete schedule, go to www.marylandiff.net.
Tell us what's wrong with this post? How could we improve it? :)
Let us improve this post!