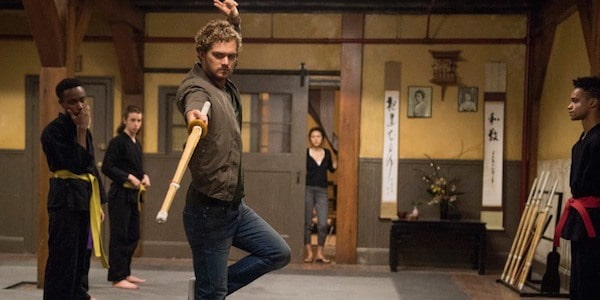 Far and away one of the most anticipated comic shows that Netflix will be airing is Marvel's Iron Fist. So far we've gotten to see a few pictures and a few teaser clips but come March 17th, Netflix will unleash the beast on us in all its form. Iron Fist will tell the origin story of Danny Rand, an heir to a corporate enterprise that went missing as a child. Having been found by the residents of a mythical city, he learns martial arts and becomes the supernatural warrior known as Iron Fist. Now he returns to New York City to reclaim his family company and clean up the streets with his sick Kung Fu moves.
Rand, who is played by Finn Jones might actually have some influence from another show Finn Jones was on, Game of Thrones. In case you weren't aware, Game of Thrones is an adaptation and much like Game of Thrones, Iron Fist too, is an adaptation. Jessica Henwick is portraying Colleen Wing on Iron Fist, but she's also played Nymeria Sand, one of the Sand Snakes, on Game of Thrones. So how are Game of Thrones linked other than the fact that Finn Jones will have worked on both shows? Here's what Fenwick said to Collider.
We both worked on Game of Thrones for six years, and I don't know about you, but what I learned about being on that show, and it was an adaptation, is that it's important to just deal with the source material that you've got in front of you. You know, I found reading the comic books and watching the other Netflix series is really good for getting an idea of the tone of the character in the shows. I just stayed very focused to our version of Danny Rand and what I can bring to the role, rather than emulate something that's been before.
Just remember that "adaptation" is a key term in interpreting how Iron Fist will play out. It will not be a direct, word for word reenactment of the comic books, much like Game of Thrones is not a full reenactment of the books it's based on.
Save