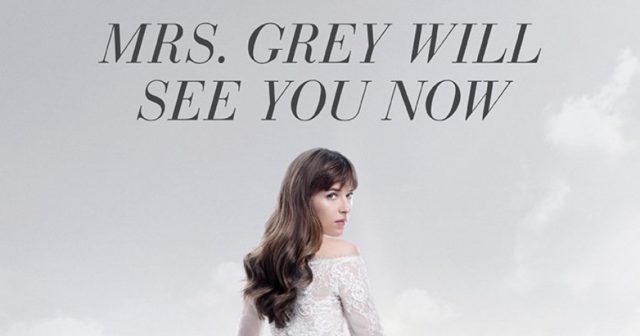 I agree, aren't we all a little Fifty Shaded out by now? How far are they going to take this franchise before it finally drops off the map? The first and second one were horrible according to many of the same women that absolutely loved the books, which is odd in itself. In an age of feminism where women don't want to be objectified or looked at as playthings any longer this book and the movies seem to flaunt that idea and go full steam ahead with the S&M and whatever else it is they do. But somehow, women flock to these books and the movies thinking that they're going to see something uniquely dirty and exciting.
On behalf of a lot of men I'll scratch my head and say "huh?"
The Fifty Shades of Grey books have been something that a lot of women have been talking about and when I first heard about it the two words that ran through my mind were "smut novel". Because let's face it, any book that focuses largely on romance and heaving, throbbing this and that is about as smutty as it gets. Some stories are so racy you'd think they might be given a special nod by magazines like Hustler and other such skin magazines. Some of them actually seem like they'd have made Larry Flynt blush back in the day, and that's saying something. But Fifty Shades of Grey is actively trying to keep up a story line between the two leads that is seen to be going somewhere, but nowhere good as she keeps on finding that there's more to Mr. Grey than she originally thought.
Shouldn't that have been obvious in the first book?
Yes it is a man's perspective looking at the ridiculous nature of this story, but it's also a man's perspective from a guy that has a lot of respect for women and can't understand the double standard that seems to exist with Fifty Shades. I get the premise and the plot but to think that there's people who will willingly strap themselves down and let someone have their way with them, that gives me chills just thinking about it. It's not the fear of what the other person will do, it's the lack of personal freedom to do something in turn, or to simply move at will.
I won't even go into the other things they do because some of them seem a bit, well, gross, while others are just a little too racy to put in one of these articles. Let's just say that they explore one another in every way possible and, yeah. That seems good enough.
When was the last time you heard someone talk about Fifty Shades though? Be honest, don't try to make it seem like you should remember hearing someone say something that MIGHT have referenced something that sounded like fifty or grey just the other day. This franchise isn't just hurting at this point, it's limping along and needs to stop. Hopefully this last film will be a final farewell, but if Hollywood can wring any more than a dime out of another one, don't bet on it.
Save