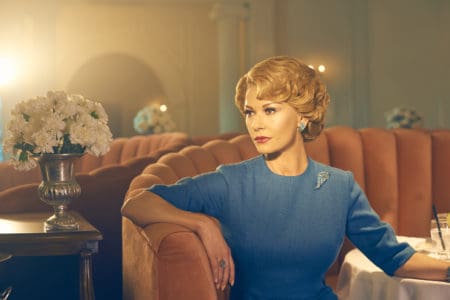 The Emmy-nominated FX show Feud might just have found a story for their third season. It's going to be a feud that will be more interesting than Bette Davis and Joan Crawford themselves. Maybe even better than Charles and Diana!
Back in June 30 (the day before her 101st birthday), two-time Oscar winner and Hollywood legend Olivia de Havilland filed a lawsuit against FX and everyone involved in the show for inaccurately portraying her and using her likeness without any permission. She was played by Oscar winner Catherine Zeta-Jones on the show. de Havilland claimed that the show has damaged her "professional reputation for integrity, honesty, generosity, self-sacrifice and dignity." Her lawsuit stated that the pseudo-documentary style within the show has led the viewers to believe that the portrayal of her is accurate even though she has not said any of those things in real life.
The case is now set to go on a trial before jury this coming November 27. de Havilland requested for a speedy trial due to her advanced age of 101 years old (Reminder: she's the only surviving cast member of Gone with the Wind). She has also criticized the show for the foul words that were said by her (the character) particularly when she called her sister Joan Fontaine a "bitch" (on the show). She said on her declaration that "This kind of vulgarity is not language that I use. The false statements and unauthorized use of my name, identity and image by the creators of Feud have caused me discomfort, anxiety, embarrassment, and distress." On August 29, FX filed an anti-SLAPP dismissal. The hearing for that First Amendment motion is scheduled this coming September 29. We will find out in that motion if FX will be able to successfully wrap themselves in the First Amendment.
This is not the first time that de Havilland has filed a case against a Hollywood giant. Back in 1943, she filed a lawsuit against Warner Bros. for a contract dispute in which they added six more months after completing her seven-year contract due to the times that she has been suspended. She eventually won the case and the California Labor Code Section 2855 is now known as the "De Havilland Law" in which contracts are only allowed to go up to seven years.
I find it funny to see that Olivia de Havilland is the one who is speaking out against Feud: Bette and Joan. The surviving relatives of Bette Davis and Joan Crawford (the focused actresses of the show) didn't mention anything about the show and they remained silent about it ever since the premiere. With all due respect to Ms. de Havilland, I think that this case is not necessary at all. There have been biopics on both movies and TV shows before in which a person, that was being portrayed publicly, complained about the inaccuracy but they never reached the courtroom. Also, biopics tend to be inaccurate in some parts for creative reasons. Let's take the 2015 film Steve Jobs as an example. The events that was portrayed didn't exactly happened in real life. Some of them were made up to make a better and interesting story. Aaron Sorkin would just assume about the events that could have happened based on his research. We don't know what de Havilland is really up to but I believe that a lawsuit wouldn't be necessary. Even if Ryan Murphy didn't reach out to her before the production of the show, the two camps could have talked or settled privately about that matter somewhere after the production or airing ended.
The reason why people are giving positive commendation to Feud: Bette and Joan is because of their raw portrayal of sexism in Hollywood which is still somehow an issue until today. If de Havilland doesn't like the show's portrayal of her, I wish she could have agreed that the show was great on talking about the topic of sexism in Hollywood. We saw in the show how Hollywood pitted Davis and Crawford against each other that would even personally hurt both of them. We don't know if the events were exactly that way but we know that it was a topic that was surely present during that time. de Havilland should give a chance on the show even if it has caused her distress. Most people would agree that the show didn't portray her in a very negative light. She was portrayed as a supportive friend to Bette Davis.
By the end of the month, we will learn if FX's motion will be denied or not. If the motion will be denied, we will find out in November or December if another "De Havilland Law" is coming or not. I would also want to take note that, until now, O.J. Simpson hasn't filed a lawsuit yet for The People v. O.J. Simpson: American Crime Story (imagine the press if this will really happen). I wish that the case will end up on a satisfying result that both sides can agree to. My plea to Ms. de Havilland is to reconsider her lawsuit. This is no longer the same as 1940's Hollywood. Feud has a positive message for society. I think Ryan Murphy, the cast, and the crew deserve praises for their effort to make the show not as campy as what most people would expect but turn it into a socially relevant one.
Feud: Bette and Joan is competing for 10 nods at the upcoming 69th Primetime Emmy Awards this coming Sunday including acting nominations for Jessica Lange, Susan Sarandon, Alfred Molina, Stanley Tucci, Judy Davis, and Jackie Hoffman. The show won Outstanding Hairstyling and Outstanding Non-Prosthetic Make-Up at the Creative Arts Emmys last Sunday. The second season is expected to premiere next year on FX tackling the relationship between Prince Charles and Princess Diana.
Save