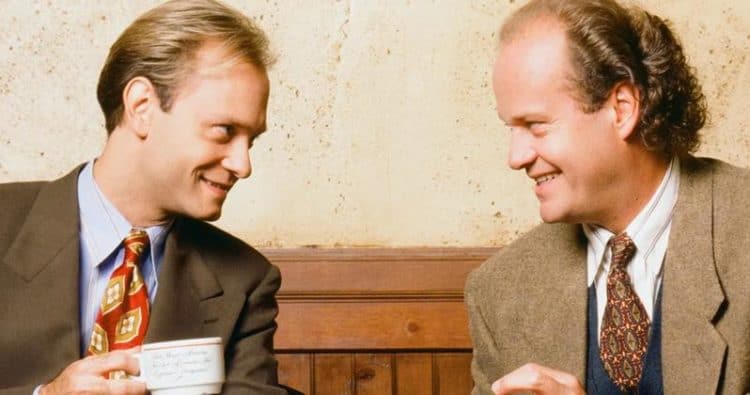 The holidays can trigger all kinds of past traumas or frankly, just really stress one out. Never fear because Dr. Frasier Crane, his family, and friends are all in to help one get through this festive season. Dr. Crane even read a recent study that shows watching familiar television shows helps one regulate stress and regain control. Frasier premiered in 1993 as a spin off of the popular show Cheers. It ran for eleven seasons and won 37 Emmy Awards, which includes 5 consecutive wins for outstanding comedy series. The plot centers around popular Cheers character Dr. Frasier Crane's move back home to Seattle after his messy divorce. Dr. Frasier Crane's slightly vulnerable position, neurotic nature, and his uppity, arrogance make for great comedy. Dr. Frasier Crane hosts a call in advice radio show. His blue collar father Martin and his dog ends up moving in with him. His brother Niles both competes and seeks companionship with Frasier. The Cranes and friends are the perfect group to get through the holidays with. Here are seven Christmas episodes that are exactly what the doctor ordered.
Miracle on 3rd or 4th Street Season 1 Episode 12
Frasier is disappointed when he finds out his son, Frederick, won't be with him for the holidays. Lilith is taking him to Austria instead. In an effort to take his mind off that Frasier offers to cover for Bulldog, the sportscaster, on Christmas Day. This is not the cheery distraction he had hoped for. Caller after caller tells their depressing story. Many famous people lend their voice talents to the roles of the depressed Christmas callers such as Mel Brooks, Ben Stiller, and Rosemary Clooney. Frasier ends up eating Christmas dinner in a diner where people mistakenly think he is homeless.
Frasier Grinch Season 3 Episode 9
On the worst possible shopping day of the year, Frasier finds out his gift of educational toys for his son Frederick is delayed in shipping and will not arrive on time. In order to give his son a merry Christmas, Frasier must do the unthinkable: go to a mall. He enlists the help of his brother Niles. Niles is also having a rough time as his vindictive, estranged wife Maris cut off his money. Martin saves the day with his jolly Christmas decorations.
Perspectives on Christmas Season 5 Episode 9
Everyone is stressed this holiday season. Frasier, who wanted to really nail gift giving this seasons, gives everyone massages to help and in flashbacks they tell their own personal version of stress of the holiday season. Everyone's perspectives vary of course. Martin befriends a priest and is asked to sing a solo at the church's Christmas pageant. In order to prepare, he asks his sons Frasier and Niles to help. Both also have musical talents after all. Daphne mistakenly thinks Martin's nerves are actually an illness. Frasier is determined to get the perfect gifts for everyone this year. Roz is nervous about telling her mother she is pregnant. Frasier accidentally tells Roz's mom about her pregnancy because he thinks she already knows. Everyone is mad. Frasier ultimately decides the perfect gift for everyone this year is a massage.
Merry Christmas, Mrs. Moskowitz Season 6 Episode 10
While out shopping for a menorah for his son Frederick, Frasier tries to sneakily buy a sweater for Roz who is with him. She catches him but Frasier is saved by a lovely older woman who claims she is buying it. Frasier is grateful to this woman and asks how he can repay her. She suggests taking her daughter, Faye, out on a date. Frasier agrees and is pleasantly surprised at how much Faye and he hit it off. When Faye stops by unannounced with her Mom, Frasier discovers that Mom thought he was Jewish because of the menorah. While this isn't as issue for Faye, it is for her Mom. Frasier agrees to play along and pretend to be Jewish. Niles and Martin agree to help. It is a hard act to keep up and all sorts of mishaps such as Eddie, Martin's dog, showing up in a Santa costume make great comedy.
The Fight Before Christmas Season 7 Episode 11
Frasier is throwing a big traditional Victorian Christmas party. He even invited his building rival Cam Winston. Daphne is feeling awkward after Frasier, high on pain medication, accidentally tells her Niles has feelings for her. She is engaged to Donny and Niles is in a newer relationship with Mel. Niles goes to console his ex-wife after her gardener dies. Mel finds out and is not happy. Frasier's party is not going well because as he discovers his rival Cam decided to throw a party as well. Daphne decides to tell Niles she does not have feelings for him but learns that he needs her Christmas gift back because it was actually for Mel. She is satisfied that his feelings are for Mel. Although she keeps stealing glances at the happy couple.
We Two Kings Season 10 Episode 10
Frasier is preparing for a big family Christmas at his apartment. Niles and Daphne also want to host. Niles and Frasier fight over who should host Christmas. Martin gets himself in the middle of the argument and says he will decide. The brothers try to bribe Martin until he has enough and decides to work on Christmas. Having seen the error of their ways, the brothers decide to make it up to Martin and visit him at work. Too bad they ultimately end up getting locked out with Martin instead.
High Holidays Season 11 Episode 11
Frasier is excited to be a part of a commercial for the Seattle Tourist Board, unfortunately the woman in charge, Natalie, also wants Eddie, Martin's dog, in it. Frasier is a bit smitten with her. Frederick arrives with his girlfriend Andi but is going through a teenage goth phase. Martin tells Frasier not to worry that it is normal and mentions Niles did not rebel as a teen. This causes Niles to want to get high. Roz helps out with a pot brownie but Martin eats it not knowing about its special nature. He buys another normal brownie to replace it. When Martin starts acting funny, the truth comes out. Martin is high but Niles is not. Frasier and Frederick bond over girl troubles. Frasier's date with Natalie, from the commercial, did not go well. Frederick's relationship with girlfriend Andi is also over.
Tell us what's wrong with this post? How could we improve it? :)
Let us improve this post!