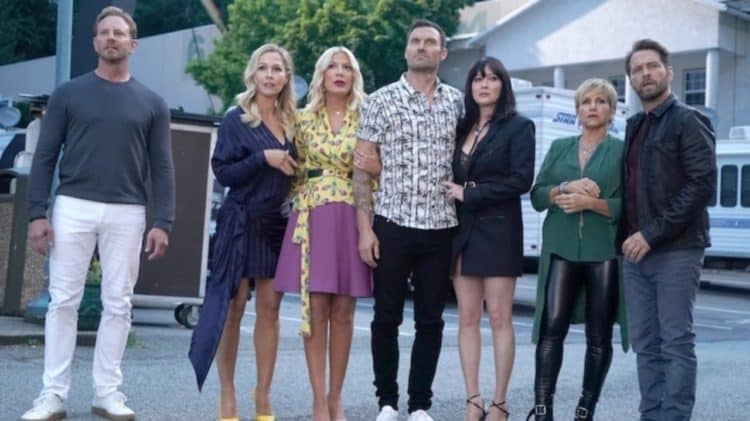 It is pointless to watch a movie, a drama series, or any show on your screen solely for entertainment purpose. Most of these programs always have plenty of life lessons that you can always pick up and apply in your life accordingly. "BH90210" is no exception; it has lots of critical lessons that can impact positively on the lives of its viewers. According to Vulture, the drama show series explores the real-life and relationships of a bunch of friends from Beverly Hills. Here are several essential life lessons we can learn from the show:
1. With the right attitude, everything is possible
Probably you have heard this statement from many motivational speakers in their bid to kick start your success story. Such people are, in many instances, trying to give you hope without necessarily knowing your situation. you can draw such crucial life lessons from the comfort of your couch as you get entertained by the show. We can draw inspiration from the turbulent life of Ms. Taylor in the show.
Ms. Taylor faces it rough due to her mother's addiction and her father's absence. Depression pushes her into doing many wayward things that lead her to troubles. She develops an eating disorder, and even at one point gets a bullet in the head. As if that is not enough, the pretty lady falls deeply into cocaine addiction, which consequently prompts her to get booked into a rehab center. Troubles do not, however, cease to follow her, her roommate in the rehab turns out to be a stalker.
When all seem to have calmed down, and life resumed normalcy, fate strikes again hard on her, she gets caught up in a house fire that leaves her with significant burns on her face and to make up for it she joins a creepy cult. Later on, her life skips on from one hell to another; in one instance, she is sexually harassed at work then comes one of her darkest moments; she suffers a miscarriage. Still, with all these problems, Ms. Taylor does not give up. With the help of her friends, she finally brings her house in order and becomes an inspirational high school guidance counselor making something of her miserable life at last.
2. You should be your priority
We are bound to always be in situations where we are not sure of what is good for us. Those around us may feel entitled to us, but we should always bear in mind that we still have the last words in our lives. Do not allow anybody to manipulate you in to making their bids or doing what you do not want. Such can be reflected off Kelly and Brandon in the series. In one notable instance, she is offered an engagement ring by Brandon, but she stands her ground and rejects it. Furthermore, Dylan offers to take her on adventures around the globe, but she does not fall for it. She steadily declines both men choosing herself in both cases. This sends a clear message of self-independence to the two men and forces them to give her the respect she deserves.
3. Mental health is important
Young people are in a self-discovery stage that is full of troubles that if not well addressed, can push them to the edge. Depression is the order of the day for the youth, and it has caused untold suffering to many. In "BH90210," depression and its effects are reflected in the lives of two characters. Brandon's girlfriend Emily Valentine is on the verge of setting herself ablaze during the homecoming and should there have been no one around, that would have been her end. In another prominent case in the fourth season of the show, Laura, a college student tries to commit suicide by hanging herself. Luckily for her, people around her intervene accordingly, saving her from herself. Furthermore, Kelly's depression leads her to self-destruction. She turns to cocaine abuse as a way of reducing the pressure from the challenges in her life. Consequently, she gets hooked, and rehab becomes her only savior.
4. Drug abuse is consequential
Drug abuse bears adverse consequences which impact negatively on the victim. Nothing comes off good from the drug abuse experience, and in many cases, addicts take a turn for the worst. Many are pushed to drugs by depression and the pressures of life with the hope that they will forget or get through their haunting situations. Unfortunately, drugs make things worse. In the show, the effects of drug abuse have reflected on several characters. Kelly Taylor turns to cocaine to ease her depression, but the experience turns her into an addict. She is prompted to join a rehab center to prevent her life from going down the drain. David Silver and Dylan Mackay have also been victims of drug abuse. The authorities, in one instance, busts David in connection with drug abuse. Dylan, on the other hand, has drinking issues that prompt his friend Brandon Walsh to push him into seeking professional help. He consequently joins an AA group meeting to calm his drinking demons. Moreover, Donna is also hooked to pain killers owing to her back problem, but she eventually manages to beat it.
5. Friends are important
Despite the frequent frictions with our friends, they play a significant role in our lives. It is when we are in the worst of situations that our friends come in handy. In "BH90210," friendship is portrayed to play an influential role in the lives of the characters. When Dylan is fighting his drinking problem, his friend Brandon is there for him. He further helps him settle in Beverly Hills after relocating with his family from Minnesota. Kelly Taylor also gets through her addiction problem with the help of her friends. It is also the intervention of friends that prevented Emily Valentine from setting herself ablaze.