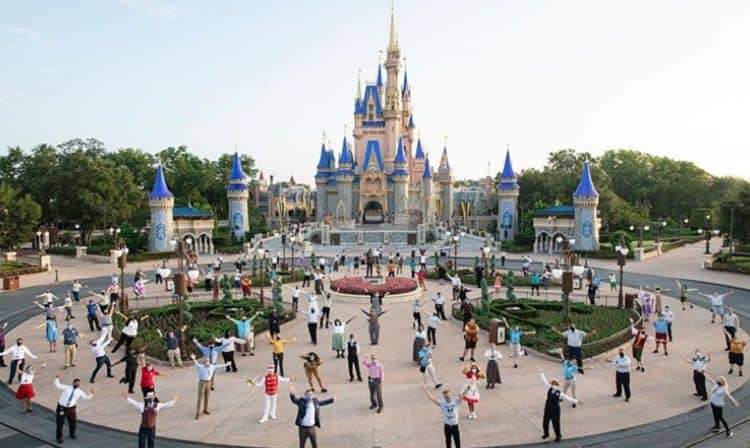 So it feels as though fans are giving a hearty hats off and masks on Disney World at this point since the social distancing practices that are supposed to be in place and getting constant use obviously aren't really being considered. Who could have guessed this though? Well, if we're being honest, a lot of people could have pointed out that people in any Disney theme park aren't all that great at practicing such a thing as social distancing since they don't want to see people cut in line and they're simply too eager to board a ride that will be over in less than half the time they've been standing in line. Apparently some fans, having already seen the lack of proper social distancing methods, decided to turn around and go home, which feels somehow melodramatic and not at all real since unless one happens to live in Florida the trip to Disney World is typically an expense that a lot of people aren't just willing to throw away. In the interest of their own safety and health though it's not too hard to think that some people would look at the crowds and say 'uh-uh', before turning on their heel to leave. It's not too surprising that fans would create a mashup on Twitter to blast Disney World and it's decision reopen in the midst of the pandemic as the virus surges forward again. But in terms of it being akin to a horror movie, there are plenty of correlations, the biggest one being that some very poor decisions are being made by those that should know better.
I fixed that "Welcome Home" Disney World commercial pic.twitter.com/IC922aBeCB

— Click here to watch Sean Hannity blow an elephant (@tonygoldmark) July 12, 2020
Many people are already noting just how hypocritical and possibly dangerous it is to be gathering people into lines where social distancing is bound to break down so easily. After all, if a grocery store can't find a way to reasonably enforce social distancing, then how is a place like Disney World going to try and do the same thing? The answer is obvious, they can't expect to do it all on their own, and it's not likely that people are going to continue to practice this unless someone is there to doggedly point out again and again and that the rules need to be followed. People are habitual creatures after all, and realistically everyone wants to be first in line and doesn't want to ruin the chance of being able to get into the park after so long. This might be an amusing exercise in futility if things weren't so deadly serious.
adding video to explain the full issue, which is more than just the above line.

there were also TWO MORE lanes of pedestrian traffic in the SAME walkway.

It's not a fluke, either – we were directed straight into the bottleneck. (You can hear it in the background.) pic.twitter.com/nhSB3o8gXm

— 🍓✨carlye wisel (@carlyewisel) July 11, 2020
Social distancing Disney world style! pic.twitter.com/URYc3mwtAf

— UnRooolie❼ (@unrooolie) July 11, 2020
As can be seen, social distancing isn't exactly a priority at this point as a lot of people are bound to simply rush in with the mentality that they have huddle together so that no one cuts in line and they all get the chance to enjoy the fun. It kind of makes a person wonder if anyone pays attention to the numerous newscasts and warnings that are there to keep people safe. At least the people are wearing masks, but then again, the efficiency of the masks kind of goes down in a big way when people are bundled into a group such as this. It's one thing when a family sticks together in a line, but otherwise, it feels as though Disney World is really dropping the ball here. Plus, where in the world are the markers that should be displayed to show people just where six feet of distance is?
didn't think this needed to be said, but your trip to disney world can wait until there isn't a global pandemic

— Shannon Purser (@shannonpurser) July 11, 2020
Sadly it would appear that this does need to be said since too many people are experiencing cabin fever and apparently feel that it's absolutely vital to make their way to a theme park to smile their blues away. It's kind of a dumb question, but does anyone remember the days when theme parks weren't so prevalent? Granted, some of us might not have been born yet, but there was a time when simply going out camping, or going outside to relax and get some much-needed exercise was the best part of the day. Somehow it feels that we've traded that for the opportunity to gather in large numbers while spending massive amounts of money on experiences that are special in their own way but could possibly wait until the pandemic has actually been handled. Have people seriously forgotten how to make their own fun?
Here's the hub at 11am opening day at Magic Kingdom. #WaltDisneyWorld pic.twitter.com/2kHCymhxCy

— Brooke Geiger McDonald (@BrookeGMcDonald) July 11, 2020
This image is a little more heartening to be certain since there aren't as many people, but that's still only a small bit of good news when compared to the idea that people are ready and willing to jam themselves into a theme park in order to just get away from their everyday lives. When exactly did Disney become this important to people, that they'd risk their health and that of others to make a lasting experience?
It's hard to say since the Disney employees need their jobs, but perhaps the park should rethink the whole idea of staying open for a while to come.