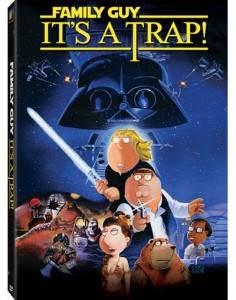 It's tough to make a parody out of what was probably the least loved Star Wars movie (before the prequels came along, of course). While I enjoyed Return of the Jedi, I didn't find it as enjoyable as A New Hope or Empire Strikes Back. But Family Guy had already remade the two previous Star Wars movies in their own image and so it's not surprising that they tackled the last one.
Here's the thing about It's a Trap!: it's amusing. It's amusing because most of Family Guy is amusing. Yes, there are fart jokes and they usually draw some jokes out (like yet another random appearance by Conway Twitty that doesn't make sense), but I never hate Family Guy because I can always find things to laugh at in any episode. So yes, there are amusing things about It's a Trap!, including a running gag about Seth Green, acknowledgement about the hairdressing skills of the ewoks and Yoda's death scene. Also, anything involving Stewie as Darth Vadar is actually pretty funny, as is Lois'father imitating the Emperor and his ridiculous line 'oh, I'm afraid the shield generator will be quite operational when your friends arrive', because, seriously, that was kind of a ridiculous delivery the first time around.
The only problem with this episode is that it feels kind of short and incomplete. I believe it's as long as the two previous versions, but Jedi itself isn't a solid story to begin with, and that seems to translate into the parody.
The DVD comes with a digital copy you can load onto your computer, which is a nice feature accompanying a lot of DVDs these days. There are a few special features, including a commentary track and a featurette that looks into the animation process. It's nothing to phone home about, but at least they included a few features.
It's a Trap! isn't as enjoyable as Blue Harvest or Something, Something, Something Dark Side. It's the poor man's Star Wars parody, just like Jedi is sometimes seem as the poor man's Star Wars. But it's the end chapter to a story and has enough funny moments to please any Family Guy fan.
You can view a few sneak peeks from It's a Trap! here.
Tell us what's wrong with this post? How could we improve it? :)
Let us improve this post!