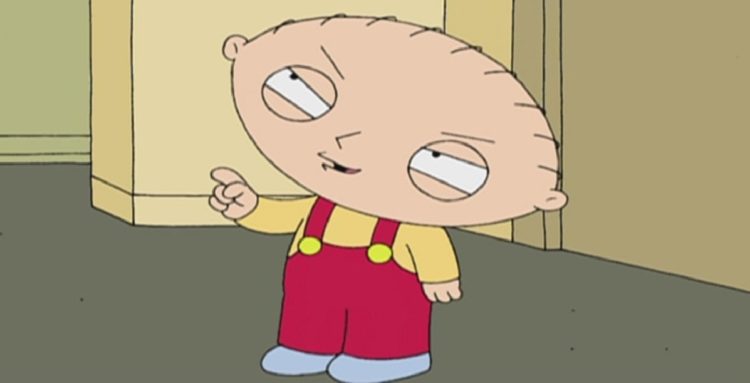 Stewie Griffin made his television debut on the pilot episode of Family Guy and has kept viewers glued to the screen since. If not for his bizarre maturity despite being a toddler, then his popularity has everything to do with his potty mouth and psychopath tendencies. Always one to keep his dog Brian close by, there are times in the past that Stewie has had to work to make ends meet. Some of those moments were purely coincidental. Here are his best jobs yet:
1. Stewie's Construction Co-Workers Thought He'd Never Succeed
When Lois (Alex Borstein) found Stewie and Brian (Seth MacFarlane) watching a show she did not approve of, she quickly flipped the channel and let them watch The Turtlenecks, even though she'd previously taken Stewie to a Magic Mike show. Stewie, who's always been a little wise for his age, was bored by the children's rhymes. He was upset that baby songs didn't tackle real baby issues like loud noises or teething. It was annoying that children's songs were written by adults. Babies needed the opportunity to write their own songs, and Stewie would be the one to do it. If he did become successful, the people he'd worked with at the construction company, who'd mocked him at lunch when he said he'd one day become a successful singer, would be extremely jealous.
2. He Accidentally Laid Off Workers At A Printing Company
Stewie hated a number of things, and a boring office party was on the list. He found himself bored to death and posed as Chadwick from the regional office, whose aim was to stir the party up. Stewie announced that there would be a downsize the following Monday, and only employees who drank the most shots would keep their jobs. He saved the party and got himself hired in the process. Stewie reported to work . His internet was slow, so he asked Gayle whether hers was too, only to find her sobbing. She'd lost her job and gotten divorced within the same week. Stewie realized he'd ruined the holidays for everyone. He got a tongue-lashing for writing his twos backward and came to the realization that his job wasn't all that glorious. He went about the office giving every employee the maximum cheque he could cut, and left them with the magic words: "Cash it fast."
3. Levi Wouldn't Answer Stewie's Calls
At Enterprise Rent-A-Car, Stewie was unlucky to work with Levi ( Matthew Mercer), an unreliable employee. A customer returned his car and apologized because his son had thrown up in the back. Stewie made a call to Levi, who didn't pick up. Since Levi hadn't shown up, Stewie decided to clean the car on his own. Soon after, he didn't seem to catch a break. One client came in after another, each with a vomit stain on a different part of the car. Levi, as usual, wasn't answering any of Stewie's calls, and poor Stewie had to clean every car on his own, eventually getting his own clothes soaked up in other people's messes. By the time Levi returned Stewie's calls, he was home, in the company of Brian and his wife. Stewie threatened to write him up, but he didn't mean it because Levi was the only strong person at the Enterprise.
4. He Landed A Job At Stop N' Shop Because Of His Overalls
Stewie and Brian may have bitten off a lot more than they could chew when they used Lois' notebook as a guide at Stop N' Shop. Stewie thought they were there to get a ten-dollar scope of ice cream with all the millennials who could afford ten-dollar scoops of ice cream but couldn't afford to move out of their parents' houses. Brian assured him they would do just that, but not before he picked up the wine Lois had mentioned in her story. Lois had written quite the phenomenal guide: "The doors magically opened…a chill came over her…through the vegetation…like mist." As Brian read, everything happened in real-time. Only then did he and Stewie realize that Lois was fantasizing a relationship with Horatio, a heavily built man who worked at the vegetable section. They'd barely digested the discovery when Stewie was mistaken for an employee because of his overalls. Without so much as a thought, Stewie got down to work.
5. He Admitted To Sneaking Food At McBurger Town
One fine morning, Stewie woke up to an unusual home. Lois wasn't around when he woke up, neither was she there to feed him breakfast. He tried to get her attention by drinking soda, but only ended up being a ball of energy. Not a single soul was in the house, not even Brian, which meant Stewie was free to do anything he wanted. He decided to replace every use of the word 'and' on Brian's novel with 'fart'. Chris (Seth Green) had an adult magazine hidden under his bed, and when Stewie found it, he shot it so many times so that it wouldn't traumatize anyone in the future. When he ran out of food, Stewie got a job at McBurger Town, where he was caught stealing food and had to deal with people who had never in their lives learned how to use the toilet. They wouldn't even try. Needless to say, Stewie was fired for stealing.
6. Stewie Singled Out A Traveler At The Airport
Stewie's experience at the airport was all smooth. He was in no way a threat, unlike Bin Laden. When it was his turn to work as airport security, however, he didn't do it with the same grace. For every passenger that walked in with a familiar name such as Johnny Quest or Dr. Benton Quest, he was quick to let them pass without so much as a word. When Haji came around, almost immediately, Stewie singled him out based on his name. He'd been 'randomly' selected for additional screening. Stewie insisted that, if it were up to him, Haji would get on his flight, but he needed him to take off his shoes and his 'hat' (turban). Haji was obviously not impressed, and when he threw some random words Stewie didn't understand, the working toddler simply brushed it off.
Tell us what's wrong with this post? How could we improve it? :)
Let us improve this post!