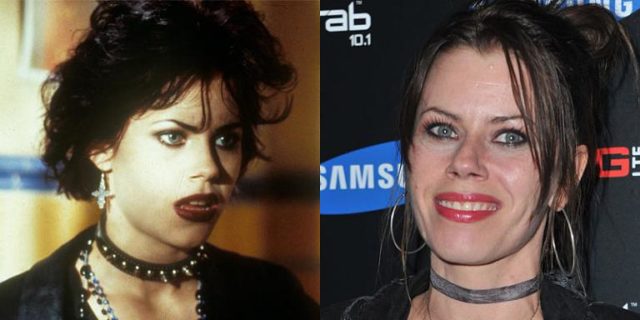 Fairuza Balk was the epitome of the evil, bad girl, didn't care and wants to mess everything up type. Her roles were more often than not pretty dark and cast her characters in a very negative light. A few of them had a redeeming quality here and there but otherwise she was just flat out bad and seemed to revel in it. In real life the woman is pretty upbeat and is a fun personality to be around as it's been said by her costars at times. But her characters are just flat out evil and if not they're borderline a lot of times. Some parts she's played are far more aggressive than others while some are kind of pitiful since their turn to evil wasn't so much a fault of their own as it was a product of their environment and what they'd been forced to put up with for so long. But with every character there was always a choice, and when all a character knows is pain, fear, and uncertainty, there's a good chance that whatever good is in them isn't going to be able to put up much of a fight when it comes to withstanding the unrelenting darkness that such negative emotions can bring.
Of course there are roles where she's the bad girl but isn't really flat out evil and is more of a troublemaker that has the ability to get violent in a big hurry.
The Craft
Four young witches decided after years of being on the outside that they would finally start realizing their true potential, and in calling upon a force of nature they took on something that they didn't fully understand. For two of them revenge and the chance to be noticed was more than enough, while for their newest member getting the boy of her dreams to fall in love with her was the goal. Nancy however wanted everything, and being as she came from a background that promoted uncertainty, hatred, and fear she took the magic to a very dark place that didn't allow for much more than doubt, treachery, and violence on the level that no human being could prepare for. As powerful as witches are in films this time the psychosis that went along with the power was simply too much as it corrupted Nancy entirely.
The Waterboy
https://youtu.be/yfSdrDGRlHw
Vicki wasn't evil, but she certainly wasn't a good girl either. She had the bad girl reputation from the start of the movie and it didn't change a bit by the end. Her affections towards Bobby made her a lot more likable however and granted her a bit of redemption as a character. But taking a knife and threatening to saw someone's head off if he continued to hassle her boyfriend seems a little much, even if her motives were pure. Plus the glee she had on her face when she asked Bobby if he wanted her to kill the panel of educators that were watching him take his equivalency tests was just a little too over the top to be anything but maniacal.
American History X
Stacey was all about the life, just as much as Derek was before he went to prison for murder. The difference is that Derek found a way out of the cycle while Stacey remained firmly entrenched in the life of a Neo-Nazi skinhead. She made no bones about who she was and was so fully indoctrinated that when Derek was released she was ready to welcome him back into the fold with open arms. Once he started speaking and thinking differently than she was used to however there was no other decision to be made as she turned on him quicker than he could blink, demanding that the group of skinheads that had looked up to him in the past end him right then and there. If not for Seth bringing out a gun, which Derek promptly relieved him of, Derek might not have made it out of the welcome home party alive.
The Island of Dr. Moreau
Aissa wasn't evil or dark really but she came from a very dark and foreboding background. She was cat/human hybrid that would continue to show signs of her animal heritage unless she was given treatments to stop them. Unlike her brothers and sisters, who were all created by Moreau, she looked far more human than any of them and was the obvious favorite. This was largely because she was more of a success than they would ever be. Sadly however this was what sealed her fate since her brother was the one that killed her in the end, citing that Moreau had never harmed her as he had the rest of them.
She was definitely a bad girl in the 90's, and she had some of the most memorable roles to prove it.