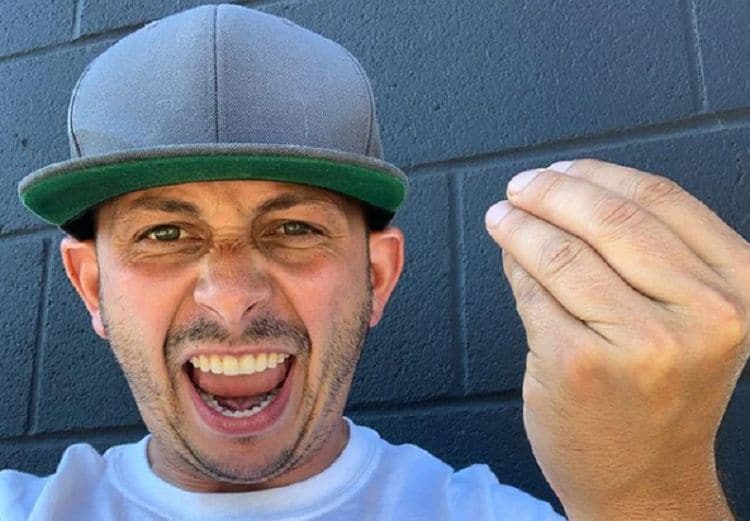 Who doesn't love street food? Even though it's not the healthiest option in the world, it's arguably one of the most delicious. And if there's one person who knows the ins and outs of street food, it's Matt Basile. Matt, who owns his own street food company, was the host of The Cooking Channel series, Rebel Without a Kitchen. The show aired in 2014 followed Matt as he explored some amazing street food options. Although the show only lasted for one season, it left a good taste in a lot of people's mouths. In 2017, Matt also hosted a TV show called Menu Match-Up. But Matt isn't just a TV personality, he is also a pro in the kitchen. Continue reading for 10 things you didn't know about Matt Basile.
1. He's Getting Into Acting
Matt Basile has spent a lot of time in front of the camera as a TV host, but in 2020 he also decided to try his hand at acting. He made in appearance in an episode of the TV series Tommy where he played a character named Daniel. There's no word on whether or not Matt plans to do more acting in the future.
2. He Has Used His Talents To Give Back To Others
Matt's cooking skills aren't only handy for feeding people, they've also allowed him to help people as well. He has worked with an organization called Casey House on a very special project. For the last three years, he has helped with June's HIV+ Eatery which is a 2-3 event in which a pop up restaurant ran by a staff of HIV+ cooks prepares and serves meals for a good cause. Since the people working at the temporary eatery are not actually chefs, Matt's job is to train them.
3. He's A Boxer
Working in the food industry also means you're constantly surrounded by the temptation to over indulge. This is something Matt has had to deal with during his career. At many points in time, he was over working and over eating. Matt decided to start boxing as a way to get his health and wellness back on track.
4. His Grandfather Introduced Him To Cooking
Food definitely has the ability to bring people together. Thanks to food, Matt was able to form an extra special bond with his grandfather. Matt developed an interest in cooking at an early age thanks to his grandfather. Matt's grandfather spent a lot of time in the kitchen and he taught Matt how to prepare many dishes.
5. He's A YouTuber
Matt isn't only a chef, he's also a content creator. He loves using the internet to share his knowledge of food with others. In 2013, he started a YouTube channel where he posts all sorts of food related videos. His channel currently has over 4,500 subscribers and his videos have gotten over 5 million total views.
6. He Used To Work In Advertising
Becoming a professional chef isn't something that Matt always planned on doing. In fact, he used to work in advertising. However, he decided to leave his stable job in order to pursue something he was more passionate about. He told Touch Bistro, "I started Fidel Gastro's because I wanted to get into food, and I wanted to do it my way. I didn't want to work as a line cook in someone else's kitchen – I wanted to be an entrepreneur in the food industry, and starting with a food truck was my way in." Although cooking and advertising are worlds apart, his advertising experience come in very handy to help him market his business.
7. He's Gotten Better With Saying No To Certain Things
When Matt first began his career, he felt lots of pressure to say yes to every opportunity that came his way. This happens a lot because people feel that if they say no to something, nothing else will ever come their way. However, as the years have gone on, Matt has learned that sometimes saying no is the best option.
8. He Wants To Write The 4th Installment Of Back To The Future
If Matt wasn't a chef, he says he would want to be a writer. Not just any writer though, he has a very specific goal. He told Now Toronto, " I've been trying to write the fourth installment of Back to the Future for the last few years and haven't had time to get to it. I think that would be my dream job, to be able to say that I wrote the fourth installment for it."
9. He's Not Classically Trained
Matt has had such a successful career in the food industry that many people are shocked when they find out that he doesn't have any formal training. While many may see this lack of training as an obstacle, Matt has never looked at it that way. Matt is entirely self taught and has been able to learn a lot through experience.
10. He Is Trained In CPR
Jake may not be formally trained in cooking, but he does have formal training in some very important first aid procedures. He is fully trained in CPR and has also had to perform the Heimlich Maneuver on more than one occasion. If something happens to you when you're about Matt, you can rest assured that you're in good hands.