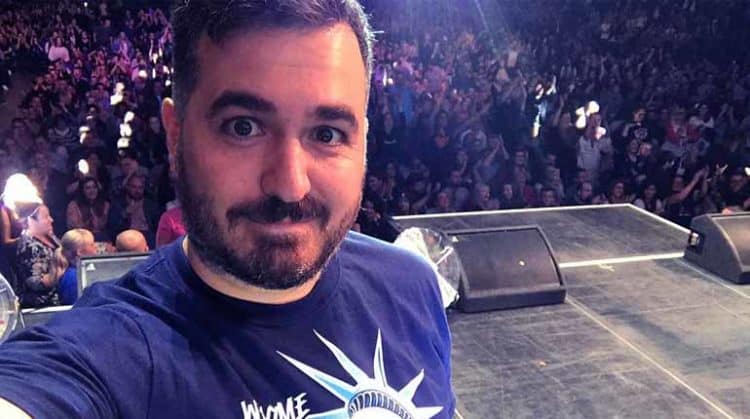 Brian Quinn is an American actor who is best known for his role on the popular television series "Impractical Jokers." He and his lifelong friends have become famous for the practical jokes that they pull on one another. They put each other in cringe-worthy situations to see how far they will go to get a good laugh. Here are 10 things about Brian Quinn that you may or may not know.
1. He is a professional actor
Many of Brian Quinn's fans only know him from his part in the series "Impractical Jokers." While this is what he is best known for, he has appeared in several films and series. He also had a part in "12 Monkeys" in 2015, as well as in "Victor Crowley" in 2017. Brian has also acted in a new film called "Impractical Jokers: The Movie" which completed in 2018 and is in the post-production stage of development
2. His Birthday
It's hard to tell Brian's real age from looking at him. He has a beard but because of his amazing sense of humor, he comes across as being very youthful. He acts young and looks young too. He was born on March 14, 1976. This makes him 43 years old as of the spring of 2019.
3. He's a native New Yorker
Brian was born in Staten Island, New York City. This makes him a native New Yorker. His parents named him Brian Michael Quinn. He often goes by the nickname Q, especially on the set of "Impractical Jokers." We don't often hear him referred to as Brian on the show.
4. Brian Quinn was a firefighter
Here is another bit of information that we picked up about Brian when we were looking into his past career paths. We learned that he served as a New York City firefighter as a part of the FDNY for eight years. He has an amazing sense of humor and we hear him do a lot of laughing but he also served his community in one of the most dangerous jobs in public service. It wasn't just a passing fancy either. Eight years is a long time to keep going out and putting your life on the line to save others. He is to be commended for his service.
5. He's also a member of a comedy troupe
Brian Quinn is also a member of the comedy troupe that is called The Tenderloins. The group is based out of New York. In 2009, he appeared with other members of the troupe in the film "The Tenderloins" which was a TV movie. This is yet one more credit in his growing portfolio of acting gigs. Q has kept himself busy in work as an actor.
6. Quinn is also a podcast host
Brian Quinn is involved in a lot of different projects within the entertainment industry. He's an actor, a producer, and a great comedian. In addition to all of this, he is also the co-host of a popular podcast that airs weekly. The name of the show is "Tell 'Em Steve-Dave!" He works together with the other two co-hosts of the show Walter Flanagan, and Bryan Johnson, of Mallrats.
7. He has a fake tooth
Brian Quinn and his partner Murr have both been injured during the filming of "Impractical Jokers." they have lost teeth on the show and this was caught on camera. It certainly made the show rise in popularity. As a result of the pranks going awry, Brian and Murr each have one fake tooth in their mouths.
8. Brian is not currently in a relationship
Although both of the other pals in the show are vocal about their romantic relationships, Brian doesn't say much. We learned that he is not currently involved with anyone, or if he is he isn't talking about it. He prefers to keep this aspect of his personal life private. We learned that in the past he dated a girl who was a makeup artist for "Impractical Jokers" and that the relationship progressed to the point of the two getting engaged. We're assuming that it's a sore spot for Q because after becoming engaged to marry him, she left him for a man who was serving as a police officer.
9. Q was arrested
Quinn got into some big trouble when he was on a trip to Germany in 2009. While he was in the country, a scene broke out and the German Police arrested him for disorderly conduct. He even got punched in the fact by one of the officers and the force knocked out a tooth. The German police escorted him back to the United States. The other guys had to come and bail him out of jail.
10. He's into craft beer
Brian Quinn is a craft beer enthusiast. He is particularly interested in one craft beer in particular. The Rubsam & Hormann brand of Pilsner is among his favorites. He also loves the history behind many of the 19th-century brewers and has visited some of the cemeteries in Staten Island. He is bringing this beer back through his new craft beer business and he admits that he's having a lot of fun as a brewer as well as getting into the history of the brewers who were active during the 19th century. He has made it his mission to "reintroduce" New Yorkers to the brew from yesteryear. Q is an interesting guy who takes an active interest in the city that he was born and raised in and this even extends to the various beermakers who established their businesses in the area. He is passionate about sharing the things that he loves dearly with his fellow New Yorkers and craft beer just happens to be one of them. We'll have to keep an eye on his new endeavor to see how well he fares.
Tell us what's wrong with this post? How could we improve it? :)
Let us improve this post!