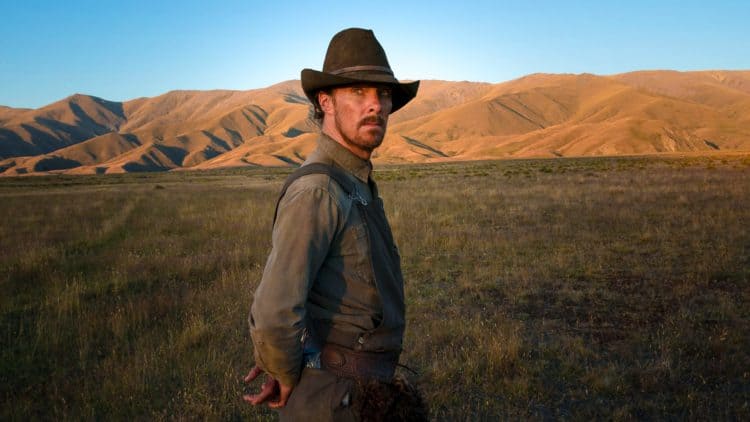 The Power of The Dog story revolves around the relationship between wo brothers: Phil (Benedict Cumberbatch), gruff yet ivy-league educated, George (Jesse Plemons), simple but wishes to enjoy the social status of his found wealth with a sense of humility, and Rose (Kirsten Dunst), the working-class woman between them. There is a battle of the new ways and the old ways between the brothers, and once Phil finds himself outflanked by his brother, his new bride, and her son Peter, Phil fashions himself the opportunity to slip into a paternal role with Peter (Kodi Smit-McPhee). The Power of The Dog is gripped with themes of aging masculinity, commodification, and Shakespearean loyalty and revenge. What is most covert and beautifully done by writer director Jane Campion is the slow artful execution of revenge.
Revenge
A truly David and Goliath story is meshed in the complex relationship between Phil and Peter. The audience never truly knows if Phil is simply growing closer to the young man to pull him away from his mother, possibly kill him, or send him off into the mountains on a camping trip ill-prepared to face what is in the wilderness. Instead, the audience grows to understand what Phil desires of his world, and how to manipulate him to exact his revenge. The revenge in this fil builds slowly and subtly with the calculated moves by the young Peter, ultimately coming to a head in the final moments.
You always remember those that have wronged you. Whether or not you forgive them is another item altogether, but you always remember. This is truly the case for Peter when Phil, the callous brother of his step-father, belittles and berates his mother Rose. Peter, a tall, frail, slightly cross-eyed young man developed a cold way about him by being thrown into becoming his mother's companion when his father, a well-known doctor, hung himself. This history is crucial to understanding the way Peter behaves. After being berated and mocked for his wine serviette upon first meeting Phil, Peter takes his time to get to know his enemy, making himself vulnerable to ridicule to get closer to the mean-spirited Phil. Peter has the advantage of understanding human nature, knowing that each person desires to belong, and he knows this is no different for Phil as it is for himself.
Classism
There is a certain frequency of guilt that comes on when you watch someone struggle for air in a room full of people. Most often this feeling is exacerbated by an expectancy to perform well in front of people that may otherwise hate you for your social class. The Power of The Dog holds each emotional moment in suspension while you watch a still room of high-society folk gather around a piano to be played by a widowed innkeeper with a new wealthy husband. The slightest of mannerisms of Rose are picked apart by the class above and she is left feeling unaccepted by every person around her, her husband included.
Idolatry
One of the most iconic symbols within The Power of The Dog is the rope Phil begins to braid for Peter. When Phil begins fashioning the rawhide rope for Peter, it is unknown whether he is doing so with a larger nefarious plan at work, or channeling some latent paternal care for the young man. The rope is the object of affection for both Peter and Phil. For Phil, it is the opportunity to pass along the love and learnings from Bronco Henry to the next generation that has lost much of its grit and toughness that men of Henry's age exuded. For Peter, it is a physical object for him to exact his revenge on the unwashed man who judges and torments his mother for her drinking, depression, and disrupting his connection to his brother, and their shared history with their mentor, Bronco Henry. The rope is essential to understanding what exactly happened in the conclusion of the film. At the funeral home when the doctor approaches George, he is baffled as to what could have caused the death of George's brother.
After stating that the toxicology report will not be back for at least a week, the doctor then extends his theory that it was likely Anthrax, from dealing with dead cattle. This is the point in which the clues of Phil's untimely death come together with the days leading to his death. One of the last crucial events that occurred was Rose giving away Phil's hides to the native man and his son. After returning with Peter, Phil is furious that Peter's drunk mother gave away his pelts simply to spite him for taking away her son. At this point, Peter's plan can move into action. Peter offers his comfort and condolences to Phil by grabbing his arm and offering a hide that he skinned in secret because he "wants to be like" Phil. Preying on Phil's obvious vulnerability to be an idolized figure, he is touched by this offer. Feeling his connection to the legacy of Bronco Henry and Peter come to fruition, Phil vows to finish Peters rope before the end of the night. The next scene we see Phil's hand, with a wide-open wound, soaking in water with the Anthrax-infected hide strings that Peter set aside for Phil, which displays the final revenge.
Masculinity
At the time of the roaring 1920's, social norms were changing drastically across the country. Ideals and customs from the big cities had spread to the rural communities making a more lax, decadent lifestyle commonplace, and the old stereotypes of what a man should be, were being challenged. In nearly every scene, Phil discusses the old sayings of Bronco Henry, distilling in plain-speak what a man should be, while discussing this with men that have become a product of the current society fancies in Peter and George. Much of Phil's doctrines of Bronco Henry come from a place of admiration, but there is also a deep romantic love left unsaid within their history. The viewer witnesses this when Peter stumbles upon Bronco Henry's nude penny magazines, displaying the physical attributes of a strong man, while putting into question the nature of the relationship between Phil and Bronco Henry.
All the symbols and themes within The Power of The Dog tie back into the love two men have for Rose. George finds himself at a station in life able to find the companionship of another lost soul in Rose. Although he is not as attentive as he could be, allowing her to drink herself nearly to death, George is willing to set aside the antiquated ideals by which he was raised to push forward for his own sake of happiness and not for the confused harsh realities of what is expected of a man working as a rancher. Peter, though young and vulnerable, is the most sure-footed character. In his love and loyalty to his mother he is willing to put his life in danger to emotionally manipulate his mother's abuser to exact his revenge and see to it that she is happy again after the loss of her husband, Peter's father. Without a careful eye, the viewer may miss much of what is going on in this coming-of-age story. The film, divided into five parts, can appear to be seemingly unconnected to a purpose, but therein lies the truth of relationships— the love and loyalty that people have will often not be displayed with dialog, but with actions of self-preservation.
Tell us what's wrong with this post? How could we improve it? :)
Let us improve this post!