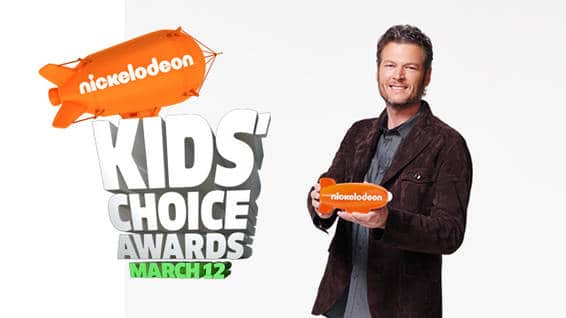 You've probably seen the commercials for it. You know, the one where Blake Shelton sounds a little awkward and moves the Kids' choice logo only to see it come back into frame like some sort of explosion? Not sure what the creators were really going for there but let's move on. Shelton is hosting the 29th annual Nickelodeon Kids' choice awards honoring kids' favorites in film, television and music. Obviously it's not one of the more "taken seriously" awards shows but you'd be surprised at how many big names show up at this thing.
Just like the People's Choice awards, celebrities like to give their gratitude to the fans and appreciate their input. Even if they're only 5 years old. Each year the event seems to get more and more mainstream. But if there's one thing for certain, Nickelodeon stays true to who Nickelodeon is, a zany kids network. And it wouldn't be Nickelodeon without a few staples they can always turn to. That said, here are five things to expect from the 2016 Nickelodeon Kids' Choice Awards
Expect a ton of Green Slime
Nickelodeon has been using green slime since its inception. Personally I'm from the older generation and used to love it when it was first featured on "You Can't do that on Television." The slime would come pouring down every single time someone said "I don't know." While the concept of green slime hasn't changed, the consistency has. Back in the old days it kind of looked like sloppy green scrambled eggs. Today it looks more like goo or slime you'd seen in Ghostbusters. Anyway, when and who the slime will nail tonight is a mystery but it's definitely coming.
Robert Downey Jr. Says Something Cocky
Yup, he's gonna be there and it's a little crazy. But one thing's for certain. Downey Jr. will definitely be acting a lot like Tony Stark. Wouldn't it be awesome if he was the one to get slimed? A million bucks says it's in his contract that sliming him is forbidden.
Wiz Khalifa's performance won't fit
I guess it depends on the demographic but I just can't see this working. Maybe teen Nick fans will like this but what about all the little kids?
A Gwen Stefani appearance on stage
There's been zero word of this happening but come on. Blake Shelton is hosting. If you don't think that Gwen won't be there and at some point join the stage with Blake Shelton then you are surely mistaken. I would bet my life on this one. In some way she'll be there.
A lot of slips and falls
Someone is going to slip. Someone is going to fall. And I want to be there to record it when it happens.