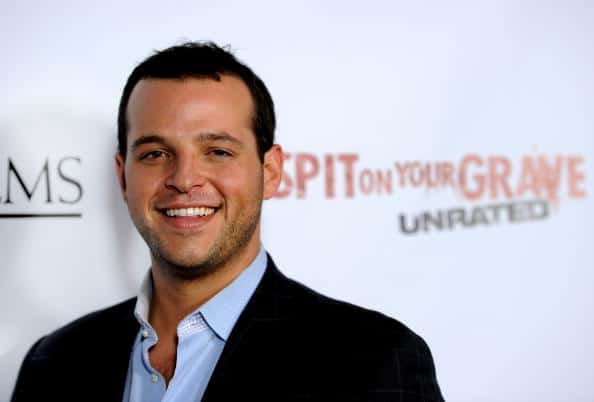 Ten years ago, Daniel Franzese starred in a movie that is still being quoted today. Franzese played Damian in the hit comedy Mean Girls. The 36-year-old has kept pretty busy starring in different movies and television guest=spots including CSI, Burn Notice, and Party Down. Franzese also has producing, writing, and directing credits to his name not to mention he is a part of a band called Peanut Butter and Jealous. Franzese sat down with us and talked about the movie that made him famous, the documentary he is currently producing, and his BFF Parks and Recreation's Aubrey Plaza.
TV Overmind: Hi Daniel. Can you answer the age-old question for us: Who is funnier Tina Fey or Amy Poehler?
Daniel Franzese: That's a really good question. I think they are both hilarious. This was Tina's movie and I was working with her constantly and she was in work mode, but still funny. Amy was always cracking jokes. I would have to give the trophy to Amy, but Tina is obviously hilarious.
TVO: When they were together were they laughing and cracking jokes?
DF: Yeah. It is impossible to be near them and not have a smile on your face.
TVO: What was your favorite scene in the movie?
DF: My favorite line in the whole movie is when Lindsay [Lohan] is on the phone with Regina and she says, 'I hear you like Aaron Samuels,' and she says 'What are you saying about?' instead about 'What are you talking about?' Then she makes a face like, 'Why did I just say that?' I didn't notice that in the script and when I first saw the movie I laughed so hard.
TVO: My favorite part in the movie is when they are all on the phone with one another and they don't realize it. At the end Karen finds out that Regina was talking smack about her so she says, 'I'm sick' with a really fake cough. Regina replies with, 'Boo you whore,' and hangs up. That look that Amanda Seyfried has on her face is so funny.
DF: I also like when Amanda laughs when they are in the principal's office with the Burn Book.
TVO: What quote from the movie are people always yelling at you when they see you on the street?
DF: I think the most popular are, 'She doesn't even go here,' and 'You go Glen Coco,' and 'I want my pink shirt back.' You Go Glenn Coco is one of the top ten most tweeted movie quotes. It is literally being tweeted every 15-30 seconds.
TVO: So you are a part of history.
DF: It is so weird. It is ten years later.
TVO: So which of Danny DeVito's work is your favorite?
DF: (laughs) Without a doubt Ruthless People is one of my favorite movies of all time. I also love him in The War of the Roses.
TVO: Can you tell us about the new series Dating in LA and Other Urban Myths and the character you are going to be playing in this guest-starring role?
DF: I guested as a character named Bill who is this male chauvinist that you might run into while out dating in LA.
TVO: How did you become involved in the project?
DF: They gave me an offer from a friend to come be a part of it and I said sure. I love to make things. If I have some free time and you have a dollar and a dream and you are making something funny and cool I'd love to be a part of it. I still like to do all different kinds of things on the web [and] on the stage.
TVO: Let's talk about the documentary you have been working on called Allee Willis Loves Detroit. Can you tell us a little bit about that?
DF: The documentary is about this incredible lady name Allee Willis who is a Grammy, Emmy, Tony winning and nominated songwriter. She wrote September and Boogie Wonderland for Earth, Wind, and Fire, Patti Labelle's Stir It Up, and the Friends theme song. She wrote a new song for the city of Detroit, which is her hometown. She credits all of her musical training to sitting on the lawn of Motown when she was a kid. We shot [the documentary] in over 50 locations with thousands of people singing the song.
TVO: Where were some of the places that you filmed at?
DF: We went to Motown inside with the original engineers that built the studio. They told us all these amazing stories and reminisced with each other. We shot in the Maritime Museum, Heidelberg Street which is a huge part of our project. It is an internationally known art community that was built by artist Tyree Guyton. Allee and Tyree worked together on a lot of different projects and this art project is a benefit to the Mosaic Youth Theater, which puts children through school. It has been wonderful to be able to contribute to that.
TVO: What's your favorite place to visit when you are in Detroit?
DF: There's this little restaurant called Soul "N" the Wall over by Mumford High School where Allee went. They treat you like family when you go in there. Detroit has all these unique venues. It is one of the reasons why I love that city so much.
TVO: When were you in Detroit for the filming?
DF: I have been there several times but I was there for the entire month of September.
TVO: That is the perfect time to be in Michigan with the leaves changing color.
DF: It was beautiful.
TVO: When do you anticipate the documentary coming out?
DF: We are still filming a couple of things right now. So I would say late next year.
TVO: Can you fill us in on any other projects you are currently working on?
DF: I just recently wrapped a pilot called Recovery Road for ABC Family written by Bert V. Royal and Karen DiConcetto. Bert and I were college roommates. Karen was a part of my musical Jersey Shoresical. It was great working with my family-people that I have known for years. I never had the luxury of doing that before.
TVO: I was recently watching The Tonight Show with Jimmy Fallon and Aubrey Plaza was on there. They showed a picture of you two taking a workout class with Richard Simmons. How did you find out about that?
DF: (laughs) I had a friend that worked at Live Nation which is next door to Richard Simmons' gym and she had heard about it. One day my mom and sister were visiting so this was the perfect time to go. To my surprise he was teaching the class. It was a great workout. I've been there about 40 times. Richard is a great guy.
TVO: What are some other crazy things you and Aubrey have done together?
DF: (laughs) We met at Sundance and pretty much went crazy on the dance floor wherever we could. We also went to the Michael Jackson auction exhibit.
TVO: Did you get anything?
DF: Everything was up for sale and then Michael Jackson bought it all back.
TVO: Who has been your favorite person so far to work with in your career?
DF: I didn't get to work with him that much but I worked with Seth Green on Party Monster. It was only my second or third movie. He went out of his way to be supportive to me and everyone else. He is just that cool of a guy.
TVO: Who has been someone you have always wanted to work with?
DF: Vince Vaughn he looks like someone from my tribe- like one of my uncles. I would love to play a family member of his. I think he and I could get into a good argument that would be pretty hilarious.
To learn more about Allee Willis Loves Detroit, Click here.
Photo by Frazer Harrison/Getty Images