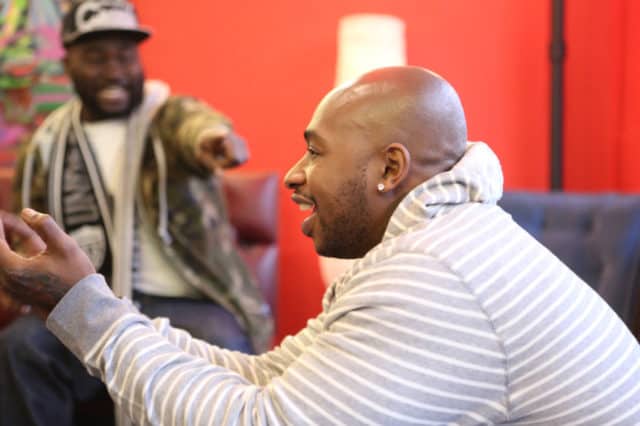 We had a chance to sit down with the executive producer of the hit show Black Ink Crew that airs on VH1. The show chronicles the daily operations and staff drama at an African American-owned and operated tattoo shop in Harlem, New York. On August 31, 2015 VH1 announced a spin-off called Black Ink Crew: Chicago to premiere October 26, 2015. Black Ink Crew was renewed for a fifth season which premiered on January 18, 2017. For some inside info on the show, check out our interview below:
How did the concept for Black Ink Crew develop?
We were actively developing in the ensemble docu-soap space and wanted to find an organic cast that had significant history together and a deep backstory. Don Sikorski, who works for us at Big Fish Entertainment in development, came into a meeting one day really excited because he had found this great tattoo shop in Harlem. We went to check it out, and after sitting on the couch for 10 minutes listening to them crack jokes about each other and the world around them I knew we had something great. This shop and everyone in it epitomized the epicenter of hip and being ahead of the curve in fashion, art, music, style. They were the tastemakers and influencers before those words even existed. But it wasn't until we really started scratching the surface and exploring the backstories of our cast during the pilot and season one did we know that it was going to be truly special.
The Black Ink Crew franchise started in New York and then expanded to Chicago; what kind of elements did you look for when selecting the cities?
It starts with the cast. The cast. Did I say the cast? They have to be amazing characters and artists. They need to have organic relationships and history with one another. You want to be able to peel back the layers and explore motivation, backgrounds, and what influences behavior. We are far more interested in the "why" than the moment. We are competing with scripted and all of television, so the subjects' lives and stories need to be incredibly dynamic. It has to have heart, humor, and complexity. Location is almost just as important; that needs to be as big of a character as the cast, and the city has to have a story to tell. The cities we are in, and specifically where we are in those cities, are a huge part of the story. We spend more time than any show I have ever made shooting the city and making it a character in the show. Each one of the episode transitions needs to be a visual story; a little vignette that creates an immersive experience for the viewer.
The personalities on the series are so big and distinct, what was the casting process like?
We don't really cast in the sense of a traditional casting call for a movie or a scripted series; rather, we find worlds and people who are, themselves, characters in those worlds. The core cast for both New York and Chicago is totally authentic; they've been working together, partying together and were hooking up before we ever showed up. Over the seasons, both shops have brought in different artists and friends of friends, but we have worked really hard to keep the core crew as authentic as possible. And let's face it, to hang in New York or Chicago with this group you need to have a loud, in-your-face personality or you are never going to survive.
With the tattoo world long considered counter culture, how does Black Ink Crew draw such a broad audience?
Black Ink Crew isn't really a show about tattoos. It's a show about a family — a make-shift family unit that has come together to support each other through ups and downs, tears, and hook ups. The issues are real, raw and relatable. Nothing is sugar-coated. The series is about life and explores the same problems all of us go through and deal with. Black Ink Crew is the 'realest' show on television, and that's why the audience has responded.
What are some examples of the most spectacular artwork done this season on Black Ink Crew: New York?
Melody does an amazing "goddess" in tonight's episode, it's stunning. Young Bae finds love through a tattoo later in the season, though I can't give away too much. I think my favorite tattoo of the season is DMX coming in to get his second tattoo from Ceaser. It was a simple, but painful tattoo across his throat of his newborn son's name, Exodus.
Tune in to new episodes of Black Ink Crew: New York, produced by Big Fish Entertainment, Wednesdays at 8/7c on VH1.
Save
Save
Save
Save
Save
Tell us what's wrong with this post? How could we improve it? :)
Let us improve this post!