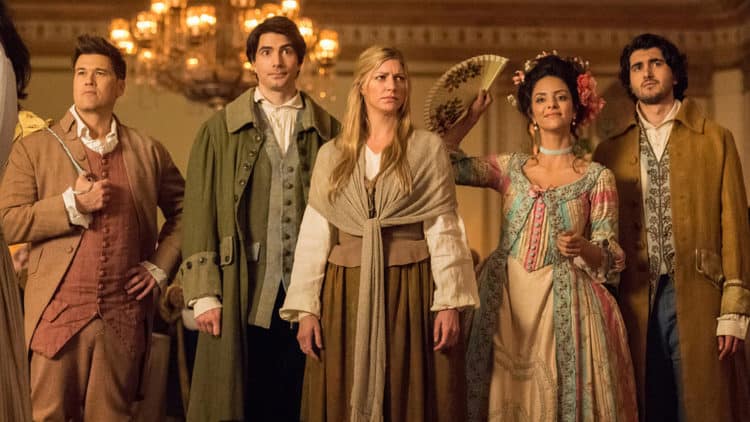 There are a great number of changes coming to Legends of Tomorrow, but the sad part is that we won't be seeing them until around this coming summer since while production has been started, the delay caused by the pandemic is, as you might have guessed, the culprit behind a lot of delays. While some folks are hoping that life can go back to normal, or what passes for it, in the days to come, the reality is that things are still going to need to be taken slowly and with great care, as the focus is on keeping people safe and yet still able to work. But in terms of the story, it does sound as though there is plenty to talk about and that people aren't going to be surprised so much since it's likely that they know what to expect coming into this season. A lot has happened in the five seasons that have come before, and what's expected with season 6 is bound to be a look at whether things will continue on or if there will be one more finale to endure before the end. A couple of legends managed to make their exit in season 5, and as of now, it would appear that the originals are likely bound to be on their way out completely if things keep going the way they are. People have died, people have been brought back from the dead, and things have continued to unfold in a manner that fans have either liked or have had something to say about.
From a casting standpoint it does sound as though the leads will be coming back, as Caity Lotz will pick up the role of Sara Lance again while Dominic Purcell will continue to deliver his role as Mick Rory, Nick Zano will be playing Nate Heywood, and several others will be taking on the roles that they've been seen as in previous seasons. In other words, don't worry too much about the cast since many people will be returning. It's whether or not they'll be sticking around much longer since as a lot of people should know at this point, anything can happen when it comes to a show that depends on its main characters being in danger on a continual basis. It does sound as though a new character played by Lisseth Chavez, who will be taking on the role of Esperanza Cruz, who will be instrumental when it comes to the protection of the human race against any and all aliens that might mean to cause harm. Unless people have missed it, the idea that extraterrestrials will take a big part in this coming season is pretty obvious. What's also been made clear is that the alien life forms that will be seen in this coming season are going to be varied since the showrunners don't want things to get too predictable, otherwise there would be little reason to keep the show going. While the aliens will be set up as the villains, it's also been made known that they'll be made out to be misunderstood at some point as well. One thing that a lot of shows can't appear to get away from is the idea that there's always a reason for a villain to become a villain. It's a true enough statement, but trying to see things from the point of view of a villain while saying 'oh, that's why you turned bad, I'm so sorry', is becoming a habit.
There's plenty to look forward to when it comes to the next season since it won't focus entirely on the fighting and adventuring, since the idea of exploring the relationships that take place during the show is something that fans tend to look forward to as well. It does sound as though the relationship between Zari 2.0 and Constantine will be allowed to continue, but Nate is likely going to be slowed down a bit since he's lost two women that were important to him, and might just need to cool off for a bit. Gary Green and Esperanza Cruz sound as though they're going to get a little more attention in the coming season, so it's easy to think that their narratives might actually be the focus of the season for a bit. All in all, it does sound as if this coming season is going to be full of enough moving parts to keep people busy for a while and to keep the theories moving forward with the same laborious pace that people are used to. Summer might sound like a long time to wait, but when one really thinks about it, 2021 feels like it was a long time coming, and yet here it is. There will be plenty more to talk about before the season starts, that's for certain.