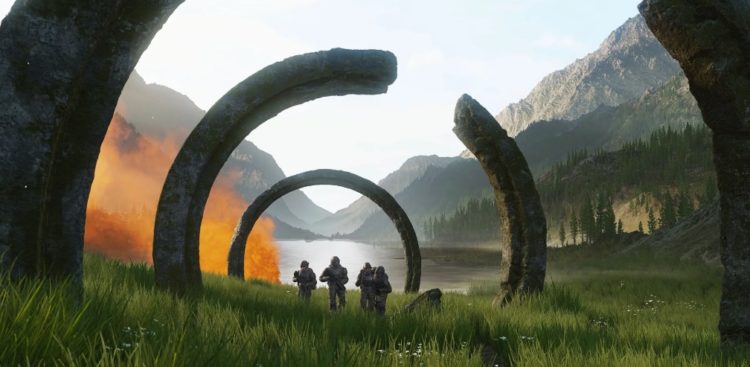 For those who are unfamiliar, Halo Infinite is supposed to be Halo 6. In short, the people behind the Halo franchise stopped using numbered titles because the current plan is to continue making Halo games far, far into the future, meaning that this is a preemptive choice so that they won't have to call a hypothetical Halo 16 by the name of Halo 16 at some point. Regardless, Halo Infinite has popped up in the news in recent times because it has been announced that it will be featured at E3 2019, meaning that interested individuals can expect a veritable feast of information coming up.
What Do We Know About Halo Infinite?
In the meantime, while not too much information has been revealed about Halo Infinite, there is still some available for interested individuals who can't bear to wait. For the most part, this consists of information about the basic details of the game, though there are some curious tidbits that can found here and there as well.
For starters, Halo Infinite is a continuation of the narrative started up in Halo 5: Guardians. As a result, its protagonist will still be Master Chief, though he will have a somewhat newish look because of a new art style that is meant to take advantage of modern console capabilities. Furthermore, it seems safe to say that the rampant Cortana will be a villain in Halo Infinite, while a Halo ring installation will be featuring in it in some manner as well. On top of this, it should be mentioned that Halo Infinite will be using the new Slipspace engine that has been created with PC in mind, so it should come as no surprise to learn that it will be released for the PC as well as whichever Xbox it is meant for. It seems that it will be coming out for the Xbox One, but there are some people who suspect that it might be coming out for the Xbox One's successor as well because it is a well-known fact that both Microsoft and Sony have started working on their next-generation consoles.
Otherwise, it is interesting to look at some of the tidbits of information that have been shared about Halo Infinite by the people involved in its making. For example, it will have a multiplayer, which will include an option for a local split screen mode that is presumably meant for the Xbox rather than the PC. Likewise, there will be Spartan customization, which will be based on Halo Reach. However, it is amusing to note that it has been said that Halo Infinite won't have a battle royale mode because the team behind it isn't too enthusiastic about blind emulation, which has caused some parties to speculate that it could still have its own particular interpretation of a last man standing mode rather than a simpler and most straightforward copy.
Another point of interest would be microtransactions. In short, it has been announced that Halo Infinite will indeed have microtransactions, which is something that might irritate some interested individuals out there. However, there will be no loot boxes whatsoever. For the time being, there is still too little information that has been revealed about this particular aspect of Halo Infinite, meaning that it is much too soon to pass judgment on the matter.
Besides this, it should be mentioned that the people behind Halo Infinite are planning to start up a flighting program, which will enable interested individuals to get a better idea of what they can expect from the game while also providing themselves with a chance to collect useful information for making gradual improvements as the game approaches its release date. This promises to be a much more informative process than the standard two-week beta, but as with other matters, there is still too little information that can be used to form a more meaningful opinion on the matter.
In the end, interested individuals will have to wait for E3 2019 for more information to come out about Halo Infinite. There are some people who think that the showing means that Halo Infinite will be coming out in November of 2019, but there are others who are speculating about a 2020 release based on news that work is still being carried out on the engine as well as other fundamental aspects. Whatever the case, E3 2019 should provide more information to work with.