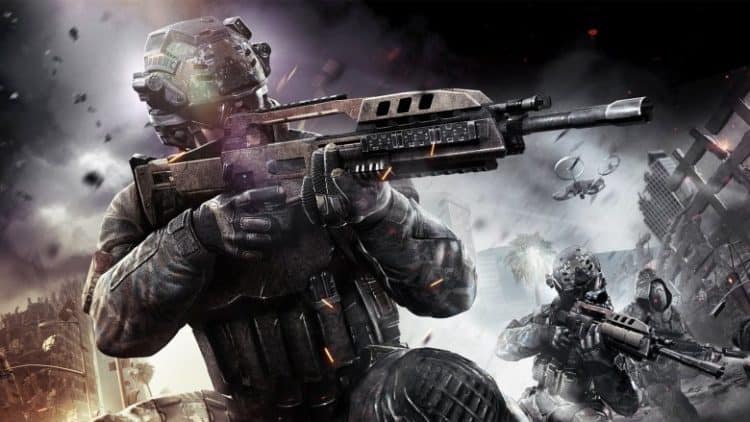 Ask any gamer to name a popular first-person shooter franchise, and Call of Duty is sure to come up. Has this series held up over the years? I would say that's very debatable, as it has lost some devoted followers over the years. Thankfully, there are still legions of loyal fans out there who are still playing the games, largely due to the popularity of its multiplayer mode. If I'm being honest, I gave up on the multiplayer in Call of Duty years ago. It's not that I didn't like it, far from it. I appreciate how Treyarch and Sledgehammer keep adding in creative perks and modes in each game's multiplayer, but I just stopped keeping up with it. And if I'm being even more honest, I stuck with these games for many years because of the story mode.
That's pretty rare to hear from a Call of Duty fan, right? So I got into the series because of its story mode. For those who got into these games during its early years, you know what I'm talking about. For me, it all began in 2004 with Call of Duty: Finest Hour. This game was the real launching-off point for this series, because it was the first console installment (in my case, a Playstation 2). Being able to play a solider in the Soviet Army, the British Army, and the American Army in World War II was quite an epic experience for gamers. For years, the name of the game in the Call of Duty series was killing Nazis in World War II.
That was, however, when Infinity Ward decided to jump ahead several decades and have a more modern setting. Hence, the birth of Modern Warfare in 2007, which really changed the game. That was until Treyarch responded with Call of Duty: World at War in 2008, which brought us back to the battlefields of World War II. What made it different that time? Well, other than the improved graphics and intense bloody action, World at War added a rather addicting multiplayer mode known as Nazi Zombies. Talk all the smack you want about Call of Duty, but no one can deny the glorious and bloody fun that is Nazi Zombies. Oh boy, I'm having high school flashbacks.
But of course, Infinity Ward and Sledgehammer had their answer with a direct sequel to Modern Warfare. Seemed like the logical move, and they all certainly sold well. Now what happened after that was history we Call of Duty fans would rather not remember. After a while, some fans were claiming that the series had nothing else to offer. So once the Modern Warfare trilogy ended, the series decided to jump ahead several decades. Like, very many decades. From Advanced Warfare, to Infinity Warfare, and even to Black Ops 3, it looked like Call of Duty was slowly morphing into a lesser version of Halo. That is not what we wanted when we said "give us something different". Well, a few years ago, the series went back to World War II.
News flash: that's one of the few Call of Duty games I have never played. Then again, they brought back zombies, which I highly appreciated. Speaking of which, does anyone really want to switch that out for killing aliens? Thought so.
It looks like Call of Duty is going to reboot route and starting over from scratch. They revamped Modern Warfare and even found a way to merge it with another revamped version of Black Ops. I'd say that's the smart move, and they just might have a few tricks up their sleeve. And that reminds me, what is the next installment in the Call of Duty franchise? Well, according to some leaks, guess where the next Call of Duty game is heading? Well, apparently back to where it all began, and that's in the battlefields of World War II. In my opinion, that's just disappointing.
Now why is that so? Well, the simple truth, according to me, is that this gaming series has spent enough time throwing us into the battlefields of World War II. So we had a lot of fun while we were playing tough guy soldiers in that era, but it ran its course. That's why we were spending a lot more time in the modern days. It turns out, Sledgehammer doesn't think so, and they're calling this new game Call of Duty: Vanguard.
Check out the leaked photos online and you'll see a small squad of four soldiers advancing in some battlefield with bullets flying over their heads and palm trees in the background. It looks kind of cool, but honestly, nothing we haven't seen before. I get a lot of Call of Duty 3 vibes looking at those leaked photos and it does sound like something I would play. Would it be something that will get me back into playing Call of Duty? Probably not, but I am curious to see more details about Vanguard.
In fact, a leaked short trailer gave us more insight as to what this new installment will be all about. In a blink-and-you-miss-it moment, you can spot a quick image of what appears to be an original patch that resembles the Task Force 141 symbol. That certainly grabbed my attention. This tells me the purpose of Vanguard will be taking us back to the new origins of Task Force 141. Apparently its origins stretches way back before the events of Modern Warfare. With that in mind, Vanguard just might be in the same continuity as the rebooted Modern Warfare and Cold War games. If that's the case, then I'm willing to take another trip back to World War II in the Call of Duty series. Is it really necessary? I would still say no, but I'm willing to give this game a try.
What are your thoughts, Call of Duty fans? If you're still into the series, do you think going back to World War II is a good option for it? Time will tell, but we'll probably be getting some news about it soon. I always dug the trailers, at least.Modern Warfare
Tell us what's wrong with this post? How could we improve it? :)
Let us improve this post!