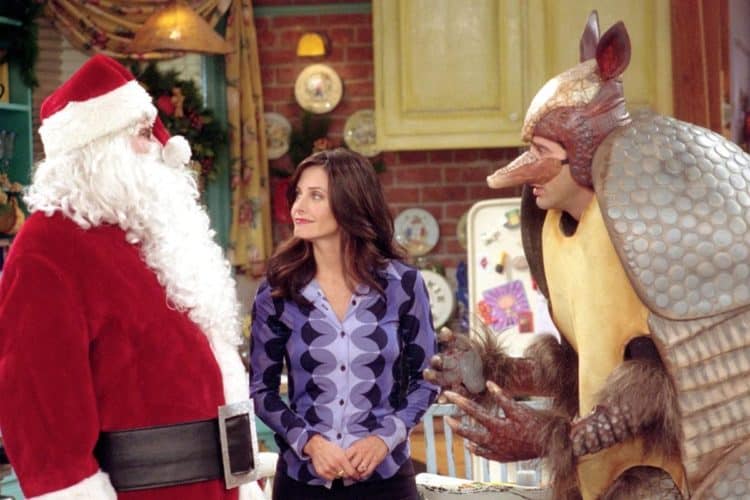 Friends gave us a little bit of everything. When Monica and Ross were not being the best of siblings, Rachel was having a little trouble with her own. Sometimes the group of friends was so tightknit, and other times, they couldn't stand each other. We saw them through marriages, divorces, all kinds of relationships, and when all was said and done, the holidays were not left out of the mix. So diverse were the themes on the show, and several books made the cut. In addition to quick mentions of books such as The Hobbit and The Lord of the Rings, these are the few times books took centerstage on Friends:
1. The Time Rachel Became Her Own Wind Keeper
Rachel got her hands on Be Your Own Wind Keeper, and she was stunned. The book seemed to have borrowed its ideas from Rachel's life. Although it was amazing, it made her change her attitude towards Ross (David Schwimmer). Ross walked in to ask whether they could head to the movies, but Rachel refused. "Why do we have to do everything according to your timetable?" She asked. Reading the book had influenced Rachel so much, she thought Ross was stealing her wind. "How do you expect me to grow if you won't let me blow?" Rachel asked Ross, who was confused by the question. She was being irrational, because they'd agreed to go out, and the movie theatre was responsible for 'the timetable'. In the end, Rachel skipped a movie date because she needed to be with herself.
2. The Time Phoebe Wrote A Book
Phoebe was an author in her own right. If her words were anything to go by, she had written a total of fourteen books. Not that they were released, Phoebe was both the author and reader of her books. " As I'm the only one who has read them, I can tell you that they have all been well received," she told Rachel. Her next book was inspired by the arguments of Monica (Courteney Cox) and Chandler. While Monica and Chandler were fighting about toilet paper, Phoebe was writing away. " Guys, I'm sorry. Can you please talk a little slower?" Phoebe asked. Phoebe's book was about relationships; the traps, the pitfalls, what not to do, and how none of it matters when people love each other. It was also about how people would believe anything that's said, as long as it's a compliment. The more Monica and Chandler fought, the more Phoebe wrote. To get back at her, Monica decided to write a book about 'Phyllis'. Phoebe insisted her book was about other people, and in the end solved a time problem thanks to her documentation of Monica and Chandler's woes.
3. The Time Rachel And Joey Had A Spoilers Battle
It's not every day that Joey was impressed by a book. Joey hardly read, but when he got his hands on Little Women, he'd found home. Rachel (Jennifer Aniston), on the other hand, had started reading The Shining. She was enjoying her book, so was Joey, despite the fact that he was confused by the names. Joey asked Rachel how she was doing with her book. " Danny just went into room 217," an excited Rachel said. Almost immediately, Joey decided to spoil Rachel's book. Rachel covered her eyes, only for Joey to 'talk in code', giving away more spoilers. Rachel was upset. To get back at Joey, she began giving away her own spoilers. She let it slip that a character named Beth would die but took it back when she learned it was Joey's favorite book. Later on, Joey reached a chapter where Beth was really sick. His mood was so low. He had to lean on the comfort of Rachel, who helped him put the book in the freezer.
4. The Time Joey Discovered Rachel's Bedtime Erotica
When Joey's (Matt LeBlanc) duck got a little aggressive after eating face cream, Joey found himself drawn to Rachel's bed. He liked it. The pair were roommates at the time. Rachel's bed was softer than his own, so he slipped into her comfortable sheets and unexpectedly unveiled Rachel's bedtime erotica. Joey teased Rachel about her book and even went as far as letting Ross know of it. In the eyes of Rachel, there was nothing wrong with a woman getting in touch with her sexuality. Joey didn't see things the same way. "You got porn," he mocked. Joey pretended to be the vicar and kept referencing the character Zelda until Rachel roughed him up. Only then did he stop with the teasing.
5. The Time Phoebe And Rachel Attended A Literature Class
Phoebe was never one to be messed with, and Rachel learned this the hard way when she attended a literature class with Phoebe. Rachel walked into class late without having read any of the books. Right before class started, she had Phoebe explain what the book was about in detail. Phoebe gave her a well-thought explanation about Wuthering Heights, which Rachel simply reiterated when the tutor asked what she thought of the theme. Phoebe was upset that Rachel used her exact words. When it was her turn to give an answer, she was completely blank. The next time Rachel and Phoebe ( Lisa Kudrow) attended class, Rachel did not read Jane Eyre. Instead, she browsed through Vogue. Rachel asked about the book. " Don't be such a goodie goodie," she told Phoebe. Phoebe explained Jane Eyre, but instead of giving her a good answer like the first time, she gave Rachel a wrong explanation. Needless to say, Rachel did not get to shine in class when she gave her thoughts on the character.
6. The Time Joey Did A Dramatic Reading Of One Of Emma's Books
Joey was unprepared for Emma's birthday. Because he had forgotten to get Emma (Noel Sheldon) a present, he had to do something special. He settled for reading one of Emma's favorite books. Joey grabbed the closest book he could find, only to see that it was about postpartum depression. His next pick, Love You Forever, was a great one. Joey proceeded to use his acting skills to read the book out loud. Using gestures and great intonation, Joey drew the audience in. With each page, he mastered never-before-seen poise, chanting the magical words that made the book special: " I'll love you forever. I'll like you for always. As long as I'm living, my baby, you will be." By the time Joey was done, Rachel was teary-eyed. Ross was grateful for Joey's gift. Even Chandler, who had a hard time crying, found himself taken over by emotion.