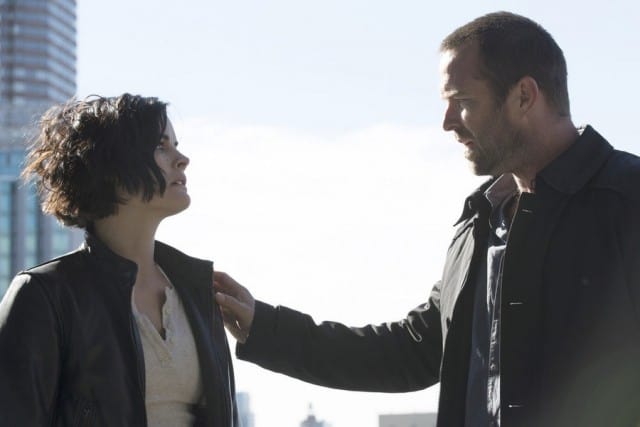 I can't believe it, but it's already time for the fall finale of Blindspot, one of the biggest rookie hits of the season. A lot has happened on the show recently, and last week's conclusion left a lot of explore before we wrap until 2016. Let's take a look at what happened in this week's episode, "Evil Handmade Instrument."
The episode opens with Patterson in therapy after David's murder at the end of the previous episode. The therapist wants to force her to take some time off of work, but she realizes that she'll be of more help to both herself and the team if she continues working the cases. I've talked a lot about how I think Patterson is the real heart of Blindspot, and I feel that's true even more now. David was truly a great aspect of this show that was a treat whenever he was on screen, but his murder opens up a lot of opportunities to explore Patterson even more. I can't wait to see how the writers continue tackling these issues.
After what's been going on recently, Jane is trying more and more to connect the dots between her tattoos and the events that have surrounded her. It seems like she's getting close to spiraling, blaming herself for David's death, but Kurt brings her back down to earth a bit. The writers on the show have been doing a phenomenal job with the slow-burn relationship between these two characters, tying its progression into real emotions that you would expect the characters to feel, and I've been really enjoying it. It seems that Jane gets in a worse emotional state with every death that she's forced to witness, and it only makes sense that Kurt can and would be a source of relief for her.
Something great about Blindspot that has gone fairly under-the-radar is how well the full team works together on this show. It's been present throughout the season, but "Evil Handmade Instrument" makes it very obvious to the viewer that this is a well-oiled machine. So often on similar series, members of a core "team" will be pushed to the side to allow for more development of the central characters, but Blindspot doesn't sacrifice these secondary characters just to progress the stories of Jane and Kurt. Patterson was the first to start getting this treatment, but it's definitely spread out to the rest of the team.
I'm not going to talk much about the case this week since "Evil Handmade Instrument" is a mid-season finale, but it was a very fun adventure that was exciting to watch, well-paced, kept the stakes as high as possible, and never let up on the gas with tension or action. As in the past couple of episodes with the CIA and the US Marshal, we got another "guest member" on the team this week that helped to expand the world a little more while giving us another perspective from who we normally see. It may not seem like much to most viewers, but additions like this can serve a huge role in filling out the show's world and making it feel bigger than it is.
Not much can be said aside from what I talk about in almost every review, but the action and fight scenes in this episode of Blindspot were well-choreographed and well-executed, and it continues to be a strength of the show.
"Evil Handmade Instrument" was a solid fall finale of one of the most exciting new shows on television, and it opened up a lot of story that can and will be explored when the show returns in February for the remainder of the first season.
What did you think about "Evil Handmade Instrument?" Will you be tuning back into Blindspot when the series returns? Let us know your thoughts in the comments down below!
[Photo credit: Paul Sarkis/NBC]