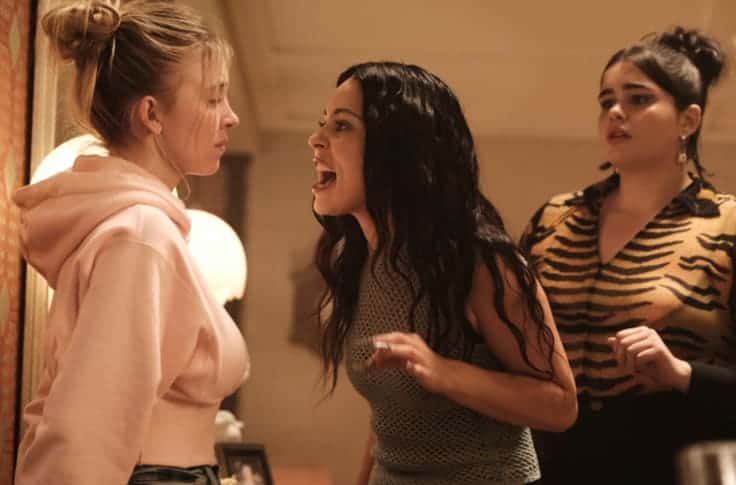 The internet has been raving about Rue's; I mean Zendaya's performance on Euphoria Season 2, Episode 5, and rightly so. The slow-burn buildup as we explored the lives of the supporting characters over the last few episodes was cool, but most of us were craving some type of climatic event. Yet, no one was prepared for Rue's dramatic explosion in the opening scenes. Yeah, we've witnessed Rue in pure euphoric bliss; we've seen her fall dangerously in love and succumb to a deep depression. But we have never seen Rue like this. Rue's drug-induced delusion deceived her into believing that she had covered all of her tracks, and with a generous supply of drugs, she could get as high as she wanted in peace. So when her mom confronts her about relapsing, it's like a cold glass of water is being splashed on her face. For a minute, Rue tries to keep up the ruse and claims that she's only been smoking weed. She even insists on taking a drug test that she knows she'll fail.
Now that the "cat is out the bag," Rue is in hot pursuit of her suitcase of drugs. She tears apart her mother's room, accuses Gia of being disloyal, and ultimately loses control. Gia reveals that the drugs were flushed down the toilet kickstarting a fit of rage that involves breaking down doors and holding a shard of broken glass to her mother's face. Leslie appears to be afraid of her daughter and feels the need to protect Gia for the first time. "You're a bad person Rue," Leslie says in a brief moment of defeat and pain right before revealing that her friends witnessed her temper tantrum. Jules and Elliot are sitting in the living room with their hearts in their chest as they've likely realized that planned intervention has blown up in their face. Jules admits to telling Leslie that Rue had relapsed, and it was the ultimate betrayal for Rue. Rue hurls a torrent of harsh words at Jules and Elliot, but most of her heat is saved for Jules. She reminds Jules that she is the one that left her at one of the lowest moments of her life. All Jules can do is muster a meek "I love you."
Rue spends most of this episode on the run from her mom and Gia as she's not ready to go to rehab. She's also worried sick (literally) because she owes Laurie $10,000, and there's no way she can pay her back. Being on the run is ten times harder when you're going through withdrawal. Rue stops at Cassie's house to gather her bearings for a minute, where she ends up revealing the biggest secret in this season's plot. When Leslie pops up at Howard's home to lure Rue back into the car to take her to rehab, Rue uses yet another manipulation tactic to distract from her own situation. Rue tells all their friends who are conveniently at Howard's residence at the same time that Cassie has been sleeping with Nate. Leslie could care less about the teenage drama, but Maddy can barely contain her anger amidst Rue's impromptu intervention. Cassie poorly attempts to play off Rue's accusation. "You can't believe anything that she says. She's high; she's a drug addict." Sure Cassie's argument sounds convincing, but she can barely look Maddy in the eye.
"How long have you been f***** Nate Jacobs?" Maddy asks in disgust. Rue admits to seeing Nate pick up Cassie and kissing her months ago. "I'm literally going to get violent," Maddy screams while Cassie bursts into tears. It's just the mayhem Rue needs to escape from her mom's grasp again. There are a thousand ways I've pictured this scene playing out, but none of them was as lackadaisical or undeveloped as this one. Maddy and Cassie have been best friends since grade school. Therefore, such a betrayal deserves a moment of its own rather than being treated casually and squeezed into an impactful episode like this that mainly focuses on Rue's rock bottom. We all know that Maddy has some monstrous tendencies beneath her pretty girl facade. Nate did fear that Maddy would try to kill Cassie if she ever found out about their relationship. However, because Rue's admission isn't given enough time to breathe, Maddy, arguably one of the most standout characters in this series, doesn't get the opportunity to deliver the type of performance we know she's capable of. With just three episodes left of Season 2, we're anxious to see how everything pans out now that Cassie and Nate have been exposed.