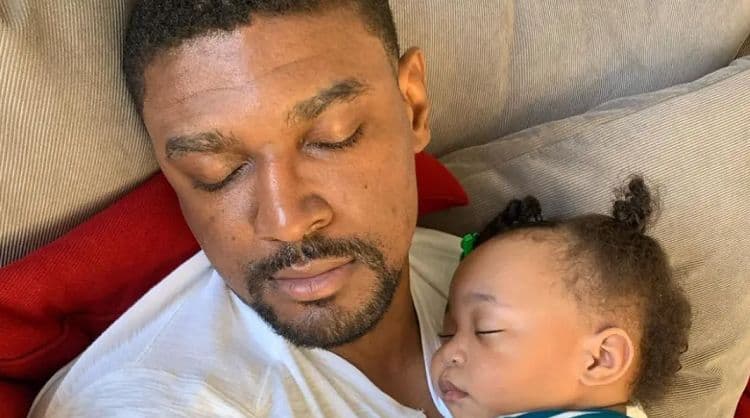 Every reality show always has that one person who isn't exactly a main cast member but manages to become a fan favorite. On the TLC series Doubling Down with the Derricos (DDWD), Eric Jefferson is that person. Over the years, Eric has become an integral part of the Derrico family, and he is active in helping raise and look after the children. His calm personality and loving guidance certainly haven't gone unnoticed. During the show's time on the air, he has stolen the spotlight on several occasions. As a result, lots of people have developed an interest in learning more about him. If you're one of those people, you've come to the right place. Keep reading to learn 10 things you didn't know about Eric Jefferson.
1. He Didn't Have The Easiest Up Bringing
There isn't a lot of information out there about Eric's life as a child, but during the show, he hinted at the fact that his childhood wasn't all good. He was in the foster care system and bounced around to several homes. Despite that, he always does his best to maintain a positive outlook on life.
2. He Loves To Box
Staying in good shape is very important to Eric, and boxing is his favorite way to do that. Eric's Instagram posts make it very clear that he has been boxing for several years, but it's unclear what level he's competed on or if it's something he just enjoys doing as a hobby.
3. He Is Not Technically Related To The Derricos
Due to his relationship with the Derrico's there are a lot of people out there who are under the impression that Eric is a relative of the Derrico family. In reality, he is not technically related, but they consider him family none the loss. While the exact specifics of their relationship are unknown, it appears that Eric is something who Deon took under his wing and the two formed a father and son-like bond.
4. He Is A Private Person
Eric may be on a reality TV show, but that doesn't mean that he wants to have his entire life put on blast for the world to see. He actually appears to be a fairly private person. He doesn't post much about his personal life on social media and he hasn't done any interviews.
5. He Has Done Some Modeling
Eric's handsome face, chiseled physique, and comfort in front of the camera have made him the perfect fit to be a model. We weren't able to find any information to suggest that he's worked with any major brands or publications, but he has done a little modeling in professional photoshoots.
6. He Is A Kobe Fan
Even though Eric is based in the Las Vegas area, he has always been a fan of Lakers legend, Kobe Bryant. Like millions of people all over the world, Eric was deeply saddened by Kobe's sudden passing in January 2020. Eric even has a whole highlight section on his Instagram profile dedicated to Kobe.
7. DDWD Is His First TV Show
Eric seems to be at ease in front of the camera on Doubling Down with the Derricos, so some people might think that he has a background in the entertainment industry. As far as we can tell, however, this is the first show he's ever done. We also didn't find any information to suggest that he's attempted to do other shows in the past.
8. He Is Married
With the way the show is filmed, some viewers may get the impression that Eric's entire life revolves around the Derricos. While it's true that he's close to the family, he also has one of his own. Eric and his wife, Felicia, have been married for about six years. The couple doesn't have any children of their own, but Felicia seems to have a great relationship with the Derrico's as well.
9. He Loves Spending Time Outdoors
When the weather is beautiful, you can usually catch Eric and his wife outside enjoying it. They both love being outdoors and taking time to appreciate all of the things that nature has to offer. Some of their favorite activities include hiking and swimming.
10. He Likes To Travel
Eric loves the experience of visiting different places and making as many memories as possible. Since he is a private person, we weren't able to find a good list of the places he's been to, but we know he's gotten the chance to visit lots of places across the United States and may even outside of the country as well.
Tell us what's wrong with this post? How could we improve it? :)
Let us improve this post!