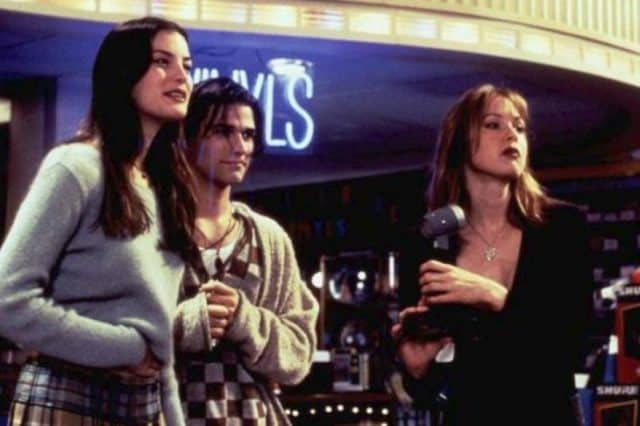 There are plenty of fans out there that remember the 1990s film Empire Records. The film starred Renee Zellweger, among others, as part of an ensemble cast and it became a film that is now widely considered a cult classic. Fans of the movie are excited to learn that in a few years, they will be able to relive the magic in the form of a Broadway musical.
The musical, based on the film, is currently in the works and should be ready for live performances within the next couple of years. Many fans remember the movie as something of a rite of passage, a coming-of-age movie that detail some of the struggles that a lot of young adults tend to go through. In the film, there are various issues and hurdles that the cast are forced to overcome on a personal level, all while fighting to save the record store that they work at and love.
On the surface, the story is about a large record store chain that plans on buying out this independently owned store where the cast works. This is not something they want to see become a reality and they start to look at different ideas that will allow the independently-owned store to continue operating in the same way that it has been for years. The film also features excitement in the form of waiting for a fictional popstar to come visit the record store. Obviously, people working at the store ultimately decide that if they can get this popstar on their side, it will make it easier for them to keep the store open and prevent the chain from taking over.
While they're dealing with this issue, every member of the cast is experiencing smaller issues that they must deal with in their own personal lives. It's a relatively good story about what it's like to grow up in that all-important transition between being a teenager in high school and becoming a responsible adult. On a deeper level, the story chronicles the types of struggles that people have to face when they are going through that transition. Without them, it becomes almost impossible to grow into a responsible adult because there has to be a certain amount of battle testing, so to speak. Otherwise, the necessary life skills are never developed.
All of this is woven into the story in a way that makes it all fit. While the movie never really made it as far as critical acclaim goes, it has become a fan favorite and is still fondly remembered all these years later. It is that type of fan following that made people finally stand up and take notice when considering the possibility of turning it into a Broadway musical. The thought process behind it is that if the movie was so successful with fans at the time and is still remembered so long after it was made, it's worth turning into a musical in order to sort of relive the entire project.Obviously, fans are excited to see what the musical is all about. Fortunately, they won't have to wait too long in order to do exactly that.
Tell us what's wrong with this post? How could we improve it? :)
Let us improve this post!