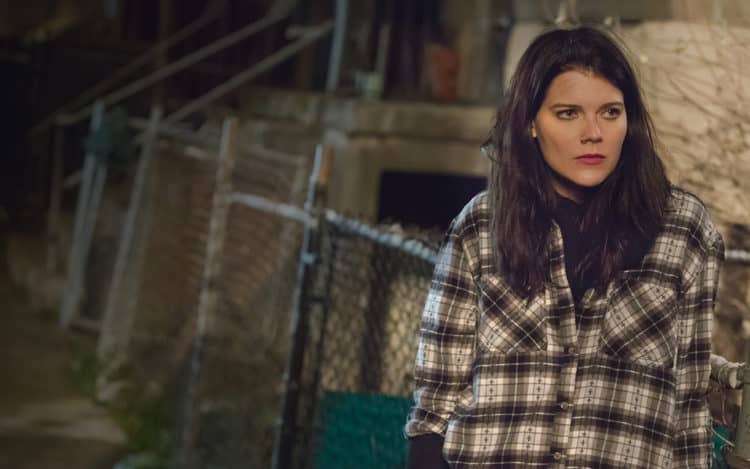 American- born, British- raised actress Emma Greenwell first came to our attention as the moody Mandy on comedy- drama, Shameless. Outside of her starring role in the hit Showtime series, Greenwell has won acclaim for her work on TV's True Blood, Law & Order, and The Path, as well as her many film features. At only 30 years old, Greenwell is already one of Hollywood's hottest stars. With more projects in the works for 2019 (including the much anticipated STARZ supernatural spy thriller, The Rook, which will see Greenwell join a starry ensemble of Hollywood talents like Joely Richardson, Olivia Munn, Jon Fletcher and James D'Arcy) things are only set to get better for the gifted actress. Prepare yourself to be quizzed with these 10 little known facts about the British beauty.
1. She was raised in London
Greenwell was born in Greenwich, Connecticut on January 14, 1989. Her parentage was a mix of French on her mother's side, and English on her father's. Despite being born in the US, it's unlikely Greenwell remembers much about being an American kid; by the time she'd turned 2, the family had decided to abandon America and return to their European roots, ultimately settling in the prestigious South Kensington district of London.
2. She's a drama school dropout
After high school, Greenwell enrolled at the London Academy of Music and Dramatic Art. However, her tenure at the school was short-lived; within just a year of starting, Greenwell had decided that she would rather purse her ambitions in Hollywood than study the craft in London. After waving goodbye to the UK, Greenwell grabbed a plane to Los Angeles to take her first steps in the entertainment industry.
3. Her first acting job was on Shameless
Despite her lofty ambitions, Greenwell initially struggled to get a foot in the door of Hollywood. She was on the verge of abandoning her plans and heading back to London with her tail between her legs when Lady Luck struck. After months of rejection, Greenwell was cast in the Emmy- winning Shameless, Showtime's hit adaptation of the British comedy of the same name. At the time of joining the show's then line- up of William H. Macy, Emmy Rossum, Justin Chatwin et all, Greenwell was just 22 years old.
4. She's worked at The River Café
Prior to moving to LA, Greenwell worked as a server at the Michelin starred Italian restaurant, The River Café. Coincidentally, Greenwell already had a connection to the famous eatery before landing the waitressing gig. Growing up, her best friend was the granddaughter of the Café's owners. Her connection allowed her to get away with some rather unprofessional behavior: "I really wanted to be the receptionist because I liked to practice my accents on the phone", she shared with Women's Wear Daily. " I did that a little bit but I think they knew that I was doing that so they were like, 'No.'"
5. She was invited to André Balazs' Golden Globes bash
On her last day at the River Café before departing for LA, Greenwell had a chance meeting with André Balazs, the renowned owner of Los Angeles' Chateau Marmont and London's Chiltern Firehouse. When her boss told Balazs that Greenwell would be relocating to LA the following day, the generous businessman causally mentioned he'd be hosting a party that coming Friday, and invited Greenwell to join. The party turned out to be an illustrious Golden Globes after- party. "I was standing in the penthouse of the hotel next to Cate Blanchett and Quentin Tarantino", Emma shared. "It was a crazy first night".
6. She's had numerous re-occurring TV roles
Despite her slow start in Hollywood, Greenwell has built up an impressive resume since taking on the role of Shameless' Mandy. After serving on the show for an impressive 32 episode run, Greenwell moved on to the part of Mary Cox in the web drama series, The Path. The series, which also starred Aaron Paul, Michelle Monaghan and Hugh Dancy, ran from 2016 to 2018, and centered around the lives of members of fictional cult, Meyriem. In between Shameless and The Path, Greenwell expanded her repertoire with parts in True Blood and Law & Order: Special Victims Unit.
7. She doesn't relate to her characters
Ever since her first gig, Greenwell seems to have been making a habit of portraying gritty, down-at-heel characters. However, if you were worried the actress is as tough in real life as she is on the screen, have no concerns. Her off camera persona is a world away from those of the women she portrays… something she feels is actually an asset to her acting. "It's fun to be able to use your imagination and research and delve into those roles," she revealed to Interview Magazine. "It's actually easier than playing closer to yourself."
8. Her mother was desperate for her to do a period piece
Tired of seeing her daughter play drug addicts and delinquents, Greenwell's mother begged Emma to take on a nice, traditional role in a period piece. The proud mom got her wish when Greenwell donned a corset and wig for not one, but two, Jane Austen adaptations- Pride and Prejudice and Zombies (2016), and Love & Friendship (2016). "My mother has always been desperate for me to do a period piece," the actress has revealed. "In England there are the BBC dramas, and I've been working in the States playing 17-year-old damaged sluts."
9. She's dating her former co- star
Office romances may be frowned upon, but that didn't stop Greenwell hooking up with fellow Shameless star, Jeremy Allen White. The pair are rumored to have started dating in 2011, but somehow, they managed to keep the relationship under wraps until 2017. The pair remain close lipped about their status to this day, and while both are active on social media, don't expect any loving messages or shared pictures anytime soon.
10. She's worth $2.5 million
Thanks to her re-occurring TV roles in Shameless, True Blood and The Path, along with a coinciding career in film, Greenwell has achieved a very respectable net worth of $2.5 million. With much still to come from the young actress, it's a fortune that's only set to increase.
Tell us what's wrong with this post? How could we improve it? :)
Let us improve this post!