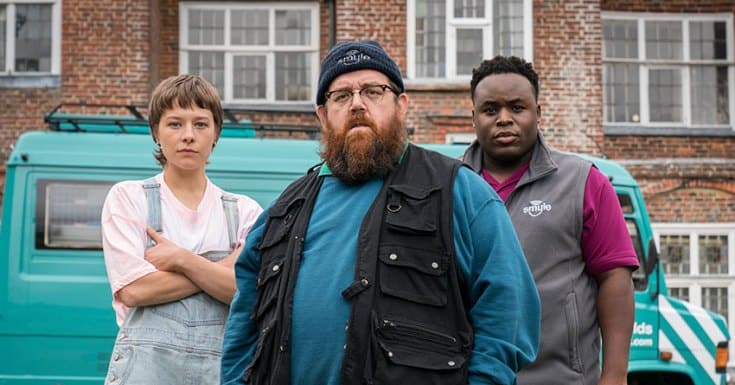 You may not have heard of Emma D'Arcy, but pretty soon you'll wish you had. The talented actress only has a handful of on screen credits to her name, but she's officially on the brink of her big break. She has a staring role int he upcoming comedy series, Truth Seekers which will be released on Amazon Prime. With the perfect combination of comedy and paranormal activity, Truth Seekers will appear to a wide variety of viewers. If the show is as successful as many people are anticipating, it could be exactly what Emma needs to help take her career to the next level. Continue reading to learn 10 things you didn't know about Emma D'Arcy.
1. She's Not Very Active On Social Media
Emma D'Arcy fans who are interested in following her on social media feel a little disappointed. Building a strong social media presence doesn't appear to be at the top of Emma's priority list. She created a Twitter account in 2016 and while she does use it, she mostly retweets other people's posts. At the moment, she only has just over 1,300 followers on Twitter. She doesn't appear to have any other official social media accounts.
2. She Has Done Lots Of Theater Work
Even though her on screen career is about to really take off, theater is the place where Emma feels the most at home. She has had a successful theater career that includes appearances in productions like Romeo and Juliet, The Games We Played, and The Crucible.
3. She's Formally Trained
Being naturally talented is one thing, but in the world of professional acting it'll only get a person so far. As a result, many actors have found that getting educated on the overall craft is one of the best ways to achieve success. Emma studied acting at the Ruskin School of Art in Oxford, England.
4. She's A Very Private Person
Most of us are used to knowing almost everything there is to know about celebrities, but that isn't what Emma D'Arcy wants for herself. She appears to be a very private person who hasn't shared much personal information. Her love of privacy is probably one of the reasons she's not very involved with social media.
5. She's Signed To A Management Company
Signing to a management agency can be a very smart move for an actor. By working with an agency, actors are able to get their names in front of more people, and they're also more likely to heat about upcoming roles. Emma is signed to a UK based agency called Roxanne Vaca Management.
6. She's From England
Not much is known about Emma's life outside of work, but we do know that she was born and raised in England. It appears that she still lives there today and she hasn't discussed any plans of wanting to move. She also works with the Forward Arena Theater company in London where she the joint artistic director.
7. She's Nonbinary
Emma is a nonbinary person which means she doesn't identify solely with either gender. In addition to the pronouns she and her, she also uses they and them. She hasn't gone deep into her gender identity, but she did post a picture of herself for International Nonbinary Day on July 14.
8. She's A Plant Mom
It doesn't appear that Emma has started a family of her own, but she has managed to become a mom in another way. She has several plants that she takes great pride in taking care of. Hopefully she has a green thumb, because taking care of plants can be a lot more difficult than it looks.
9. She Just Made Her On Screen Debut 2 Years Ago
Landing a main role in a TV show is one of the things that many actors are aiming for. In most cases, it can take a person several years to get this opportunity. Fortunately for Emma, her time has already come. Not only did she get a main role early in her career, she got one straight out of the gate. Emma made her first appearance in the TV series, Wanderlust in which she had a main role. She will also be playing a main role in Truth Seekers.
10. She Loves Spending Time Outdoors
Being an actor can often mean long days and lots of time away from home. When Emma gets time off from work, she likes to spend it getting some fresh and and enjoying the beauty of her surroundings. Emma likes being one with nature, and she spends a lot of time outdoors.