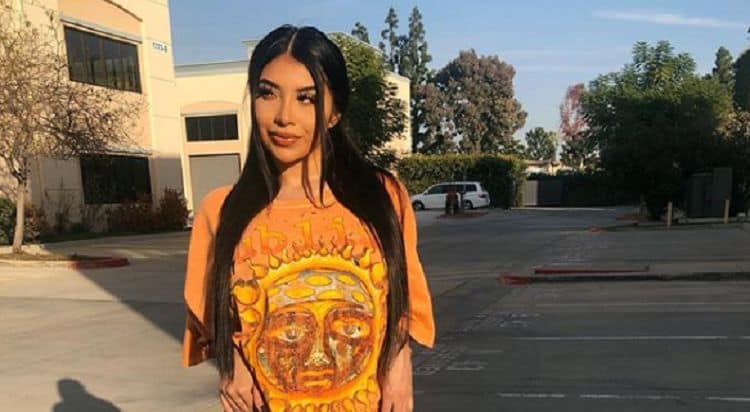 Elsy Guevara started a business without any skills on how to operate one, yet today she has a company, Galifornia Wholesale, that sells to small boutiques at pocket-friendly prices. Her love for fashion has seen her become a famous influencer, and she relies on social media to help market her products. So far, she has 1.2 million subscribers on Instagram, 209.2K followers on Twitter, and 360K subscribers on YouTube. The 23-year-old is expecting her baby in June, and although she had planned on keeping the details of her pregnancy secret, she was pressured into revealing more since she was accused of hiding her growing bump. There is a lot more to know about the mother-to-be as you shall learn from the facts below.
1. The father of her baby
Maybe the criteria for choosing the father of her baby was in the name because she was excited that he had the same initials as hers; EG. The initial E means a lot to them because they have even decided that their baby will be named "Baby E." In her YouTube video, Elsy only said that her baby daddy was related to her business partner's ex, Tre Carter. Those who did their research realized that Tre has a cousin named Elijah Gates, which shut down rumors that she was in a relationship with a boy in high school.
2. She had her breasts augmented
Almost two years ago, Elsy disclosed through an Instagram post that she was proud of the work Doc Taneja, a certified plastic surgeon, had done on her. However, while at the time of surgery, she was content with the implants she had chosen, she was considering getting a breast reduction because she felt the size was a bit too large. The influencer was uncomfortable wearing sweatshirts because then the breasts looked huge.
3. How she gained Fashion Nova's attention
In this age of social media, Fashion Nova has learned that the best way to attract customers is to make use of the platform; hence it has become an Instagram-bred brand. Similarly, Elsy wanted to use social media to showcase her love of fashion. With that shared goal, it was only a matter of time before the two crossed paths. As her popularity grew, Elsy caught the eye of Fashion Nova, who messaged her directly, asking if she would create content for them.
4. She was once the youngest employee at Fashion Nova
When Elsy was offered the chance to create content for Fashion Ova, she accepted. However, although that was supposed to be only a one-time collaboration, the fashion company found that Elsy could do a lot more; hence she was given a job in the marketing and merchandising department. With the position, Elsy became the youngest employee since, at the time, she was only 17. While that would be an achievement for most teenagers, Elsy was not content; hence she thought about doing more to achieve her dream, according to New Theory.
5. Her stress-coping methods
As an influencer, Elsy has her hands full, which can be draining, but she has learned how to deal with the stress that comes with the job. She does not try to copy what others are doing; being herself is a strength, and she has developed a thick skin to take on the negativity that comes her way. Elsy also prioritizes her physical and mental health by exercising; her emotional health is taken care of when she helps someone and feels good about it. Finally, she has built relationships to show that she cares about her supporters since, without them, she does not influence anyone.
6. She aims to have a positive impact on young women
Elsy is not only interested in raking in profits; she wants to inspire young women to go after their goals. With her testimony, the influencer knows that it takes a lot of hard work, and challenges will always be there, but one can still realize their dreams if only they do not give up. She feels that since she cannot reach everyone face to face, a screen is a suitable means of connecting with people. Still, she insists that people should not take life seriously; having fun should also be in the mix to balance the equation. Elsy's resolve to impact others is because they have also influenced her significantly; hence it is her way of giving back. After all, her measure of success is not in money but in the number of lives she has positively influenced.
7. Her advice for aspiring fashion influencers
Jimmy Iovine has inspired Elsy always to stay focused. She says that one of his quotes talks about how horses need to have blinders so they can concentrate on reaching the finishing line. Similarly, she advises that we must all put on blinders if we want to achieve our goals because people will always have something to say, and it is up to us to ignore them. She reasoned that the moment you start paying attention to them, you will get discouraged like she almost did.
8. She is a loving aunt
Anyone who has gone through Elsy's social media accounts will notice one face that is in most of her pictures; that of her nephew, Branson. The little boy loves his aunt so much that he once asked his mother to let him live with Elsy according to Twitter.
9. Her store was once burglarized
On October 20, 2016, two masked burglars entered the OOTDFash boutique by prying open the front door. They then stole clothes and cash from the cash register, and unfortunately, Elsy revealed that insurance would not cover the loss that was estimated to be a few hundred dollars. Elsy was devastated by how people would take advantage of their hard work. Therefore they posted the security video on social media, hoping that someone would recognize the burglars.
10. How she managed to grow her brand
When Elsy began working on her business, she relied on social media to market, but she found out that people can be harsh. She was always being compared with the competition, and at times the rude comments would discourage her. However, with time, she realized that competition will always be there; hence the only way she could overcome it is by differentiating her brand through full-body pictures and unique post layouts. Now the business has grown from being set up in a garage to a renowned online brand.
Tell us what's wrong with this post? How could we improve it? :)
Let us improve this post!