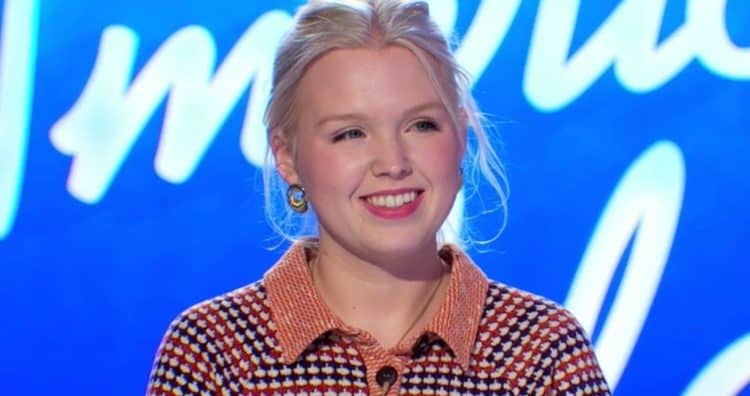 Being a full-time musician is something that Elli Rowe has dreamed of for many years, and now she's closer than she's ever been to seeing that dream come true. As a contestant on the 20th season of American Idol, Elli's talents have already earned her a spot in the top 24 and she's hoping they'll take her all the way to the finale. Not only has she earned the respect of the judges, but she's quickly becoming a favorite among the viewers at home. If Elli does end up winning the season, there's no doubt that it will be a major accomplishment for her career. However, even if she falls a little short of her goal, this experience is one she won't ever forget. Keep reading to learn 10 things you didn't know about Elli Rowe.
1. She's From Minnesota
Tennessee is the place that most people associate with Elli, but the truth is that she is originally from Minnesota. Although Minnesota is a beautiful place with lots of things to offer, it isn't the best place to build a music career. As a result, Elli is currently based in the Nashville area.
2. She's Been Writing Songs for Most of Her Life
After performing an original song during her American Idol audition, the world was able to see that not only does Elli have a beautiful voice, but she's also a great songwriter as well. She started writing songs when she was only around 11 years old and it has become a great way for her to express herself and share her love for storytelling.
3. She Likes to Travel
Getting out and seeing the world is one of the best experiences a person can have. As a creative person, traveling can also be a great source of inspiration. Elli has been fortunate to do a good amount of traveling over the years. Some of the countries she's been to include France, England, and Italy.
4. She's Made A Lot of Friends on American Idol
Elli's time on American Idol hasn't been entirely about competition. During her time on the show, she has also been able to connect with some other very talented singers and form bonds that will likely last a lifetime. Even though they are all competing for the same prize, it's clear that they respect each other's talents.
5. She Enjoys Spending Time Outdoors
Just because Elli is a musician doesn't mean that she wants to spend all of her time on a stage or in a studio. When Elli isn't busy with her music, she loves being out in nature and enjoying all of the beauty it has to offer. Spending time outside is a great way for Elli to clear her head and recharge.
6. She's A College Student
Despite pursuing a nontraditional career path, Elli is still pursuing a traditional education. Elli attends Belmont University in Nashville where she is working on earning a bachelor's degree in commercial music. However, if she ends up winning American Idol there's a very good chance that she will have to change her plans when it comes to school.
7. She Plays Several Instruments
If you thought Elli's voice was great, just wait until you find out about her other musical talents. She taught herself how to play the piano when she was younger and she also plays banjo, guitar, fiddle, and mandolin. If you've ever tried to learn how to play just one instrument you know how difficult it can be, so this is very impressive.
8. American Idol Is Her First Competition Show
While it's true that Elli is no stranger to performing, she is new to performing at this level. From what we can tell, she hasn't appeared on any other competition shows and this is also the first time that she has been a part of American Idol. That said, she has already shown that she's just as fierce a competitor as everyone else.
9. She's Released Her Own Music
Performing covers is a big part of being successful on American Idol. However, in order to really build a long-lasting career, an artist needs to have some original songs. Luckily for Elli, she's already moving in the right direction in this regard. She released a three-track project in 2022 called Pause. It is available on all major streaming platforms.
10. She Enjoys Taking Pictures
Elli's musical skills aren't the only creative talents she possesses. She also has a great eye for photography and she's shared some of the shots she's taken on her Instagram profile. That said, it looks like taking pictures is something she does purely for fun and it doesn't appear that she has plans to do it on a serious level.