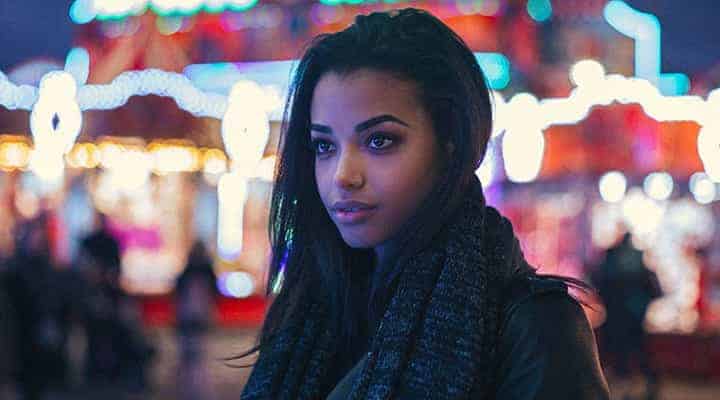 We have to admit that the latest Charlie's Angels film actually looks good on the previews. It still has the lightheartedness of the franchise, but the action seems legitimate this time around. In addition, we're also like the characters we've seen so far. Elizabeth Banks as Bosley is just smart, and did we mention that the actress is also directing and producing the film? We've seen Banks' work before, and we have total trust in what she can do as a director (we loved Pitch Perfect 2). Also, the previews showed Patrick Stewart, Djimon Hounsou, and America's latest heartthrob Noah Centineo. Kristen Stewart looks absolutely fascinating as one of the Angels, and Naomi Scott is still hot from her Jasmine role from Aladdin.The third Angel, Ella Balinska, is a relative unknown at this point, and she's made us curious. So here are 10 things we learned about Ella Balinska that we thought you ought to know.
1. London
Just like fellow Angel Naomi Scott, Balinska was also born in London. Born on October 4, 1996, the 22-year old actress now splits her time between her hometown and her new home, Los Angeles. We can predict that she might be staying in LA more after her latest film premieres because from the looks of it, this young actress can definitely act. That means more projects in the future.
2. Education
Balinska grew up and studied in London her entire life. For acting, she attended several schools including the Arts Educational School in London. From the previews, Balinska looks like she knows how to fight. At this point, we're not sure if she actually knows how to fight in real life, but we do know that she learned all her combat skills from the Academy of Performance Combat. Balinska also attended the Guildford School of Acting to further her studies of the performing arts.
3. Athletics
The young actress has always leaned on the athletic side, and it's probably one of the reasons why she went on to study performance combat. In school, Balinska was actually a competitive runner. She competed at the national level in track and field. You can see her player profile under the British Athletics site here. Her record shows that she competed in various events from 2009 until 2014 for a total of 18 performances. She even threw javelin for Team London.
4. Parentage
Balinska comes from a well-established and successful family. Her parents are Chef Lorraine Pascale and Count Kazimierz Balinksi-Jundzill, a Polish entrepreneur and musician. Her mother is a television cook for BBC, and she's also a best-selling author with almost a million books sold in just the UK alone. Pascale also owns her own retail store that sells baked goods in London. Pascale was also modeled when she was younger, obtaining the recognition as the first black British model to grace the covers of Elle magazine in the US. Balinska's parents married in 1995 and divorced in 2000. Balinska has maintained a close relationship with her father over the years, as she regularly travels to Ireland in order to visit and spend time with him.
5. Modeling
Young Ella Balinska doesn't only look like her mother; she also seems to be following her footsteps as well. Balinska has also dabbled in modeling just like her mom, but it seems that Balinksa might be leaning more towards pursuing a career in acting instead of modeling. She's definitely got the height (5'11) and the look to be a model, so we're sure she'll find success in that industry also if she wanted to pursue it.
6. Acting
Balinska is fairly new to acting, and most of her work has been based in the UK. Her first film came out in 2015, and she's only had 9 other films under her belt–including 2 currently in post production: Charlie's Angels and Run, Sweetheart, Run. Charlie's Angels will be her biggest role to date. Balinska has also appeared in three television shows: Casualty, Midsomer Murders, and The Athena.
7. Studio Ghibli
One thing we absolutely love about Balinska is how obsessed she is with Studio Ghibli films. Studio Ghibli is the animation studio that produced some of the best anime in recent years such as Howl's Moving Castle, Nausicaa, and Princess Mononoke. Balinska admires how such films feature strong female characters that are relatable to anyone, especially younger audiences.
8. Charlie's Angels
Balinski fit the bill of an Angel from the beginning. She's beautiful and tall, and she's qualified in 12 different types of stage combat. She's already capable, but she had to train extra hard for her upcoming role. Balinski started doing a lot more kickboxing in order to prepare for her role.
9. Fashion
She's fairly familiar with the fashion world because of her background, but Balinski has very particular tastes. One of her biggest fashion icons happens to be Jaden Smith because of his ability to express his sense of self through his style. Balinksi loves the androgynous approach to fashion, and she often shops at the men's contemporary section at Selfridge's. She believes that fashion is all about breaking boundaries and self-expression. She loves shoes and plans her outfit according to her shoes.
10. Celebrity
Balinska believes that your style should be functional, comfortable, and always be Instagram-friendly. Balinska's social media status has blown up recently due to her exposure through Charlie's Angels.She went from having roughly 13k followers to having 93.5k followers on Instagram. That's the power of having celebrity status for you. However, Balinska has managed to maintain a good handle on her growing fame. She's as humble as ever, and we hope that she stays that way after she gets bigger in Hollywood.
Tell us what's wrong with this post? How could we improve it? :)
Let us improve this post!