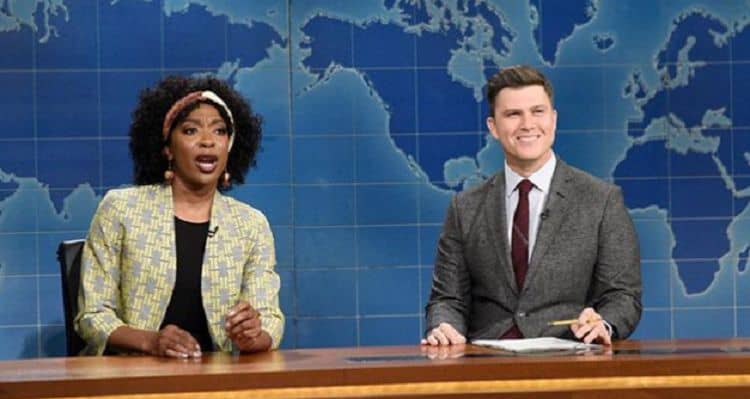 You may not be familiar with Ego Nwodim by name, but you've definitely seen her face – and she's also definitely made you laugh. Nwodim started working with Saturday Night Live in 2018 and appeared in a variety of skits on the show. Prior to that, she appeared on several other TV shows including K.C. Undercover and 2 Broke Girls. Recently, SNL announced that Ego would be a main cast member on the upcoming season, and many would agree that it's a great move for the show. Nwodim's intelligent brand of humor has been well received by viewers and it'll be fun to see what she does next. Keep reading to learn 10 things you didn't know about Ego Nwodim.
1. She Didn't Always Realize That She's Funny
Most funny people are well aware of the fact that they're funny, but that isn't true for Ego. She actually had no idea that she was funny for most of her life. She told In Style that she didn't realize that she was funny until an old roommate told her. Ego said, "it's the first time it hit me that other people thought as much. I feel like I've always been entertaining. But funny? I had never really thought about it specifically in that way."
2. She's A Baltimore Native
Ego is a first generation American whose parents come from Nigeria. She was born and raised in the Baltimore area where she attended Eastern Technical High School. Ego is very proud of her mid-Atlantic roots although she eventually relocated to the west coast.
3. She Was Planning On Becoming A Doctor
Growing up, Ego's parents put a lot of pressure on her to succeed and they really wanted her to go into the medical field. Although she knew that being a doctor wasn't what she wanted to do, she was willing to give it a try. She Told Paper Magazine, "I made a deal with my family that I would get a degree in biology and be pre-med as long as I could move across the country to Los Angeles."
4. She's Always Dreamed Of Living In New York
Ego attended college at the University of Southern California, and she stayed in the area for a while after graduating. Although L.A. is the city that people tend to flock to when they want to pursue careers in entertainment, Ego's heart was always set on living in New York. Luckily, she got the chance to move to NYC after being hired for SNL.
5. She Loves Spicy Food
For some people, eating anything too spicy is a total turn off. Just the thought of something spicy is enough to make some people's eyes water, but for people like Ego, spicy food is the best kind of food. Ego loves her food to have a strong kick and she's a big fan of several different hot sauce brands.
6. She Likes To Travel
Not only has Ego's career given her lots of accomplishments on a professional level, but it's also given her new possibilities in her personal life as well. Thanks to her job, Ego has been afforded a lifestyle that has allowed her to travel far and wide. She has been to places like Grand Cayman, Costa Rica, and Hawaii.
7. She Hopes To Get Into Directing
Ego is definitely enjoying all of the fun she's having being in front of the camera. At some point in her career though, she hopes to take her talents behind the scenes as well. Her goal is to eventually get into directing, but it's not something she's planning on doing any time soon.
8. Justin Timberlake Was Her First Celebrity Crush
Most of us have never met our first famous crush, but they still hold special places in our hearts. As someone who grew up during the 90s and 2000s, it's no surprise that Ego's first celebrity crush was Justin Timberlake. As the front man of N'SYNC, Justin was one of the hottest young stars in the game when he was at his prime.
9. She's A Big Hip-Hop Fan
Ego is a music lover, but she has an extra special love for hip-hip and she feels like that's one thing not enough people seem to know about her. During her interview with In Style, she said, "I wish people knew how much I love hip hop. Yeah, I really love hip hop."
10. She's The 7th Black Woman To Be Cast On SNL
SNL is arguably the greatest sketch comedy show of all time, but it certainly doesn't have the most diverse history. Ego is just the 7th Black woman to be cast in the show's 45 year history. After the departure of Leslie Jones, Ego is officially the only Black woman currently on the cast.
Tell us what's wrong with this post? How could we improve it? :)
Let us improve this post!