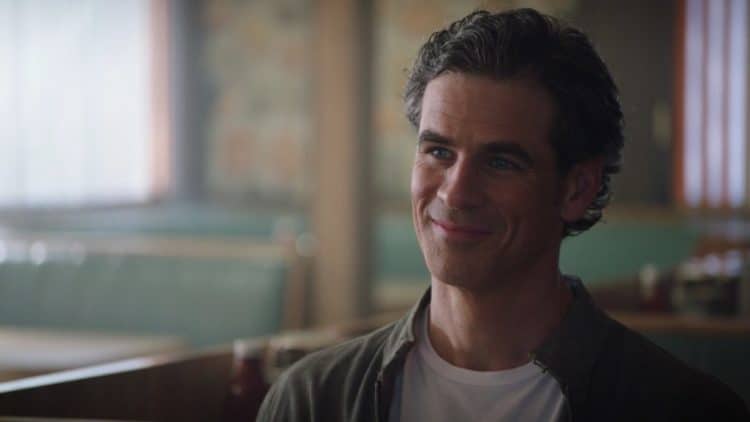 If you loved watching the show Friends then you know who Eddie Cahill is. He was not a series regular but he made appearances in the series in its seventh and eighth seasons as Rachel Greene's younger boyfriend – Tag Jones. He was 22 at the time and he has since grown up from Friends and found his own wings. Eddie Cahill's most famous role has to be his portrayal of Detective Flack in CSI: NY. He has also appeared in various other films and his movie Miracle in 2004 was very well received at the time and did well in the Box Office. Eddie has guest-starred in series such as Hawaii Five-0 and is set to make a guest appearance on the crime-related series NCIS: New Orleans. Details of this are yet to be confirmed and most especially the character that he'll be playing, but it will be exciting if he reprised his role as Detective Flack for NCIS. The two shows are different entities but this is Hollywood anything can happen.
Eddie Cahill's Bio
Edmund Patrick Cahill was born in January 1978 and raised in New York City to a stockbroker father and an elementary school teacher mother. He has 2 sisters and is the middle child of the 3. Cahill attended Byram Hills High School in Armonk, New York where he graduated in 1996. Cahill's alma mater is Skidmore College in Saratoga Springs New York and later attended the Atlantic Theater Acting School which is part of the New York University Tisch School of Arts for one and a half years.
Here are things you didn't know about Eddie Cahill:
1. He is of mixed heritage
While Eddie Cahill's nationality as at now is American, the actor comes from a mixed heritage. His father is of Irish descent while his mother is of Italian descent.
2. 'Friends' was apparently Cahill's first major role
According to Glamour, Eddie Cahill had used up his last $230 for a plane ticket to fly from New York to Los Angeles and pay an agent who got him the audition for his first role on TV, Friends. After the audition, Courtney Cox who played Monica Geller offered him a ride home and Cahill was too afraid despite the fact that he actually needed the ride.
3. He auditioned for the role of Tag Jones in Friends alongside Tom Welling
Tag Jones, the wide-eyed assistant and eventual young boyfriend to Rachel Greene on Friends was a role that was seemingly one that was highly sought after. After a series of auditions and cuts, it came down to two people, a very inexperienced guy (Cahill) or a well-known actor Tom Welling. Cahill felt intimidated by Tom Welling who was famous for his role in Smallville as Clark Kent. Despite this, Cahill decided to give it his best shot and after they had auditioned, he was informed that he'd gotten the part. Cahill was so excited that he borrowed someone's pre-cell phone to inform his parents about the good news.
4. He was discovered by Sarah Jessica Parker
Although Cahill credits his beginnings to Friends, he can't bring himself to fail to acknowledge the person who first discovered him. His time on Friends was magnificent but his big break on television came when Sarah Jessica Parker, who at the time was playing Carrie Bradshaw in the famous Sex and the City show, took notice of him. She saw his talent and drive and decided to give him a shot and got him a spot on Sex and the City as a guest star. This small role shot him to stardom and gave his career the much-needed boost.
5. He was a hockey player in high school
While in Byram Hills High, Cahill played hockey and according to Wikipedia, his childhood hero was Jim Craig whom he interestingly enough got a chance to portray in a movie.
6. He owns a hockey blog
Cahill has managed to maintain his love for hockey throughout his adulthood and is even a fan of the NHL New York Rangers. He runs his own hockey blog where he shares his thoughts and wrote for Celeb Blog for three seasons in the NHL.
7. In the movie Miracle, he was actually doubled
The movie Miracle got the actor positive reviews and raves for his portrayal of goalie Jim Craig. Although he has ever played hockey before, he was new to the goalie position so most of the game's action sequence was filmed by Bill Ranford who is a former NHL goalie. Ranford played as Cahill's double but the latter did shoot most of the sequences.
8. He has done off-Broadway plays
In June 2011, Cahill returned to the Atlantic Theater Company where he performed at the finale of the company's 25th Anniversary Season. He took part in a one-act play by Tom Donaghy called "I Need a Quote". In 2012, Cahill also took part in "3C", a play by David Adjmi at the Rattlestick Playwrights Theater in the city of New York where he portrayed the annoying bachelor neighbor Terry.
9. He has a tattoo on his shoulder of his wife's name
Cahill and his longtime girlfriend Nikki Uberti got married in July 2009 in Los Angeles. She is a former model and a makeup artist and they both have a son together who was born that same year. He acquired an inscription of his wife's name on his right shoulder in a heart with an arrow through it and a swallow on top of the tattoo.
10. He had a cameo in Charmed
Most people might miss this as it was a brief role but he had a guest role on Charmed where he played Prue's (Shannon Doherty) love interest.
Eddie Cahill has been around long enough for us to have a rough idea or fully understand who he is. His works on television have helped to shape out his career into what it is today. The actor is full of life and is seemingly ready for his next chapter in films and movies.