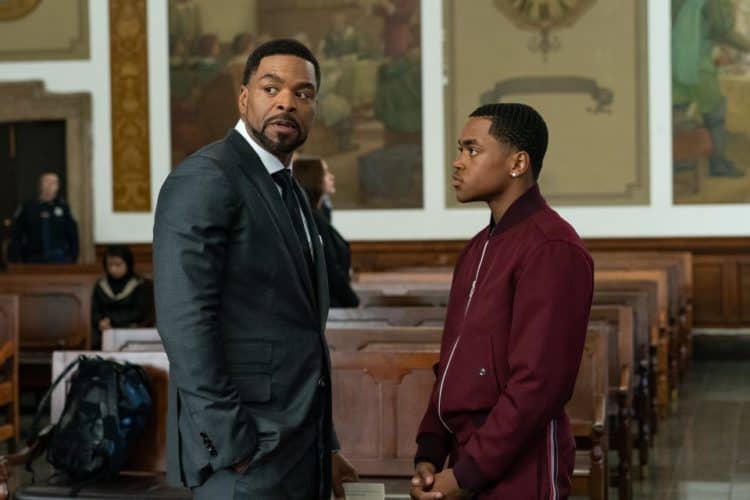 Thanks to his role on Power and its spin-off series, Power Book II: Ghost, Michael Rainey Jr. has become one of the most familiar faces on cable TV. His portrayal of Tariq St. Parick initially began with him playing a sweet and innocent kid with a bright future. As his time on the show progressed, however, he went down a completely different path that led to him murdering his own father and starting a his own drug ring. Whether you love or hate the character, you have to admit that Michael has done a great job playing him. Even when his time in the Power universe is done, I have a feeling we'll be seeing a lot more from Michael. Keep reading for 10 things you didn't know about Michael Rainey Jr.
1. He's A Kentucky Native
Some people may be surprised to know that Michael was born in Louisville, KY. It appears that he didn't live there for long, though. Like his character on Power, Michael was raised primarily in New York. His family's roots on his mother's side trace back to Jamaica.
2. He's Received Death Threats From Fans
Tariq's storyline eventually lead to him being one of the most disliked characters on TV. Eventually, people's disdain for Tariq began to trickle into Michael's real life. In early 2020, Michael revealed that he'd received hundreds of death threats via social media from people who were sick of Tariq.
3. He Was In Orange Is The New Black
Power may have given Michael his biggest role to date, but it isn't the first popular TV show he's been a part of. Michael actually played Sophia Burset's (Laverne Cox) son Michael in seven episodes of Orange is the New Black between 2013 and 2015. In fact, there was a small window where he was playing Tariq and Michael at the same time.
4. His Goal Has Always Been To Be The Main Character On A Show
Michael has always had dreams of becoming a major star. During an interview with Right On Digital, Michael said "I always wanted to be a main character in a TV show; once I started acting it was the one thing I've always wanted to do. So when it was told to me, I was just like I was just like, "wow." I couldn't believe it, to be honest. When 50 (Cent) first told me I really didn't believe him. I thought he was joking with me. I was just like, "whatever," and then two weeks after that Courtney Kemp told me and I was like "d– ," it's real now.
5. He's Very Adventurous
For most of his life Michael's career has made his lifestyle very different from other people he's age. At the end of the day though, he's still just a regular 20-year-old who loves having fun and trying new things. He loves a good adventure and enjoys doing things like go snowboarding and off-roading.
6. He's Good Friends With Gianna Paolo
No matter what kind of job you have it's always nice when you can form a genuine bond with one of your coworkers. Michael has found that in his cast mate Gianna Paolo who plays his roommate Brayden in Power Book II. Not only do the two enjoy working together but they also love to hang out off set.
7. He's A YouTuber
Like lots of other young entertainers, Michael has been using social media to his advantage. He loves creating content and started a YouTube channel where he posts vlogs from some of his adventures. His channel has more than 25,000 subscribers and over 560,000 views.
8. He Loves Cars
Acting isn't the only thing that Michael is passionate about. He is also a very serious car lover. It appears that he already owns several cars and Mercedes and BMWs seem to be his vehicles of choice. He's even created a separate Instagram account where his posts are strictly about cars.
9. He Makes Music
Michael may be best-known for being an actor now, but that could eventually change depending on how he decides to pursue his passion for music. He is a rapper and producer who has released several songs over the years under the name Where is 22. He has already worked with artists like Famous Dex.
10. He Enjoys Giving Back To Others
Michael may be young but he already understands the importance of helping other people. He has made it a point to use his celebrity status to give back to others and he is especially passionate about working with non-profit organizations that are geared towards helping homeless communities and people from low income backgrounds.