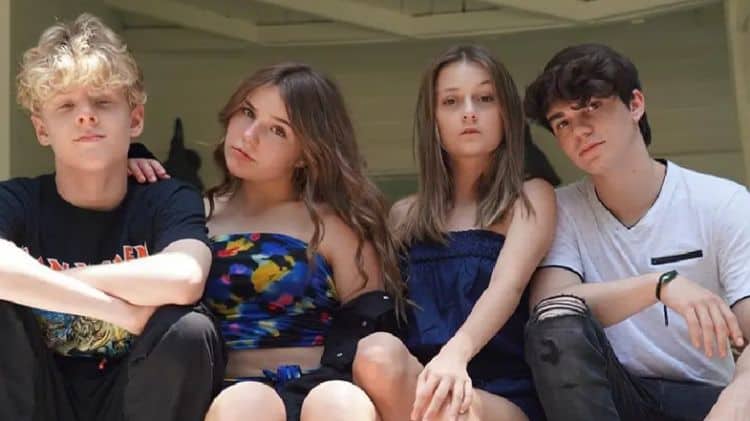 Sophie Fergi is only 13-years-old, but she isn't like other kids her age. She's already reached the heights of internet super stardom, and she isn't going to slow her roll any time soon. Best-known for her role as Goth Girl in the web series, Mani, Sophie has built a massive social media following that now includes well over one million people. Even though the show has ended, Sophie's career is still gaining traction. Her acting skills coupled with her natural creativity have made her a very entertaining person to watch. As Sophie continues to carve out her own path, it'll be really interesting to watch her legacy grow. Keep reading for 10 things you didn't know about Sophie Fergi.
1. Her Mom Is Her Manager
The entertainment industry can be a dark and shady place, so it's always good to have someone on your side who you know you can trust. Sophie is fortunate to have a very supportive mother who has been with her every step of the way. Her mom also doubles as her manager and monitors her social media accounts.
2. Christina Ricci Is Her Favorite Actress
Sophie was born in 2007 which means she wasn't even alive when Christina Ricci played some of her most iconic roles. However, Sophie still cites Ricci as her favorite actress. In addition to being inspired by Ricci and her skills, Sophie also says that her mom's friend also played an important role in developing her interest in acting.
3. She Went Through A Public Breakup
Despite her young age, Sophie has already experienced the pain of heart break. She was in a relationship with fellow social media star, Jentzen Ramirez. The couple's relationship got pretty serious for two people their age, and their break up left their young followers feeling sad and confused. In a YouTube video, Sophie shared her side of the story behind the break up and made it clear that she has no hard feelings towards her ex.
4. She's No Longer A Member Of "The Squad"
These days, influencers have started teaming up to create groups or 'houses' full of likeminded creatives. Sophie was a member of a collaborative called The Squad which also includes Jentzen, Piper Rockelle, and Lev Cameron. She has since decided to leave the group although her exact reason for her departure is still a little unclear.
5. Her Family Life Is Somewhat Mysterious
Sophie has been sharing her life with people on the internet for the last several years, but there are still some details about her personal life that are a little fuzzy. We do know that Sophie's mom is her manager and an overall active presence in her life, but there isn't much info about Sophie's father. It's also unclear whether or not she has any siblings.
6. She Started Acting At Age Three
Becoming a star was definitely in the cards for Sophie. She made her first on screen appearance when she was just 3-years-old in a short film called Away We Stay. Even though the role was very minor, it was a turning point for Sophie and her family and eventually led to more opportunities.
7. She's A Brand Ambassador
Building up a big following on social media comes with lots of benefits. One of those benefits is the opportunity to get paid just to post things on social media. These brand partnerships can be a great opportunity for businesses and influencers and Sophie has gotten the chance to work with several brands over the years.
8. She Likes To Stay Active
There are lots of things about Sophie's life that are completely different from other 13-year-olds. Still, there are plenty of times where she likes to be able to just hang out and relax like a 'normal' kid. She loves staying active and going on adventures with her friends.
9. She's Dedicated To Her Fans
It's impossible to become a social media celebrity without having a large following. For that reason, it's important for influencers to maintain good relationships with their supports and this is something Sophie takes very seriously. She is incredibly grateful for all of the people who have stood behind her over the years and she is dedicated to creating high-quality content her fans can enjoy.
10. She Also Has A Big Following On TikTok
Many people are familiar with Sophie from Instagram and YouTube, however, she also has a very strong presence on TikTok. At the moment, she has 1.6 million followers on TikTok and her videos have gotten more than 30 million total views. Her uploads mainly consist of dance videos and funny moments with friends.